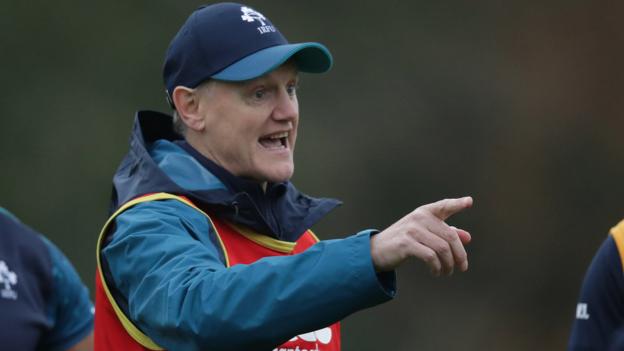 Three Six Nations titles, and Grand Slam, and a first victory in South Africa, two wins over New Zealand and a first series win over Australia in 39 years.
Joe Schmidt's achievements with Ireland are clearly impressive but they fail to tell the full story of how he has transformed Irish rugby since he first arrived at Leinster in 2010.
In his first coaching role, he nurtured the career of Johnny Sexton and led the province to the consecutive European Cup wins before transferring that success to the Test arena.
Leinster's continued success, and the conveyor belt of talent running through their academy system, has powered Schmidt's Irish team from eighth to second in the world rankings and they could still topple All Blacks from their perch during the next year's Six Nations championship.
The success of the men's national team under Schmidt has raised hopes that Ireland could finally break through the World Cup quarter-final barrier that has proved impossible to overcome in the past – including in 2015 when the New Zealander had been in charge for two years .
A legendary attention to detail
"Joe's legacy in Ireland will obviously be the trophies he won with Leinster and with Ireland, but probably more so it will potentially be the coaches he brings through," said Ireland captain Rory Best.
"When you look at what he's done, you'd think that in the next couple of years there will be coaches that have worked under Joe Schmidt as players who will come through and who will bring that attention to detail, to be the best in the world, and they will bring that to the club came in Ireland.
"Ultimately the goal is to get as many home grown coaches as we can within the provinces, the national team and the whole set-up."
Schmidt's attention to detail and the demands he makes of his coaches and players is legendary but is matched by the workload he performs himself.
So he probably should not have come as a surprise that 53-year-old plans to end his coaching career and spend more time with his family when he eventually steps down after the 2019 Rugby World Cup.
He will inevitably be linked to the New Zealand job in the future, but has already done more than his share of promoting the sport in his adopted homeland.
"The fantastic thing about Joe is that he is leaving Irish rugby in a much better place," added Rob Kearney full-back.
"He will commit to making sure that there is a contingency plan that he is breeding new coaches that come in and ensure that this Irish team is going to continue to try and be competitive at the very top level.
"Is there another Joe Schmidt out there? Probably not and I think as an Irish rugby team we've really been blessed to have been able to have his services over the last five to six years."
He's changing how you look at the game – O'Connell
Ireland's 2009 Grand Slam-winning fly-half Ronan O'Gara has previously spoken of how much he regrets not having had the opportunity to work under Schmidt and how he envious of his former teammates who seemed to improve with every training session they spent with the Kiwi.
O'Gara's Munster colleague, Paul O'Connell, captained Ireland to their first two Six Nations titles under Schmidt but took the time to adjust to how the former English teacher expected his players to perform.
"I got two years playing under Joe towards the end of my career and you end up thinking about the game, you end up looking at every single game differently," O'Connell told Matt Dawson's Rugby Show on BBC Radio 5 live.
"He is able to create a group of guys that just fit in whenever they go in to play. He has a very simple way of playing, a very simple way of preparing teams and if you give real clarity to the very smart, good rugby players they can be excellent rugby players.
"Everyone knows where they should be at one time and it's pretty difficult to know your own role – that was my experience when I first started playing with Joe Schmidt, it was very hard to know where I was supposed to be at all times. "
Fuelled by two Grand Slam wins in nine years, as well as the Six Nations titles in 2014 and 2015, rugby's popularity has exploded in Ireland over the last decade as the only fully professional team sport on the island.
O'Connell believes that Schmidt has also worked hard on the field to increase interest in the sport: "It has a far-reaching effect. It's not just the national team. a massive amount of charity work and his coaching style and philosophy is filing down into all the provinces.
"It's filming down into schools and into underage rugby and it's having a massive impact on Irish rugby in general.
"So it's not just the results he brings with the national team that means the IRFU gets great value when they pay him whatever they pay, it's the effect he seems to have been down through the game as well."
'He makes life tough for you'
Andrew Conway is an example of how Schmidt's influence helped shape the careers of so many players within the Irish system.
The Dubliner was a star schoolboy player but struggled to break into a Leinster backline populated by the likes of Brian O'Driscoll, Gordon D'Arcy, Shane Horgan and Rob Kearney during Schmidt's time in charge of the province and made the move to Munster in search for more regular game time.
Although Conway has been selected for the Emerging Ireland and Ireland Wolfhounds squads during his early years at Munster, the utility back is now pushing for a place in the World Cup squad after his hat- trick performance against the United States during this year's autumn internationals.
"When you're in meetings with him sometimes you just watch and realize how lucky you are to have someone like that who is telling you what to do and who is making you grow as a player," said Conway.
"He's second to none, I'd be shocked if there's anyone out there in the world who's a better rugby coach than Joe Schmidt. What would he have put on his hand to him would have been an expert at and luckily for us rugby was his choice.
"It makes life tough for you, the camp is tough going and playing is tough going, you know what is expected of you, but it absolutely brings the best out of you and I really enjoy being in that environment."
Source link