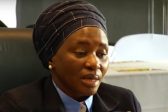 The group of activists of arrival #UniteBehind filed a complaint against Judge Gautheng, judge of the Tintswalo Annah court, Nana Makhubele. The group accuses her of violating the power-sharing clauses in the Code of Judicial Conduct by chairing the Temporary Council of the South African Passenger Railway Association (Prasa) while being a judge of Gautheng's High Court.
The complaint filed with the Judicial Service Committee (JSC) for judicial behavior was signed by #UniteBehind Zukiswa Fokazi's secretariat. It is divided into two parts: one is the criticism that it occupies the two positions at the same time, and the second is the criticism of her behavior during Pasa, GroundUp reported last year.
According to the complaint, on October 4, 2017, Makhubele was notified of his appointment as a judge of the High Court. On October 17 she was appointed Prasa chair.
Following this announcement, #UniteBehind voiced concerns about the CAB over conflicts of interest that both positions would put in place and questioned the rationality of appointing her to the post of prime minister following her candidacy for the High Court.
Although Mahublele has demanded a court of first instance on April 1, as revealed in the emails received and quoted by #UniteBehind in his statement, her position in the Supreme Court will come into force on January 1, 2018, according to the activist group. Its name officially appeared in the courtroom on 5 February 2018.
Mahbule continues to work in Prasse until March 16, 2018.
During her presidency, Mahuwele is accused of violating court proceedings in Pasa. In November 2018, the Pretoria High Court found that Mahuwele had instructed Praga's attorneys not to protect the company against legal actions that led to the confiscation of R56 million by Prasa (the money eventually had to be returned to Prasa). The court said that Mahhoubele "should not take any court duties until she has made her name known to her."
And in February 2018, the Sunday Times accused Machubele of pushing for a 500 million R investment in the now liquidated VBS Mutual Bank "without an agreement".
#UniteBehind calls for Mahuwele's impeachment on the grounds of a violation of the "independence of the judiciary", as well as its conduct during Pracha.
AD acknowledged the receipt of the complaint on 21 January 2019 and sent it to the Judicial Conduct Committee.
Nathi Mncube, a spokesman for the judiciary, told GroundUp that Makhubele could not comment on the matter until she was invited to do so by the Jury on handling the complaint.
More information:
Republished by GroundUp
For more news in your way, download the Citizen 's application for IOS and Android.