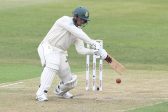 Sri Lanka's first test against South Africa included two strokes with only seven previous trials between them and a debutant left hand, but their unknown amount was enough to alleviate protease gifts on the day of opening in Kingsmead,
South Africa was pulled out for only 235, as the left of the cat Vishwa Fernando led with four for 62 in 17 seizures only in his fourth test, while Pekan Kasun Rajita claimed three for 68 in his fifth ball and picked up one for 51.
That the household managed to get more than 200 is mostly thanks to Quinton de Kock, their left-wing wicketkeeper / batsman, who hit a ripe mature 80 off 94 deliveries.
"We did not think we would have such a bad start, but the credit for Sri Lanka for bowling very well in the front. We were caught cautiously by their boaters, although we know very well how serious the Sutranga Lacmall is. The angle of their bowling, their skills, various actions, and the way the ball is stacked or bounced is a little different, De Cock said after saving his feeds.
Sri Lanka had reached 49 for one in spades, but the pitch still had to help the boaters in the wet and wet Durban on the second day, so De Kok is convinced that Protest can still take first place.
"Definitely there will be some movement in the morning, but after the day goes on, it will become flatter. But Keshav Maharaj will definitely come into play, we have already seen a turn.
"It's never the fastest terrain in Durban but it's still a good door and it's great for our bowlers. Our infantrymen are slightly different, so I'm sure some of them will know how to conquer the baits of Sri Lanka, "said De Kok.
For more news in your way, download the Citizen 's application for IOS and Android.