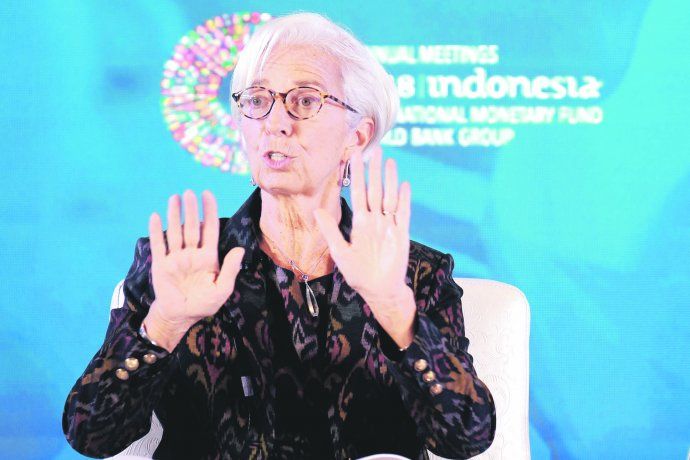 But after how many weeks or months this can go on, it must be clear that the current dissociation in the financial market can not exist forever. In other words, a tranquil dollar and one country risk more than 300/350 points – the highest level at which debt can be placed on international markets – are completely incompatible facts. This means thinking that time can continue this way as the dollar returns as a variable of discretionary behavior until it is impossible to put new debt, just to renew the maturities of the debt, not only incompatible, but – Recent and more extreme factors: antagonistic to each other The country's risk was closed yesterday at a level of 724 points. So there is a difference between the current level and the level at which debt can be renewed for more than six months. This factor, which shows no signifi- cant signs of improvement, but on the contrary, rather than later, will destabilize the money market. It can not be thought that the months will continue as November, with headlines in the newspapers away from the country-specific financial variables at similar levels.
What can happen next? What will happen if the current dynamics of these two variables remain unchanged: the risk of dollars and the state? Most likely, as the first months of 2019 go, and the dollar from the Monetary Fund is used for payment, the degree of risk for the country will not only have great resistance to reaching levels compatible with the ability to go to the Credit Markets but its high level will start to create volatility in the stock market. And instability with the dollar quickly turns, on the one hand, on the inability to significantly reduce interest rates, even if the Central Bank has withdrawn the "floor", and on the other – the impossibility of reducing inflation in a very strong way. It can be said that with only luck the inflation rate between 2% and 3% per month can be maintained for many months, which is now being visualized for December. It is worth saying that we are now entering a period of calm that would only be conditional and short-lived.
And this is very reasonable if one takes into account that the government will eliminate – if the tax collection will not play a trick on it – the Ministry of Finance's operating deficit in 2019, but will still suffer from a large quasi-fiscal deficit of BCRA , which, added to the Ministry of Finance's financial deficit, which instead of falling, increases to 7.5% of GDP. With a deficit and no voluntary financing of the markets it is extremely unlikely to be able to compare with very low interest rates and a calm and stable dollar. Even less, taking into account that in the 2019 elections the markets will reduce the dollar of the body, leading Chritine Lagarde, which will be used.
Outside, it will probably not give the Argentine economy any recreation. It seems that we still do not realize that the international markets have experienced the longest and longest bull market in history: almost a decade of Wall Street rise and rise and almost zero rates. This scenario begins to disappear in 2018 when yields begin to rise and Wall Street stocks stop rising and show clear signs of reaching a ceiling. It is possible that the country's risk levels not only for Argentina but also for many other countries account for this factor, which is still far from being fully offset. Perhaps in 2019 there will be several countries without access to international credit markets. And given that Argentina is the most risky of all, according to current quotations, we will go up to 2019, when there will be moments of great uncertainty and rising risk. Now all this seems to be inadequately internalized by the authorities that issue more and more monetary rules, laying floors, ceilings, rules of adequacy, goals and goals that can suddenly occur with the archive together as soon as one of the factors we are commented on putting pressure on the dollar market. It seems as though the process of lowering interest rates has remained, and the ability to keep the dollar under control is something that is already "bought," as an experienced fox, not a lion, and a kidnapper's breakfast.
This spread of measures that make the money market more and more complex is destined for another time and another circumstance. It can almost be said that for another country. It has not even been taken into account that Argentina should leave aggressively the markets from 2020 to buy dollars in the financial market to pay and not fail in an increasingly complex world. On the contrary, monetary rules worthy of compulsive neuroticism have been established, which, in a quasi-compulsive way, create rule by rule, while the market gives an advantage over several weeks.
Meanwhile, we are in December: the month, which is usually the most illiquid of the year, the month with the most money needs in circulation, and the distortion of current pessos accounts by companies. It may not be noticed, but the sources of return to instability are back in cruel form, for now in a labyrinthial way. When it becomes visible, it will be clear that Argentina can not afford to have a consolidated fiscal deficit of 7,5% of its GDP in a world that not only finances it but also stops being a source of widespread Financial opportunities.
Source link