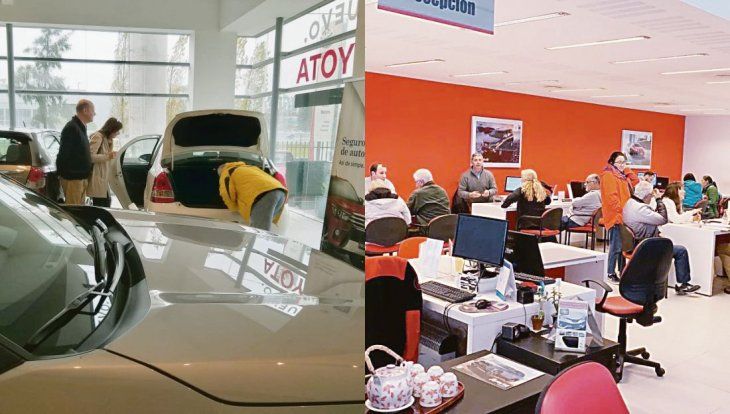 This was confirmed by a study carried out by Ámbito Financiero in several agencies in different parts of the country, although the largest activity was registered in the federal capital and the province of Buenos Aires, which, in addition to the Juni0km bonus, added the tax exemption Seals, which reduce the cost of patenting by half.
"We were full all day (Saturday) with lots of advice and a few closed tickets. It did not happen in May. And that time did not help because of the rain, but the people were the same … ", explained the concessionaire's owner in the western part of the Big Buenos Aires. The situation was repeated in other agencies that returned to the queue for queries. This has happened without increasing demand, as most of the companies have cut their staff due to the crisis over the past few months, and there are no sellers able to cope with this unexpected increase in consultations.
"We had forgotten what it was like to have people waiting to buy," said the Palermo dealership manager, who even started on Sunday,
According to estimates made in the sector, the increase in 0 km of patents will be reflected in June, but mostly in July. For the current month, the project could reach 36,000 units due to the effect of Juni0km when they were estimated at around 30,000 or less before the official announcement. This means the government measure will add between 4000 and 6000 additional units. It should be remembered that discounts are focused on the segment of cars – both for money purchase and for financing, but does not include commercial vehicles, pickups and savings plans.
Anyway, it is premature to make a reliable number, because the demand behavior is different, according to each brand and the discount levels. According to the study of this newspaper, the floor of the increase in operations is 20% and in some cases it reaches 40%. One issue that needs to be considered is that this June has fewer working days than 2018, so the total will be affected by this issue, although the pace of daily patenting is higher. Another fact to be taken into consideration is that this weekend's imported brands have joined the plan, although they have less involvement within the generals, and they help the growth of the common market. Some cases, such as Hyundai, start promotions up to $ 400,000, while general brands make up to $ 240,000.
The important thing to bear in mind is that, in downturns, demand reacted positively, suggesting how the consumer would behave if instead of temporary bonuses a drop of 0 km would occur. for example, by reducing taxes. Moreover, if you take into account that the government has explained that the fiscal cost of this $ 1,000 million grant granted to consumers will be neutral because it will improve tax collection due to higher sales.
Source link