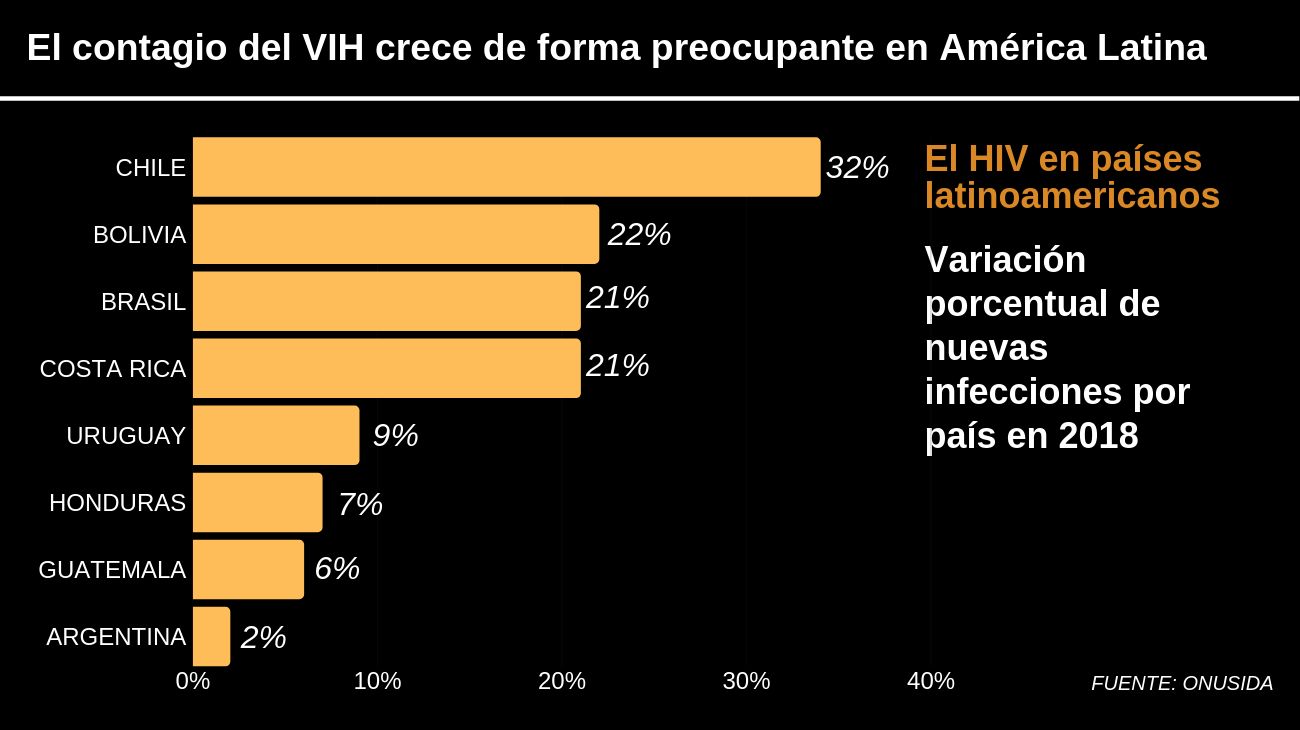 Latin America has shown a 7% increase in transmission rate HIV virus, HIV, Between 2010 and 2018 T, revealed the latest report of the 2007 UN Joint Program HIV / AIDS, Published July 16.
According to the report, only in 2018 nearly 100,000 people have infected the virus in Latin Americamore than half of them correspond to Brazil, the most populated country. The continent, which recorded a 3% drop in the number of infections between 2005 and 2013, is now one of the areas to be monitored in the coming years.
Although Brazil has grown by 21% since 2010, it has followed closely Cwith an alarming 34% increase in new infections, while Bolivia 22% and Costa Rica 21% over the same period. Argentina, Guatemala, Honduras and Uruguay increased, but less than 10%. Mexico is the only country that has remained stable over the years and sees no increase or decrease in HIV prevalence.
2018 Nearly 35,000 people died in Latin America for AIDS, equivalent to 4.5% of the deaths caused by a worldwide infection. But it's not all bad news. El Salvador, for example, managed to cut almost half (48%) of new infections in the country. Nicaragua managed to cut them by 29 percent, Colombia by 22 percent, Ecuador by 12 percent and Paraguay by 11 percent. Panama and Peru also managed to improve their numbers by 8% and 6%, respectively.
"In 2017 it was reported UNAIDS that there are 67,000 people living with HIV this year report that there are 71,000 people living with HIV (data from 2018), that is, the latest report shows there are between 4,000 and 5,000 more people living with HIV, " Deputy Secretary of Public Health of Chile, Paul Dazza"Of the 71,000 people living in HIV living in Chile," there are 87% of the population who know the state and 73% of them are in treatment, there are 45,140 people on treatment, "he added.
In December 2018, T United Nations Joint HIV / AIDS Program he has already revealed alarming figures about Chile: is one of the 10 countries in the world that registered an increase of 50% or more in new cases of disease in its population between 2010 and 2017, These data criticized the government's public policies for virus control in the country and led to the resignation of the Head of the Department of HIV at the Ministry of Health Anna Maria San Martin.
At present, 37.9 million people living with HIV live on our planet, of which 1.9 million live in Latin America.
Global AIDS-related deaths fell by 2018 by one third compared to 2010, down to 770,000, adds one third less than in 2010 UNAIDS, although it warned that global efforts to eradicate the disease were blocked due to reduced funding. More than three out of five HIV-positive people in the world -23.3 million from 37.9 receive antiretroviral treatment, which is a record ratio.
These treatments, which do not transmit the AIDS virus, if taken correctly, reach ten times more patients than in the mid-2000s.
The number of deceased last year is slightly lower than in 2017 (800,000) and a third less than 2010 (1.2 million). And this is well under the crash recorded in 2004 when the AIDS virus lifted the lives of 1.7 million people. The number of new infections remains stable compared to previous years (1.7 million).
In Latin America, the rate of new infections of the AIDS virus increases by 7%. Proportionally, Chile is 34% of the country in the region, where cases are highest, followed by Bolivia (22%), Brazil and Costa Rica (21%).
These global figures, however, have large regional differences, emphasizes Onusida, who warns that the fight against the disease does not progress with sufficient speed. In general, decreasing deaths and better access to treatment are explained by the progress made in South and East Africa, the continent most affected by AIDS.
In other parts of the world, some indicators are alarming. In Eastern Europe and Central Asia, the number of new infections has increased by 29% since 2010. The number of deaths has increased by 5% in these regions and by 9% in the Middle East and North Africa in the last eight years. years.
Nearly 80 teenagers per day will die from AIDS by 2030, according to UNICEF
Downstream funding
Onusida, however, warned in her report that funding for the eradication of this disease shrinks: "For the first time since 2000, resources for the global fight against AIDS have fallen," warned Gunilla Carlson, head of Ouncesida, who explained that in 1918, $ 19,000 million had been earmarked for AIDS programs. less than 2017 and 7 000 less than the amount deemed necessary for 2020 (26 200).
"This reduction is a collective failure," said Onusida, which states that it refers to "all sources of funding": international contributions from countries, investment from countries or private donations for charitable purposes. That is why 2019 is a crucial year. Organized every three years, the Global Fund Financing Conference will be held on October 10 in the French city of Lyon. The goal is to earn $ 14,000 million for the 2020-22 period to fund this fund.
Defeating AIDS is possible if we focus on people rather than on diseases, said Gunilla Carlson
"We urgently need to increase political leadership to put an end to the epidemic," Carlson said. "We have to invest smartly while looking at the countries that have achieved the greatest success in this area. Defeating AIDS is possible if we focus on people rather than on diseases, the creation of broken sheets for patients and lagging areas and the adoption of a human rights approach to reach the most affected people, "he added.
SD