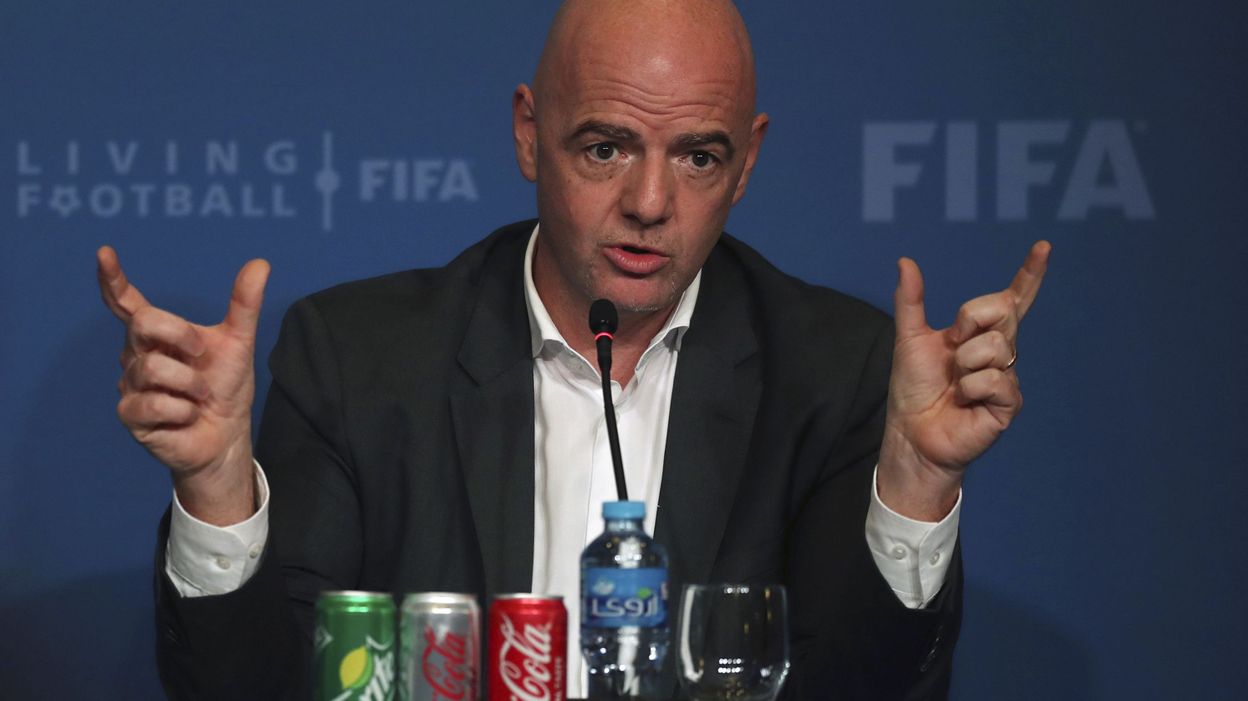 Stop for Gianni Infantino: The FIFA president, whose first decision was to move the World Cup-2026 to 48 teams, failed to pass his move to the Qatari World Cup in 2022, especially due to the blockade imposed on neighboring countries.
FIFA, which voted in May at a meeting of its Miami council in favor of this expansion to 48 teams, based on a feasibility study, recorded the transition from 32 to 48 from 2022 to its next Congress on 5 June in Paris, but said on Wednesday evening that " in the current circumstances, such a proposal can not be applied ".
Gianni Infantino's project faced a major geopolitical hurdle with the blockade imposed on Qatar by several neighboring countries.
" The participation of these countries in the organization of the tournament together with Qatar implies the abolition of this blockade, in particular the abolition of restrictions on the movement of persons and property. The feasibility study presented in May to the members of the FIFA Council was highlighted.
This Opportunity Survey conducted by AFP also ensures that the World Cup in Qatar with 48 teams instead of 32 will generate " between $ 300 and $ 400 million (between € 265 and € 354 million) of additional revenue ".
In detail, Fifa relied on an additional $ 120 million in television rights, $ 150 million in marketing rights and $ 90 million in ticket issuance.
However, according to marketers and television rights specialists, skeptics On forecasts optimistic From Fifa regarding this extra income.
In 2026, 48 teams
This 48-command format, already approved for the 2026 World Cup, to be played in three countries (USA, Canada and Mexico), means moving from 64 to 80 games. Its creation in 2022 would require a neighboring state of Qatar, such as Kuwait or Oman, hosted matches.
" FIFA and Qatar have jointly explored all opportunities to increase the number of teams from 32 to 48, including neighboring countries "Says the release of Fifa." Following an in-depth consultation process (…), it was concluded that, in the current circumstances, such a proposal could not be implemented ".
FIFA and Qatar have " also explored the possibility for Qatar to host the tournament of 48 teams, reducing in particular the requirements of Fifa Adds the specimen. But the joint analysis concluded that because As time progresses, more time is needed and the decision can not be taken by June. It was decided not to go further in this option ".
The World Cup-2022 in Qatar retains its original format with 32 teams a proposal by the FIFA Congress will not be presented in Paris on 5 June Adds the specimen.
This message sounds like a failure for Infantino, who was struggling around the world to defend his project, apparently with the support of Saudi Arabia. At the same time, Italo-Suisse continued its plans for a 24-team World Cup, which began in 2021, which UEFA does not support.
" Football is over obstacles, but Infantino does not understand that football can not overcome geopolitical conflicts Analyzes a good connoisseur of world football.
" Few people believed in this Infantino project, so see that Fifa is giving up that it is not a huge surprise "he added.
Head of FIFA in February 2016, when he inherited Sepp Blatter, forced to resign due to a large corruption scandal, Infantino's only candidate is guaranteed to be elected for a second term on June 5 at the FIFA Congress in Paris.