As with coronary artery obstructions of the heart, narrowing of the renal arteries occurs in most cases due to the presence of fatty plaques known as atherosclerotic stenoses. This narrowing can reduce or prevent blood from reaching the affected kidney and can lead to kidney hypertension and atrophy with worsening or loss of function.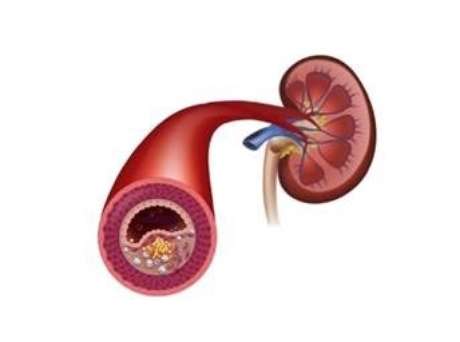 Some of the major risk factors include: old age, high cholesterol, diabetes mellitus, obesity and smoking. It is also common for these patients to experience clinical manifestations associated with atherosclerosis in other arteries, such as coronary, carotid or lower limbs.
"Diagnosis is confirmed by diagnostic imaging tests such as Doppler ultrasound, computerized angiography and magnetic angiography.Ateriography, a procedure conducted in the hemodynamic room in which the contrast artery is injected into the stenosis quantification and localization artery, is usually reserved for treatment with angioplasty, "says Dr. Andre Moreyra Assis, a doctor at CRIEP
Initially, treatment is based on the use of blood pressure control medicines. However, angioplasty is indicated in the case of difficult to control hypertension, in patients intolerant to treatment due to side effects, and in patients with complications associated with hypertension (pulmonary edema or heart failure) or worsening of renal function.
"Angioplasty is done using a catheter fitted with a balloon or a stent at its end that is inserted through a peripheral artery, usually the femoral artery located in the groin, then the tip of the catheter is placed at the site of the obstruction. Then the balloon is inflated under high pressure, "explains the doctor.
In the case of narrowing of the fatty plates of this site a stent is released to reduce the risk of future obstructions (restenosis). "The procedure is done under local anesthesia and the patient should be hospitalized for at least 24 hours to monitor blood pressure levels," the intervention radiologist concluded.
Dr. Andre Moreyra de Asis – doctor at CRIEP – Carnevale Interventional radiology Teaching and research – specializing in Interventional Radiology and Angioradiology at the University Hospital of São Paulo (HC-FMUSP) Hospital das Clínicas. He is an intervention radiologist from HC-FMUSP and Sírio-Libanês Hospital and is a full member of the Brazilian College of Radiology (CBR) and the Brazilian Society for Interventional Radiology and Sobrice Surgery.
CRIEP – Teaching and Research Intervention Radiology – Medical and Research Center, which is a national and international reference book in the field of Interventional Radiology and Endovascular Surgery, specialties aimed at minimally invasive treatment of diseases using imaging methods. Since 1997, through a team of doctors from the University of Sao Paulo (USP), formed by Prof. Francisco Francis Cesar Carnevale, Dr. Airton Mota Moreira and Dr. Andre Moreyra Assis, CRIEP offers patients a series of treatments using state-of-the-art techniques and equipment. Website: http://www.criep.com.br
Instagram: @clinicacriep



This is a commercial content issued by Dino and is not Terra's responsibility
Source link