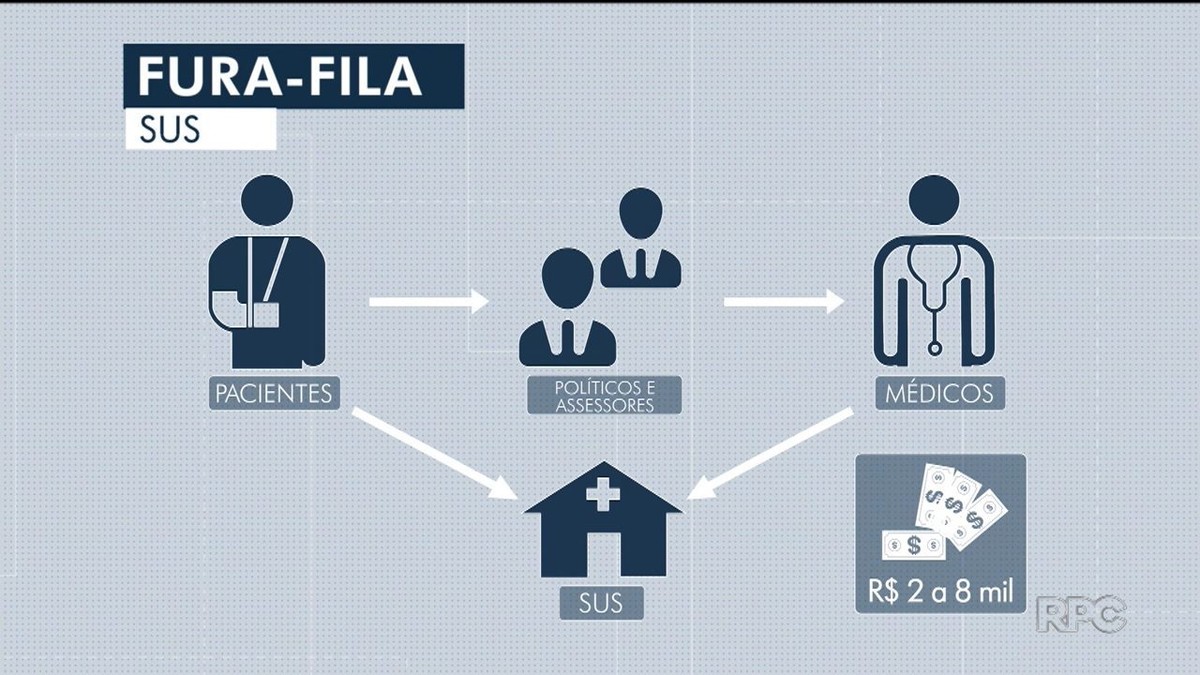 The Parana Public Prosecutor's Office (MP-PR) reported 29 people as part of Operation Mustela, which is investigating a scheme to raise money to break the queue of the Unified Health System (SUS) in the state. According to MP-PR, the wrong fees amount to over $ 100,000.
The first phase of the operation commenced in December 2018. At that time, the Organized Crime Task Force (Gaeco) served 13 provisional arrest warrants and 44 search and seizure orders.
In ten cases, 29 people were reported, including six doctors. In some cases, defendants have been cited more than once. They were also accused by MP-PR, councilors and former councilors of the municipalities of Siqueira Campos, Ventania, Quatigua, Pinhais and Prudentopolis.
According to MP-PR, defendants respond to 49 crimes in a concussion when a person uses public service to claim an undue advantage. According to the prosecutor, six doctors were fired by the SUS court.
Raoul Viana Neto;
Romulo de Mura Jorge;
Bruno de Moura Jorge;
Ricardo Moreau;
Marcel Sangeroti;
Thanks to Jose Guareski.
The last two professionals mentioned were previously reported on the same crime.
In the decision, the judge stated that there was sufficient evidence that physicians charged for surgical procedures and consultations funded by SUS were taking advantage of their function at the hospital. In addition, they also promised to benefit patients by prioritizing queue care for SUS.
With the court ruling, doctors can no longer care for SUS patients, either in hospitals or in private clinics. Their professional records in the Unified Health System were also terminated.
MP-PR says that in addition to criminal penalties, it has also sought compensation from victims for non-pecuniary damage. The amount of benefits amounts to R $ 440 thousand.
Investigations into the criminal organization began in 2017 and MPPR has identified 800 victims of a bribery scheme among doctors and businessmen who breach the SUS queue in Parana. Patients are from all regions of the country.
Ninety-seven of them testified and told similar stories that they had to pay for a medical procedure to be performed by SUS.
Conversations recorded by MP-PR show how the SUS queue fraud scheme worked
The first phase of the operation began in December 2018. A total of 13 people were arrested and 44 search and arrest warrants were served, including at the office of then-state MP Ademir Bier at the Paran Legislative Assembly (Aleppo).
By May 14 this year, seven investigators of the operation had already been charged with concussion for participating in the scheme. Among them was a doctor who was also removed from his legal duties.
How the scheme works
The scheme works like this: patients waiting for surgery are looking for politicians and assistants who have contacts with doctors in various specialties.
Doctors gave priority to these patients but charged $ 2 to $ 8,000 for procedures that should be performed free of charge.
According to investigations, operations were carried out at São Lucas and Rocio hospitals, Campo Largo and Angelina Caron, in Campina Grande do Sul, in the metropolitan area of ​​Curitiba.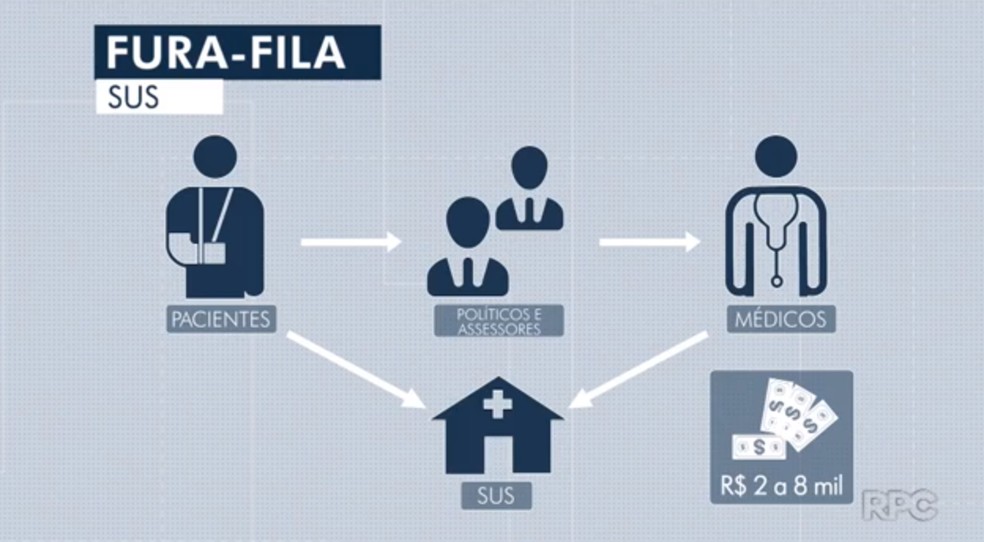 Patients waiting for surgery sought out politicians and assistants who had contact with physicians from different specialties. Doctors prioritized the patients listed, but charged R $ 2 to R $ 8,000 for procedures that should be performed free of charge – Photo: Reproduction / RPC
The defense of doctors Ricardo Moro, Volney Guarezki and Marcel Sangeroti said he had analyzed the complaints and would prove that the facts had not happened, as the prosecutor said.
The Legal Council of São Lucas Hospital said there was no way to break the SUS line at the institution and that cooperated with the court, changing the clinical staff mentioned in the investigation.
Angelina Aaron Hospital said she was not notified. He also said that he was available to cooperate with investigations and act within the principles of ethics and absolute respect for the rule of law.
Rocio Hospital said it had not yet been reported but was available. He said he was committed to ethics and would take all reasonable steps if doctors were found to be involved in any criminal scheme.
The most G1 failed to find the protection of doctors Raoul Viana Neto, Romulo de Mura Jorge and Bruno de Moura Jorge.
Source link