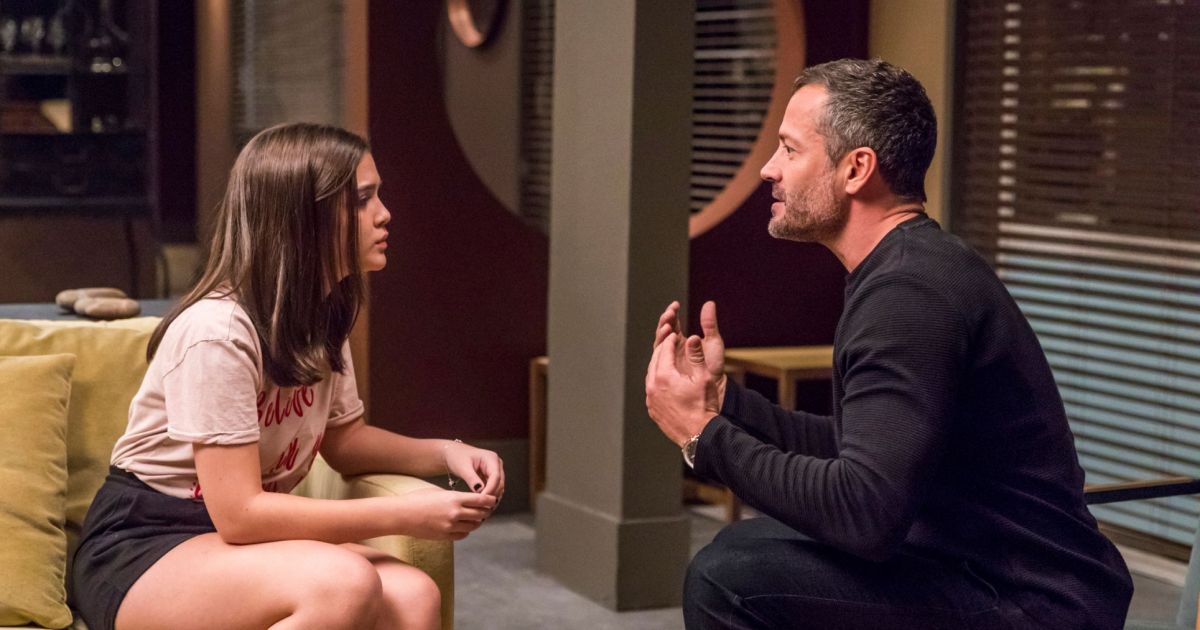 Agno (Malvino Salvador) will reveal to his daughter, Cassia (Mel Maya), who is gay, at the soap opera "Dona do Pedaço", while she is a victim of Nathalia Dill's frame. The future owner of the Maria da Paz Cake Factory (Juliana Paes) is approaching the girl in revenge after the businessman has difficulty trying to get back with Rock (Cayo Castro). The fighter splits with the former rookie when he finds out that he is taking a pill to prevent pregnancy. The scenes air on September 5, according to the "ArteBlitz" portal.
Fabiana takes Cassia to Agno's house
At home, Agno is surprised by the arrival of Cassia and Fabiana. "Surprised, Agno?", Asks the former novice. "I just don't understand what you're doing here with my daughter," says Otavio's partner (Jose de Abreu). Then the girl asks her father if Fabiana should meet. "I'm not your dad's girlfriend. I'm far from it," shoots Virginia's sister (Paola Oliveira). This is where Cassia recalls Fabian's quote: "You said there was something I needed to know." "Fabiana …" grinned, Agno, suspecting what the villain could do. To make matters worse, Leandro (Guilherme Leicam) shows up in the room and makes Cassia suspect, "Does this boy live here?" There is no way out, the girl's father confirms.
Cassia is furious to learn that her father is gay
Rock's ex-girlfriend uses the moment and ruthlessly shoots the truth: "You need to know this, Cassia. Your father is gay." Cassia is amazed at the revelation. "Daddy, are you gay?" He tells the parent, who nods, "That's right, daughter. I'm gay." The girl is angry at her father's sexual orientation. "You lied to me," he protests, hearing from his father that he had a reason to miss the truth. "I'm your daughter, I had a right to know. Well, my mother (Liris, Deborah Evelyn) said you were gay," he recalls, annoyed, adding, "She said, but I didn't want to believe, I thought I was angry about you. " cause of separation. A father cannot lie to his daughter on such an important issue. "The entrepreneur is doing everything to justify himself." I parted with your mother, "he points out.
"I will not accept you," Cassia tells her father
Avenging, Fabiana claims that Agno did everything to get Rock out of her. And the girl says she had suspicions of her own father. "Well, I was wondering how you treat him, the intimacy …" he reports. And the ex-novice puts more firewood on the fire: "He did everything to keep Rock. He just couldn't because Rock, well he's not gay." "Shut up," orders the angry businessman. "It was time for your daughter to understand the truth. I'm doing you a favor, too," says the cynical trickster. "Please, no," he says, teasing the girl. "Please! I have a right to know the father I have! Is this a boy, how should I call him? Your special friend?" Only then did Leandro speak, denying any relationship with Agno. "I only live here because your father is the most generous person in the world. But we have nothing," he explains. "Do you think I'll believe it?", Laughs Cassia. "Daughter, we can talk," the businessman says, but the girl doesn't listen to him: "I don't want to talk." "Daughter, you have to understand me," he reinforces. "I don't have to understand anyone. I don't want a gay father. I will never accept you!" Agno is groundless and comforted by Leandro.
Read also about Bom Sucesso soap opera: Nana accuses her husband of harassment and Paloma is fired by Alberto
(For Guilherme Guidorizzi)