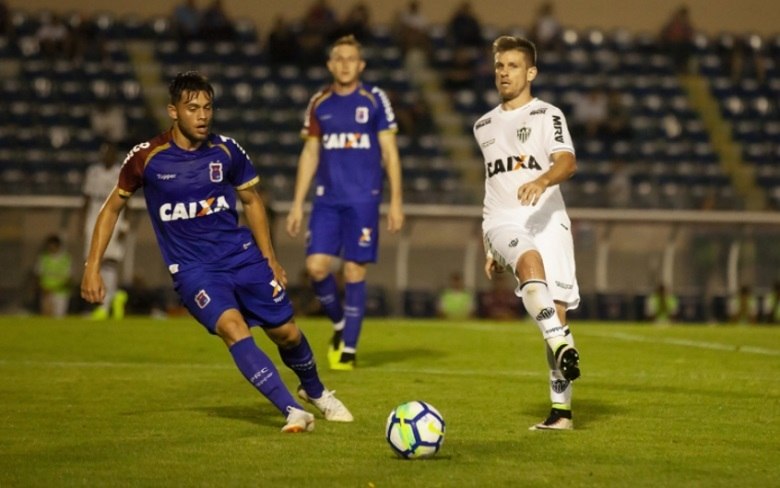 Paraná sent forward Silvinho and Andrey sent off and dominated by Rooster, who won 1-0 on Wednesday (14), for the 34th round of Brasileirão

Paraná had attackers Silvinho and Andrey sent off and dominated by Rooster, which was won by 1 to 0, with a penalty from Fabio Santos's side
Penalties, goals canceled and two expulsion. This is the balance of the referee in the defeat of the Paraná for Atletico-MG by 1 to 0, in a match played on Wednesday night (14), at Vila Capanema, in Curitiba, for the 34th of the Brazilian Championship.
The team from Paraná left with only nine players on the pitch for most of the second half and struggled to leave a balanced match.
Shortly after 11 minutes, Elias sent Luan, who appeared in front of the goal and was hit by coverage at Richard's exit. The keeper hit striker Galo's cock. A penalty kick was scored by Fábio Santos, who opened the scoring at Vila Capanema.
Paranista scolded growing in the 29th minute, when Silvinho complained about Matheus Galdezani's posture on the field in the field of Paraná's attack. But the referee did not like the attitude of the striker and immediately applied the red card.
At the end of the first half, Fabio Santos made use of the rebound once more to the bottom of the goal. However, the referee signaled that defender Leonardo Silva made a mistake on goalkeeper Richard and canceled the throw.
And only at the beginning of the second half, new controversies and other red cards. In the third minute, striker Andrey did not agree with Matheus Galdezani and the referee applied a second yellow in paranista, when interpreting that it left his arm in the Gallic midfielder.
With numerical losses and scores, Paraná begins to focus solely on judgment and avoids elastic defeat. Even though the game has become the monologue of Atletico-MG, several real opportunities have come. The most dangerous player was the Terans midfielder, who on one occasion demanded a good defense from goalkeeper Richard and the other two were sent to the bottom line.
With victory, Atletico-MG ended the fast of six matches without winning at the Brazilian Championship and remained at the G6 of the Brazilian Championship with 50 points. The Parana, has gone down, continues with 21 points.
TECHNICAL DATA SHEET
PARANÁ 0 X 1 ATLÉTICO-MG
Location: Vila Capanema.
Date: Wednesday, November 14, 2018.
Schedule: At 9 o'clock in the evening
Referee: Wagner do Nascimento Magalhães (FIFA-RJ).
Assistant: Rodrigo Figueiredo Henrique Corrêa (FIFA-RJ) and Carlos Henrique Alves de Lima Filho (RJ).
Public and income: 1,610 prizes | R $ 22,940.00
Aim: Fábio Santos, through a penalty, at 11`1ºT (0-1).
Yellow card: Richard, Charles and Andrey (PRC); Emerson and Patric (CAM).
Red Card: Silvinho and Andrey (PRC).
Paraná: Richard; Wesley Dias, Charles, Igor and Juninho; Leandro Vilela (Jhony), Alex Santana and Silvinho; Andrey, Rodrigo Carioca (Alesson) and Rafael Grampola (Keslley). Coach: Dado Cavalcanti.
Atlético-MG: Victor; Emerson (Patric), Léo Silva, Maidana and Fábio Santos; Matheus Galdezani, Elias, Cazares, David Terans, and Luan (Bruninho); Alerrandro (Denilson). Coach: Levir Culpi.
Source link