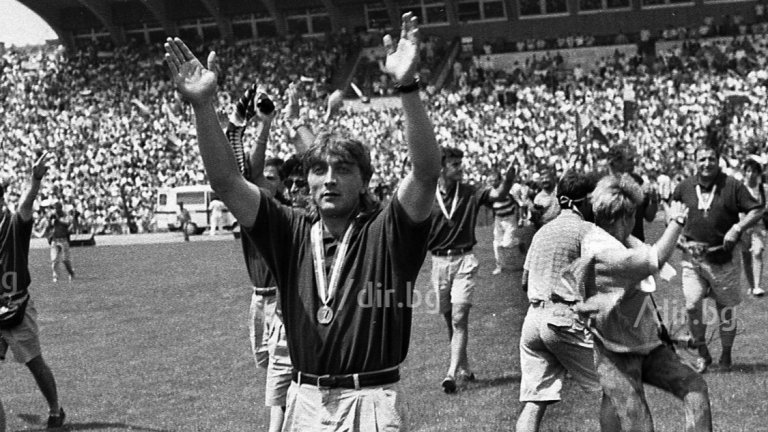 Three years ago, on February 13th, Trifon Ivanov left, only at the age of 50.
He was the man who symbolized the adventurous spirit of the team that came to bronze 25 years ago at the World Cup in the United States. He was the heart of that team, and his heart did not last – he died after a massive heart attack. He went to Samovodene, 30 kilometers from his native Gorna Lipnitsa, still in the Tarnovo region.
SEE YOUR GALLERY – COMMENT FOR THE BIG TREE OF IVANOV >>>
Tuneo, as everyone knew Bulgaria, was the fighter and chief of that squad that wondered the terrain. Never after the career of a footballer became a manager or a "functionary". Maybe because he did not care about being nice and dear to everyone. He was not the face of studios, news, magazine covers.
He was not looking for him, he did not want new glory and publicity. He stayed in Tarnovo, had his own affairs, business ventures and personal life. And you remained a man and a silent, did not enter the general tone of "specialists on everything".
In Germany, after his epochal victories over them twice a year (1994 and 1995), he called him the "Ivan wolf", and a Brazilian TV commentator nicknamed him "the pirate" even in the world in the United States. With his appearance – quite awesome, with extreme physical strength and presence, he was one of the toughest central defenders in Europe in the 1990s.
From his native Etar he shot himself in Sofia and became champion three times with CSKA, where he also participated in European tournaments and made memorable matches against Barcelona, ​​Sparta (Prague) and Olympia (Marseille).
Wearing the team of serious teams in Europe such as Rapid (Vienna) and Bethes, he was close to an almost secure transfer to Barcelona during Stoichkov's time. He met face to face with some of the greatest attackers of the epoch, "biting" them tight and never betrayed.
One of the few Bulgarians who played at the European Cup final – with Rapid losing to PSG in the Battle of the Cup of Cups in 1996.
The "Iron" Trifon played 76 times for Bulgaria, including two World Championships and one European Championships, and for the second World Cup it ranked us with its most famous goal. He scored Russia on September 10, 1997, we would be 1-0 and we went to France 1998. It can be argued whether this is not the last real big match of Bulgaria.
His daughter Galya shared a moving picture and a short text on social networks to recall the date. And the grief …
His death came as a shock to our football, and not only.
Trifon somehow managed to protect himself from negativism. Probably because he did not mess with the muddy waters of our football, and the whole alliance around him.
Let us remember today the "iron" Tuneo, exactly three years after his separation.
SEE THE PICTURES IN YOUR GALLERY – TRIMBONE WRITER >>>