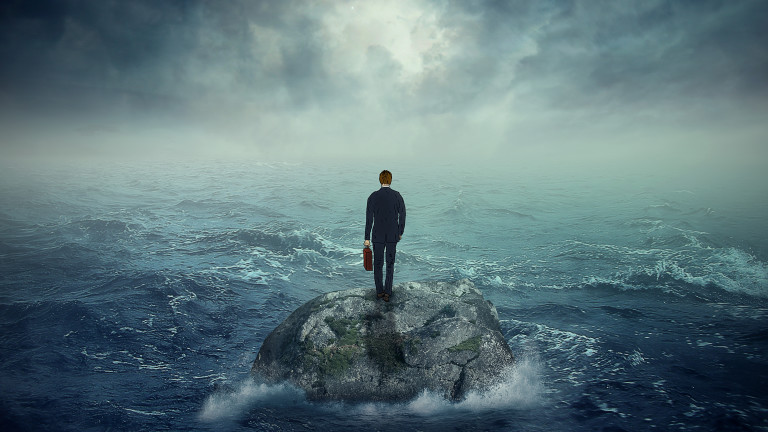 It's time for the world's central banks to change their monetary stimulus policy! And immediately I give three reasons for this:
First – they are very expensive
Second, they are extremely inefficient
Third – they create financial bubbles
As genius investor Warren Buffett warns, you learn who swims naked when the crowd comes out of the water. And the crowd may soon start coming out of the water.
The negative effects of the eased monetary policies of central banks around the world have long been known. But perhaps the most serious of these is their impact on banks. We have all seen what happened to Deutsche Bank after years of poor results and excessive costs.
The CEO of UBS Group AG was one of many experts who expressed concern about the worldwide relief of central banks around the world. A policy that takes the financial markets to new historical records.
"I will be watching very, very closely, the further growth in the balance sheet of the central banks," Sergio Ermotti said in a television interview in Bloomberg earlier this month. "We are at risk of seeing an asset bubble."
With global growth slowing, central banks have been forced to reverse their course after many of them made efforts to tighten their monetary policy over the past year (the Fed has taken the most serious steps in this direction).
Federal Reserve Chairman Jerome Powell and his colleagues have already cut interest rates by a quarter percent, with the market betting on two more interest rate cuts this year. At the same time, the ECB is again on the verge of more stimulus.
For investors, central bank policy is something that fuels the rally in the financial markets. This increased the demand for risky assets. The Stoxx Europe 600 rose 13% in the first half of the year, its best return for a six-month period since 1998.
Bonds also went up as a result of pledges to ease monetary policy, which led to a record volume of negative yields. This triggers a spiral in which investors looking for higher returns are turning to riskier assets …
While difficult to visualize before they burst, potential financial bubbles can form in the global bond market, where $ 13 trillion in debt offers negative returns for investors. Of that $ 1.3 trillion is mortgage bonds in hot property markets, such as New Zealand and Canada.
The US Federal Reserve and other central banks around the world are only trying to support economic growth and boost inflation. But their policy of low interest rates and incentives is pumping up the value of assets that are already well valued.
Here are some asset classes that are already drawing attention to the risks involved:
Leverage
Few markets are of more concern than corporate leverage loans, called "junk loans". With these funds, corporations finance everything from buying up private equity to dividends to shareholders.
Debt – directly or through securitized products – is usually in the hands of mutual funds, pension funds, insurers and other institutional investors who are attracted by its high yield.
But leverage in excess of $ 1 trillion in the US alone has helped increase the leap in corporate debt. Research firm Covenant Review estimates that companies that use them to finance buyouts and acquisitions see their loans swell up to 7.7 times their earnings before interest, taxes and depreciation. Four years ago, this ratio was 5.5 times Ebitda.
With so much money pursuing the limited supply of high-yield debt, companies have been able to borrow at lower prices and earn generous discounts, worsening their balance sheets and financial condition.
Private loan
Yield hunting has also spilled into other markets, which used to be a bank-dominated area – lending to small and medium-sized enterprises without access to capital markets. The so-called private lending industry has accumulated approximately $ 766 billion in assets and is in the process of reaching $ 1 trillion soon.
Private credit losses could drown out those of leverage in the next global economic slowdown or debt crisis, UBS experts predict. And many private debt holders are likely to need liquidity at lower credit positions during the next downturn, providing investors with large cash holdings, according to Pacific Investment Management Co.
Zombie Company
Easy money helps keep some businesses alive, which would otherwise close. Such companies are described as unable to cover the cost of servicing their debt from operating profit for an extended period and have limited prospects for growth. They now represent about 6% of non-financial equities in advanced economies, according to the Bank for International Settlements.
The share of US low-capacity non-profit companies is 32% at the end of May, the highest level since the global financial crisis, according to Leuthold Weeden Capital Management.
Government Debt
Even some of Europe's most risky government bonds have risen to unprecedented levels. Greece, which carried out the largest debt reorganization in history just a few years ago, now has record low borrowing costs, with yields falling below 2% last week on its 10-year benchmark.
Italy saw its two-year bond yields move into negative territory earlier this month, with the ten-year bond halved by more than 3% earlier this year.
Although political risks have diminished in both countries, they still carry enormous debt that has plagued investors in the past, as witnessed by the surge in Italian yields last May when liquidity evaporated.
European credit
Even some junk bonds are traded at levels where investors have to pay for the privilege of holding them. The number of these euro-denominated and negatively traded securities is now 12, according to data compiled by Bloomberg. There were none at the beginning of the year.
So-called "investor tourists" – who typically buy higher-rated loans – are also looking for assets further down the bond quality spectrum for better returns.
European high-yield funds attract an inflow of assets for the seventh consecutive week, totaling 3.5 billion euros ($ 3.9 billion).
Stocks
The S&P 500 is trading at levels 17 times next year's earnings, despite political uncertainty and a trade war with China. While this number may not seem very high, investors should be aware that it has traditionally reached 25 during peak times and before the "bubble burst".
Some prominent Wall Street veterans warn that risks are emerging in certain sectors.
Rob Arnot, founder of Research Affiliates LLC, recently labeled big technology as a potential pocket. FANG Shares – Facebook Inc., Amazon.com Inc., Netflix Inc. and Google's parent company – Alphabet Inc. have increased by 1167% since 2013, or 10 times the S&P 500.
Properties
An analysis by Bloomberg Economics this month found that property markets in Canada and New Zealand are the most vulnerable to a housing price correction. Australia, Norway, Sweden and the United Kingdom are also worrying about the "housing bubble", which takes into account the ratio of house prices to rents and incomes, as well as inflation-adjusted prices and household loans.
According to UBS surveys, markets around the world that show balloon-like features currently include Hong Kong, Munich, Toronto, Vancouver, London and Amsterdam. In many areas, prices have been driven by a wave of investors buying rental properties in search of better returns.
That is, it turns out that, ironically, central bank policy, which is otherwise geared to creating stability and stimulating growth, may prove to be one of the most important factors in shaping some of the next financial bubbles, which will lead to another crisis.
In the meantime, the forex market signals that expected monetary easing circuits are unlikely to make particularly big changes in an environment of persistently low inflation, according to analysts at BofA Merrill Lynch Global Research.
"This is potentially a big problem because the exchange rate is important, if not the main channel through which monetary easing is expected to affect inflation and inflation expectations today," analysts wrote. "With the very low interest rates already in place – 1/3 of the government bond market and 1/4 of the common bond market offer negative returns. Further declines in yields are unlikely to be of great importance to the real economy," says in the analysis.
Why is the foreign exchange market unresponsive?
Analysts see two possible reasons. First, when all central banks are relieved, they are simply mutually neutralizing their actions.
With this "bad balance", they all end in loose monetary policies, but without changing the value of their currencies. This means that they simply maintain asset prices without affecting the real economy, risking balloons in the future.
Second, the forex market may signal that further easing of monetary policy will not affect the real economy and is therefore unnecessary, according to BoFA analysts.
* The material is of analytical nature and is not advice for the purchase or sale of financial assets.