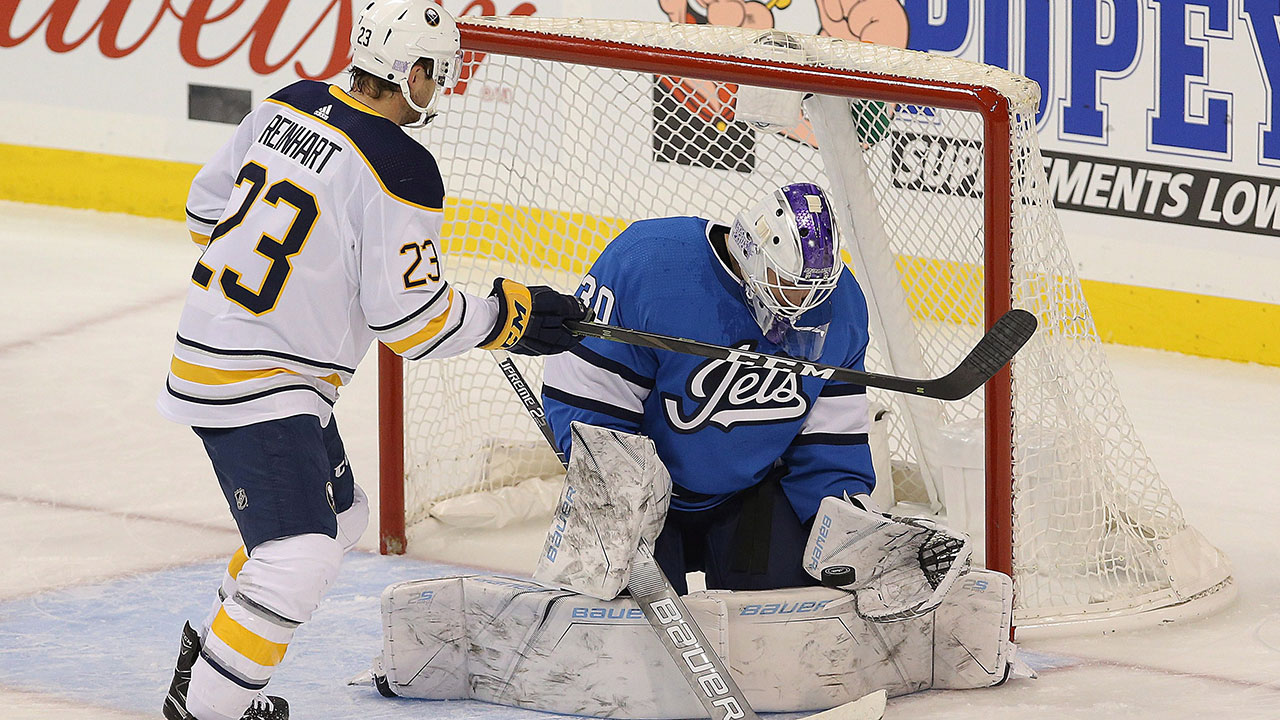 WINNIPEG – This is not only a four-game winning streak that has increased the confidence of Jeff Skinner and Buffalo Sabers. It's also about the team they defeated.
Conor Sheary shot high past Jets reserve keeper Laurent Brossoit in the seventh round on penalties when Sabers beat the Winnipeg Jets 2-1 on Friday.
Skinner tied 1-1 at the start of the third period in a game of power for the Sabers (11-6-2), extending his record of goals to four matches with 14 seasons. He has five goals in a range that includes wins over Tampa Bay, Vancouver and Montreal.
"This should give us confidence," Skinner said when asked specifically about the last two wins over the Jets and Lightning.
"This really gave us confidence in the Hutts (goalkeeper Carter Hutton). I don't think we want to ask much from him every night, but he has grown up in the last two matches."
Hutton, who played all the games in a series of victories, stopped 25 from Winnipeg shots.
Kyle Connor scored his ninth goal for the Jets (11-5-2), who won three straight matches. Connor's second period goal gave him three goals and two assists in his last four matches.
"Yes, I think every game I have grown and really took steps to become a more consistent player day after day," Connor said. "I think that's what makes great players in this league great, takes it every night."
Brossoit made 31 saves in his fourth start (3-0-1) this season.
"I think we took the game most of the way and they made one and that gave them a bit of a surge, some momentum," Brossoit said. "We managed to overcome the storm and then both teams played a good defense."
The Jets outshot visitors 12-4 in the first period, which featured some solid savings from both netminders.
Buffalo head coach Phil Housley said Hutton made some "big" stops early.
"I think we only give them a little respect," Housley said. "We settled in second place, got our feet below us. We started shooting pucks, getting pucks to the net and that created a lot for us."
After Dustin Byfuglien fired a shot from the post, Connor scored in the 2-on-1 with Patrik Laine at 7:10 seconds. Laine then forced the turnover near the Buffalo net, but his shot came out of the post.
"I like that sentence," said Jets head coach Paul Maurice. "I like playing Patty a lot. There's a bit of physicality, there's a direct one, he broke one or two posts. So that's a good sign for him.
"I think during the last two games, maybe (goalkeeper) the last game of Connor Hellebuyck, Kyle Connor became the best player on the ice for me. He was just fantastic. There was some chemistry on that line. I like him very much."
Then in that period, Brossoit made an almost expensive move when he came out to play a loose chip and swipe it out of his net.
"That's a good game," brosoit joked. "I bounced it off the side of the net and then (Josh Morrissey) could take it from there. They wouldn't expect anything like that."
The Sabers continued the game of power with 19 seconds remaining in the second period after Jets forward Brandon Tanev was called to hold. They capitalized 53 seconds in the third when the rebound bounced around scrambling in the folds and shoveling Skinner on the backhand past Brossoit.
Winnipeg captain Blake Wheeler has a consecutive point ending in 11 matches (two goals, 18 assists).
The Jets began a four-match trip on Monday in Vancouver. Buffalo completed a back-to-back set Saturday in Minnesota.