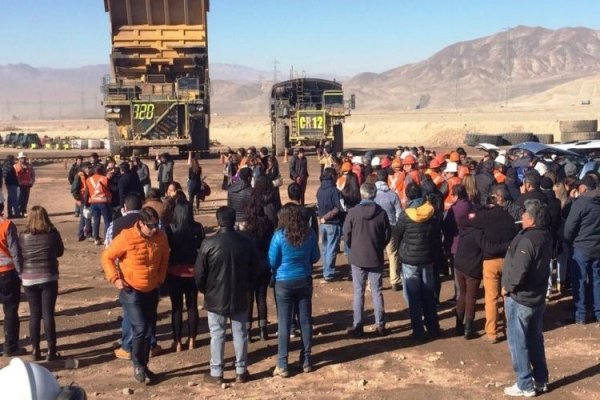 The closure of the smallest trade union process – which today exceeds a thousand workers after withdrawal from larger organizations – forced them to convene a general meeting.
The pressure that has increased every day due to "flights" of the affiliates of the four major unions of Codelco to the two smallest organizations in the division, due to internal differences after rejecting the expected negotiation process and following the regulated path, he suffered a profound fiddle among workers.
The fact that miners' unions and No. 5 managed yesterday to put an end to collective bargaining by approving the last offer of the state-owned company with more than 90% support and less than two weeks after the company's offer, warned against a massive outbreak of workers to receive the benefits of the new collective agreement. In the last few days, both trade unions have risen from 379 to almost 1050 workers.
These reasons were sufficient for Antofagasta's trade unions 1, 2, 3 and No 1 to take action on the matter, referring to a general meeting – of an urgent nature whose only question in the table is collective bargaining.
The meeting, which will take place today at 5:30 pm at the Md Hotel, will be considered the possibility of adopting an expected process, withdrawal of the agreement a few weeks ago when a hand vote was rejected by a large majority to accept the invitation of the state to negotiate earlier.
A difficult obstacle
So far, the four alliances that will determine their future this Friday are in the process of regulated negotiations, where they are working to develop their request. Sitting at the table with the state, however, does not promise to be an easy process because only on Tuesday they recognize in internal communication the existing interruption of labor relations between workers and the administration.
As explained, the reasons for this distancing are mainly due to the exclusion of workers and their unions in the process of transformation of Chuquicamata. and what they define as "disasters" in the administration of the administrationIn this way, they defeat the excesses that show an interruption between the leaders themselves and their bases.
The transformation process of Chuquicamata, which will operate from an open pit to an underground mine, has become the great factor that today calls for a new arrangement of the Chuquicamata Division's trade union, which has 4,500 trade unions. It is this change that motivates the state to offer collective bargaining It is expected that his six unions will quickly clear the process that was already predictable as a difficult one in the midst of questioning the exit plan and adjusting for some benefits.
Source link