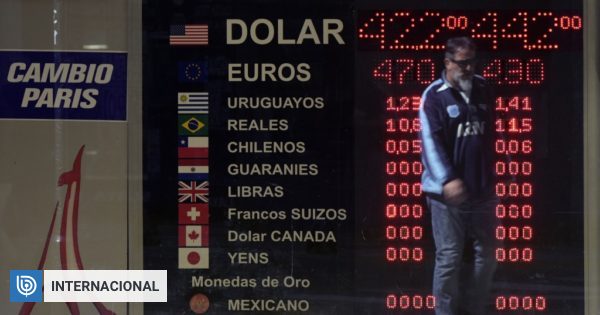 The Merval Index in Buenos Aires fell 3.82% this Wednesday, in a negative session for the markets with devaluation of the peso and rising risk indicator, within the framework of political uncertainty six months before the presidential election.
In the currency market, the peso closed at 44.92 pesos per dollar, in the middle stock exchanges and banks, with an impairment of 3.12% on Tuesday, in line with the strengthening of the dollar on the global market.

"For Argentina, global movements beat you for two," economic analyst Fausto Sporto confirmed.
The JP Morgan risk indicator closed at 963 basis points, almost 11% more than the previous day, and reaching its peak after the adoption of President Mauricio Macri (center-right) in December 2015.
The president, who is running for re-election, has explained the nervousness of the electoral climate markets, given the uncertain outcome of the October election when opposition candidates have not yet been nominated.
"Now everything is crossed with the elections because the world doubts that the Argentineans want to come back and that makes the world very scary." Then the risk for the country increases, they occupy more defensive positions, but I think they are wrong. Doubt is unreasonable, because we will not go back, "Macri said at LT29 in Santa Fe.
In the Buenos Aires stock exchange, Merval fell 3.82% to 29,746.60 points. The total balance of the companies showed 35 rallies and 50 losses at an agreed volume of 878 million peso (19.5 million dollars).
In the avant-garde board the worst performance was achieved by the producer of steel "Ternium" (-8.20%) and the best result was agro-exporter Kreslow (+ 3.66%).