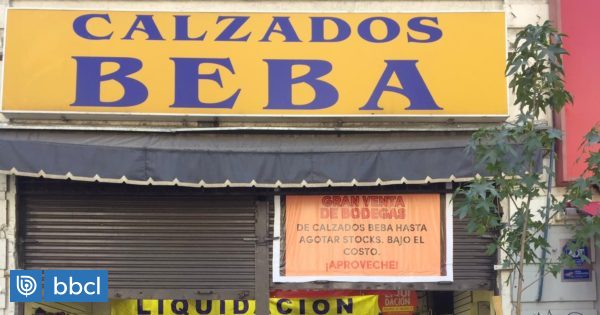 Following the announcement of the closure of Calzados Beba, as a result of millions of debts to its creditors, the sale of the popular shoe store began Monday – Friday.
Thus, the company was legally compelled to comply with the payment of its debts. All this through offers starting from 500 pesos and products under price.
The sale sparked a furor in its stores in Calle Puente, in Santiago Centro, as happened in 15 other branches in Antofagasta, Copiapo, Ovalle, Valparaiso, Vinha del Mar, San Antonio, Puente Alto, Melipila, Chilean, Angola, Temuco. , Puerto Montt and Castro.
In particular, it is possible to find women's sandals with 500 pesos, shoes of 2,000 pesos and thick boots for the winter of 4,500 pesos.
Liquidation of Calzados Beba in Puente 741, Santiago Centro. #tiemposmejores pic.twitter.com/Q0S6RdXGm9

– Yeik? (@ Yeik_32) February 12, 2019
Upon completion of these stocks, the stores will close permanently after canceling their obligations to Inversiones Bronia, AFP Habitat, Banco Bice, and the General Treasury of the Republic.
According to LUN, sometimes the high influx of society has caused chaos, especially since only 50 workers have been hired to manage the settlement in all the branches found for the case.
Prior to this court procedure, which began in December, in 2014, Kalsados ​​Beba was one of the first companies to participate in the then Bankruptcy Act through a judicial reorganization procedure that allowed her to overcome her complex financial situation.
Despite these attempts, however, the popular shoe store failed to address its problems, which in the course of their history were characterized by the supply of detailed and wholesale products at modest prices ranging from 3,000 to 12,000 pesos.