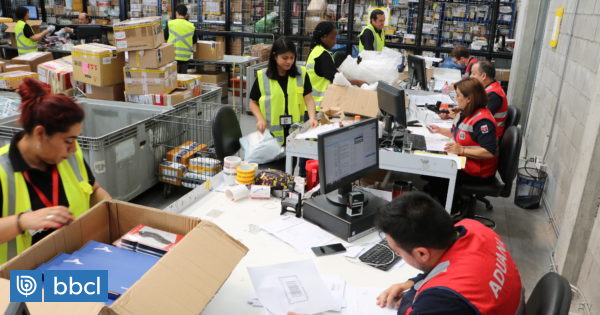 Customs with Correos de Chile to carry out a more effective verification of the growing market of e-commerce and international shipments arriving daily in the country have implemented a contingency plan in recent weeks to deal with holiday season,
In the context of the explosive increase in this type of shipments, which by 2012 reached 500 000 plots, it is estimated that 2017 multiplied exponentially 17 million packages and envelopes,
These goods are processed at the Santiago airport postal station and at Quilicura's Post Office Technology Center (CTP).
Maximum deadlines
For Finance Deputy Francisco Moreno "is extremely important because we already had a contingency plan in August, where we found 35,000 packages that are still awaiting their capacity, review and subsequent delivery."
He added that "with the collaboration between customs officers and Correos de Chile, which I would like to emphasize, we have succeeded in completing the delivery of the delayed plot and today the term for reconsidering a plot or commodity brought from abroad is five days, then comes the corresponding delivery ".
The first results of this work between customs and the state-owned company are observed in the middle of the year when concrete measures were announced between August and September through a standardization plan that made it possible to eliminate delays in the physical examination of goods. Today, this was announced on this occasion, the measurement is carried out within a maximum of 5 days since the goods were selected in the scanner.
Continuing with this optimization of the process, the peak of the year, shaped in the Christmas holiday of the Christmas holidays, in collaboration with Correos, strengthened their November 19 donation with inspectors' turns at night and on Sunday, in addition to strengthening measurement and evaluation with daily monitoring to avoid any delay in the process stage that is the responsibility of the service.
As always, in these processes, responsibility is shared with users who need to be informed that this type of purchase through e-commerce portals, regardless of the amounts, is importing products.
In this way, all buyers who bring goods to the country through Correos de Chile or courier companies must comply with these provisions, process the good views of the competent authorities, and consider paying taxes and duties, if any.
In addition, the audit provides for the scanning of 100% of the packages entering the country through Correos de Chile and allows, on the basis of risk profiles, to select goods for capacity and thus to prevent the entry of illegal goods.
To be informed
Consumers should be informed that after the customs inspection, if applicable, Correos de Chile can inform you whether your goods must meet any additional requirement and / or payment of duties and taxes.
Regional Director of Metropolitan Customs, Wildo Arévalo, stressed that "there are a few important tips that citizens need to consider when making international purchases." If they are medicines, they must have VBs at ISPs or, if they are food, they should are from Seremi de Salud, and they have to be careful to buy goods that violate intellectual property, copyright. "
"We should also note that the Deputy Minister has left us a task some time ago, when we were very far behind, and today we are finished within five days and we have prepared more staff, and in 50% – still recruiting more eight people, which means that the audit is very effective, "said Arévalo, out of 100% of what is coming out for review, 80% are subject to payment.
Goods that require good views of other organisms for their entry into the country are, among others, food, pharmaceutical or cosmetic products (Institute of Public Health, ISP) of plant origin or fertilizer (Servicio Agrícola y Ganadero, SAG) (telecommunication sub-secretariat), weapons, ammunition, flammable or airborne chemicals (DGMN).
In order to properly determine the payment of taxes and charges, the buyer must keep the account or invoice and proof of payment that may be requested through Correos de Chile, the agency receiving such documentation and submit it to the customs.