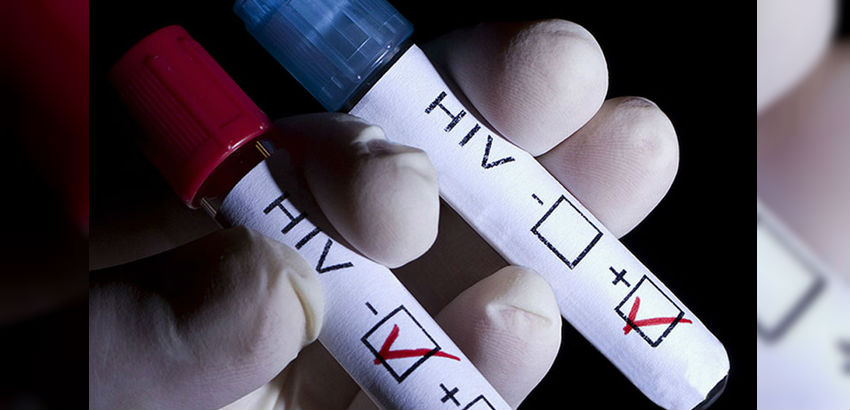 – Find out what I have HIV It was not a big surprise, but they still reflected on me … Before they said you had AIDS and that was a death sentence. I infected myself for what was my stable partner for two years. He knew, but he never told me, despite the confidence we assumed. The spokesman is Rodrigo, a 32-year-old lawyer, a lawyer who tells how his life has changed after learning about his infection,
"One day I ordered some papers, I found a medical certificate and my life collapsed In despair I went to the doctor's office hoping I would not be infected … Two weeks passed and the midwife came to my house and she told me .. I was black, I did not know what to do, more than weeping … they made me countersample and gave me a result My mother was the first one she knew I thought I was going to die But I'm here in 12 years – he calmly, like someone who says ancient history.
Rodrigo explains that the process was very painful because he did not have the same maturity as he is now. "I was 20 years old, my life is just beginning … but in everything good, not everything was so bad, my defense was high and I was not at risk." Hygirus "Hospital even told me it was not yet I need to start my treatment.
Unfortunately, I trusted and remained so until April this year when I was released AIDS"I had a terrible time, but thanks to the treatment and my faith in God I managed to turn the situation back and I was fine again." Of course, this time it is clear that he will not have a second chance, and this time the neglect of his medicine can kill.
His case is one of the thousands in the Bio Bio area and, according to the latest data from the Ministry of Health, they are raising alarmingly.
In fact, according to information issued on the basis of the SEREMO de Salud Obligation to Obligatory Notification, 2017 ended 379 new cases of HIV / AIDS, a higher figure of 5.5% compared to 2016, equivalent to 359 cases.
Although the epidemic situation is seen upwards, 2,258 of the 2432 people living with a diagnosis HIV from 2010 to date, they are currently receiving antiretroviral treatment.
With regard to the progress to better deal with the explosive progression of the disease since September this year, over 20,000 rapid tests are being carried out. HIV in all primary care centers in Bío Bío: Concepción 5,920; Bío Bío 9.840; and Arauco 4,600.
Organic Biology Clinic Tanya Vidal explains that action is being taken that is part of the National Plan, announced by the Ministry of Health, which aims to reduce the transmission of HIV through combined testing and prevention strategies in the context of social health factors: promoting safe sex and preventive measures for adolescents and young people; strengthening the care network HIV the public system, improving testing management, drugs and supply monitoring, amongst other purposes.
One of the family's health care centers is pioneering the adoption and implementation of the first batch of rapid test HIV was Ceshfam, Victor Manuel Fernandes, with 4,200 analyzes, whose white march began in late September this year.
The important thing for these tests, which is ready for an average of 15 minutes, is that they are distributed to all patients who require them, regardless of their prognosis and what part of the region they come from.
How it works
This consists in extracting a capillary sample from the ring or middle finger that is processed and leads to a short time. If positive, an intravenous sample is taken immediately (or the next working day according to the schedule in the appendix), which refers to the Institute of Public Health (ISP) for a new treatment and eventual confirmation of the outcome.
"To date, we have counted 111 people who have been tested, of which there is only one case," said the director of Health Service, Dr. Carlos Grant,
The analysis is applicable to persons over the age of 14, who may request it without the consent of their parents, but if the intravenous sample analyzed by an ISP confirms the positive result, the healthcare institution has the obligation to notify the legal representative of the minor,
"Before the teenager who was at risk had to go with one of his parents to take the test, today he can not go to Csemam alone, but if he comes out positive, he has to be informed about the parents" He said Csfam's director of VMF, Dr. Ralph Miller.
According to statistics from the Concepcion Healthcare Network, SCC in the first half of 2018, 1,155 patients are under control. HIV, concentrating most of the cases between the ages of 20 and 29, was worrying as 96 new cases were added to the 20- and 24-year-old population, mainly among the male population.
In this situation, the CSD Director stated that "in order to avoid a significant epidemiological increase, it is necessary to emphasize that all information campaigns and methods that allow us to avoid pollution HIV, which has increased by 10% compared to the previous year, which is a complex situation not only for the region but also for the country. "
Greater education
In this sense, early education is important, especially among teenagers and young people, said the government, Seremi, Francesca Parodi.
"It is our government's concern to both prevent and detect early disease in the youngest segments as it risks infecting more people." Condom use is therefore essential in order to stop the increase HIV in the population, "he said.
The Authority added that it should raise awareness of the importance of prevention. "There is a need to raise awareness of a condom use campaign in the Bío Bío health centers," said Gore spokesman.
From 1 February 2019, the Health Ministry will have an important challenge: to control the proper preservation of prophylaxis, sold, imported and manufactured in Chile, and sold at authorized stops to the rise of the disease.
Regarding the responsibility of government and sexual education in schools, Parody commented that "education can always be improved because it is never enough, you need to generate more awareness through effective campaigns like those that are already doing. , which includes intersectoral work based on objectives defined by all the sectors concerned. "
In this sense Education Seremi, Fernando Pena, says "while the prevention table HIV AIDS is headed by MINSAL and integrated by 20 more institutions, our job was to join the campaign throughout the year prevention HIV AIDS, by including educational materials on brochures and trips. This material is emanated by Ministry of Education and we, as a region, take care to reach the respective provinces and institutions that are in them. "