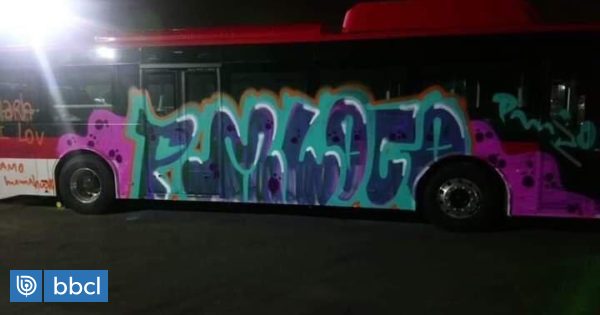 One of Transantiago's new and brand new electric buses seems absolute disfigured inside a terminal.
This is unusual, but they arrived two weeks ago, yet no one has gone to one of them and they have already been attacked by strangers who have painted completely one of the most modern public transportation units in South America, which will become operational in the capital.
The incident happened at the beginning of Friday at one of the terminals in Maypu Municipality. There are 100 buses that Metbus operates and awaits the launch of the Green Corridor Electric Corridor, where 5 municipalities in the Metropolitan area will be heading, something to be formed in the middle of this month.
The first 100 public transport electric buses in the capital are already in Santiago! ? They are friendly to the environment, have universal accessibility, have Wi-Fi and air conditioning ??

There is little to see them moving in the capital # Best transport ?❤ pic.twitter.com/5pPLuMp7b9

– Ministry of Transport and Telecommunications (@MTCTChile) November 26, 2018
There is no evidence of anyone arrested with this act. The government has previously qualified paintings, graffiti or scratches that are not allowed in real estate and public and private goods as "trouble".
This last episode remembers what happened to the two-story bus which was tested in the streets of Santiago last year and was also attacked.
The good news for future users is this the bus immediately recovered, which proves that these machines not only have air conditioning, universal accessibility and are friendly to the environment, not polluting emissions or noise, but can be easily cleaned. There was no lasting damage in this way.
Carla Rubilar, Mayor of the Metropolitan Region, said what happened in her Twitter account.
"The complete rejection of the vandalized creature that they have not even been used," he said.
Our electric buses are owned by everyone. They will make the area more friendly and sustainable, taking care of air quality and not creating annoying noises. Complete rejection of the vandalized creature that they have not even been used. Let's take care of what belongs to ours #RMdeTodos!!! pic.twitter.com/EkRGQ2xatj

– Carla Rubilar B. (@KarlaEnAccion) December 9, 2018