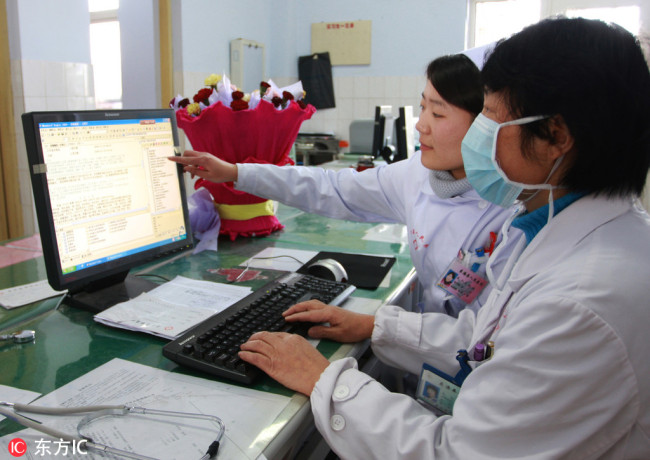 Doctors analyzed the REM (Electronic Medical Record) of a patient in Dunhuy County People's Hospital, Jiangsu Province.
An Artificial Intelligence program developed in China that records the results of exams, medical records, and even handwritten prescriptions is able to diagnose pediatrics with the same precision as doctors. This was revealed by the investigators on Monday.
According to Nature Medicine's report: from flu and asthma to pneumonia and meningitis that pose a threat to life, the system performs the same or even systematically outdated primary pediatricians.
Dozens of studies in recent months have shown how AI revolutionizes the discovery of diseases, including cancers, genetic disorders and Alzheimer's disease.
AI-based technology learns and improves in a similar way to people, albeit with virtually limitless data processing and storage capabilities.
"I think he will be able to do the bulk of a doctor's work," said senior researcher Kang Zhang of the University of California, USA.
"But AI will never replace a doctor," he added, comparing the link with an autonomous car that remains under the supervision of a man.
"It will simply allow doctors to work better in less time and at lower costs."
The new technology, Zhang explained, is the first in which AI absorbs unstructured data and "natural language" to mimic the process by which a physician realizes what is wrong with the patient.
"You can imitate a human pediatrician to interpret and integrate all kinds of medical data (patient complaints, medical history, blood tests and images) to make a diagnosis," he reveals.
The system can be easily transferred to other languages ​​and configurations, he added.
By comparing hundreds of information to one patient with a large amount of knowledge, technology discovers links that previous statistical methods (and sometimes physicians of flesh and blood) overlook.
To train the conceptual test system, Zhang and a team of 70 scientists injected over 100 million data points from 1.3 million visits to pediatric patients at a large reference center in Guangzhou, China.
The AI ​​program diagnoses respiratory infections and sinusitis, a common sinus infection, with an accuracy of 95 percent.
Even more surprising, Kang noted, he also did so with less common illnesses: acute asthma (97%), bacterial meningitis and chickenpox (93%) and mononucleosis (90%).
Such technologies can arrive just in time.
"The range of illnesses, diagnostic tests and treatment options has increased exponentially in recent years, making the decision-making process for physicians more complicated," Nature said.
Experts outside the study have assured that the study is yet another proof of the expansion of the role of AI in medicine.
"Work has the potential to improve medical care by helping the doctor to make rapid and accurate diagnosis," said Duck Pham, professor of engineering at Birmingham University.
"The results reveal that on average the system works better than younger doctors."
"But it will not replace doctors," he added.
Machine training, which forms common rules from specific training examples, "can not guarantee 100% accuracy, no matter how many training examples they use."
Instruments based on artificial intelligence for diagnosis are many, especially for interpreting machine-generated images such as RNM and CT scan.
A method introduced last month in the United States to detect lesions that can cause cervical cancer has detected precancerous cells with 91% accuracy, compared with 69% for physician studies and 71% for doctors. conventional laboratory tests.
Similarly, according to a study published in the Annals of Oncology, an AI-based mobile phone application surpassed dermatologists with expertise in distinguishing potentially cancerous skin lesions from benign lesions.
<! 744609142019-02-13 13: 18: 06: 0
AI system, disease detection
1006
7109799
China
China
http://images.china.cn/site1006/2019-02/13/t2_(17X3X596X389)eb613b74-88a0-497d-8b52-a324d31a2659.jpg
http://images.china.cn/site1006/2019-02/13/t2_(17X3X596X389)eb613b74-88a0-497d-8b52-a324d31a2659.jpg
http://spanish.china.org.cn/photos/txt/2019-02/13/content_74460914.htm
zero
Theresa Zheng
Spanish.china.org.cn
1
/ enpproperty ->
Source link