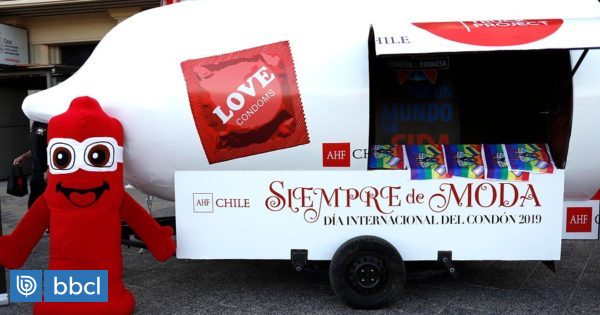 As part of Wednesday's World Congratulatory Day, AHF AHF travels to the capital to raise awareness among Santiago residents about the use of condoms.
In this opportunity, AHF Chile will present the results of the anonymous survey on risk practices conducted in the Metropolitan area, Valparaiso, Maule and Los Lagos between June and December, to 3,308 people.
Among its main findings with regard to the use of condoms is that: t 22% of women say they do not require condoms, 26% say they have almost never used it, compared to 21%, who say they have almost always defended the scarcely 8% who have always used it.
In the case of men, only 14% say they have always used a condom and almost 39.7%. On the other hand, 10.9% said they had never used protection.
AHF Country Coordinator Chile, Leonardo Arenas, said that "today" The condom has a very low cost or even is likely to occur in public health. For this reason, campaigns today should strive to use them effectively. "
In addition, the organization will present "The Condom Trucks Project"– a gigantic rollover of a condom that will travel around the city to inform citizens about the importance of avoiding and reducing the prevalence of sexually transmitted diseases.
Today, she was outside the Baquedano subway and the baker at the University Theater in Chile and then moved to the exit of the metro station where you will have information on the use of condoms and distribute female and male condoms.
We 're in the main station! Come for the condom! #Diainternacionaldelcondon pic.twitter.com/8s7W7AQEXF

– AHF Chile (@AHFCHILE) 13 February 2019