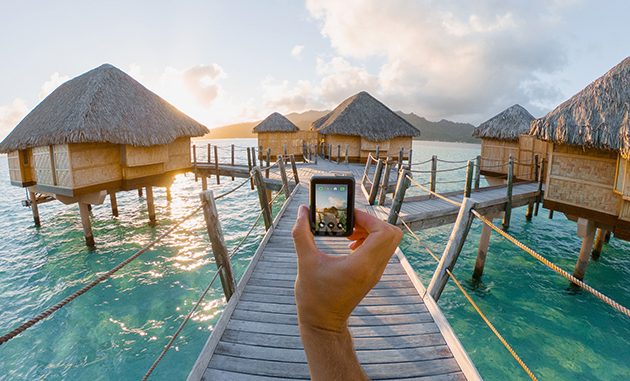 The best action camera on the market is updated with new releases that significantly improve the quality of video recording. The HERO7 Black Improve the performance GoPro to a new level, combining technology that allows you to get very clear content, highly stable TimeWarp and smartly optimized photos. Also, that includes the first time Streming Life by Facebook, among other innovations.
To live more adventures, the main novelty of HERO7 Black is a super digital image stabilization or "Hypersmooth" with recording capabilities at 4K / 60p. To achieve the best action video, this feature allows you to get a stable video without using any instrument to achieve it. The last is because the camera anticipates movement and corrects it, so as to avoid vibration. In this way, very clear and professional content is achieved.
As a result of a strong stabilizer and without the need to use other additional accessories, GoPro HERO7 Black It captures super stable sequential video even as we move through scenes, allowing you to record videos up to 30 times faster with the help of high-speed filters. This technique is called TimeWarp, where through several photos, videos are recorded in motion with accelerated time, for example, walking on a road or cycling through a hill.
Share stories when you live Live Streaming, it's been possible with new ones HERO7 Black, The first GoPro can share videos directly on platforms like YouTube, Facebook or Twitch. With this innovation the device becomes a very practical element for social networking.
Another feature is a new mode called SuperFoto: images that are sharper and brighter automatically. With Superfoto, which is HERO7 Black smartly applying HDR, local tone mapping or noise reduction to get extraordinary photos with any lighting. The technique is that he managed to combine several digital processes to achieve a more spectacular appearance in photographs.
In this version we also found that HERO7 Black You can capture vertical images, namely photos and videos in an ideal portrait orientation for the story of Snapchat and Instagram. Add to this voice control, where without having to use your hands, we can control the camera with instructions such as "GoPro taking pictures" or "GoPro video recording". GoPro HERO7 Black He also has the ability to sink up to 10 meters without the need for housing.
GoPro HERO7 Black This makes the 2 inch touch screen and 1220 mAh battery. It has a value of $ 329,000. In addition, it can be found in two other formats: Silver and White.