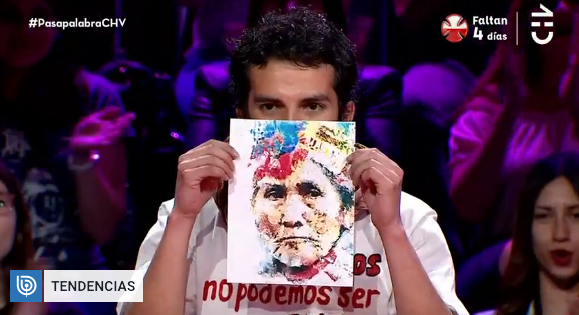 The head of the Pasapalabra this Monday, November 26 had a special ingredient.
This happened at the beginning of the program while her driver Julian Elfenbane presented the masters, as well as the invited participants.
Just as the animator announced Alan Gonzalez, the captain of the blue team, the local from Talcahuan showed the image of Francisco Lynconeo.
The portrait, taught by the singer and songwriter, was a watercolor of the Mucha Commune, who was twice acquitted after being charged with having gathered 30 people before the attacking attack Luchsinger-McKay, on 4 January 2013 at the Granja Limahue farm, Vilcún, La Araucanía region.
Alan Gonzales shows the image of Francis Lincono in Pasalpalabra pic.twitter.com/nq7TeVpuFs

– Telepescola (@Telepescola) November 27, 2018
The fact quickly began to be the subject of social media, which led Alan to become a national trend.
It should be noted that in the head Gonzalez rose Martin Valenzuelato win El Rosco of 28 million pesos.
Finally, the winner of the episode was Martin, who would return to participate to try to get a 30 million well.
Seriously, people are angry because Alan shows the image of Machi Francisco Lincono in Pasalpalabra? Hey, they're really pathetic.

– Lady Gray November 27, 2018
#PasapalabraCHV What is the problem that Alan shows an image of Mapuche? ?

– Andrés Latorre (@Andres_lat_) November 27, 2018
@PasapalabraCHV Typical Communist Alan, showing a Mapuche image as a protest.

– Alex Quiroz (@ alexquiroz1980) November 27, 2018
#pasapalabra
We hope to get the municipality out today
Show mapche at the beginning of the program.
And if I showed a picture of Pinochet, what would they say?

-. (@Max_sinlimite) November 27, 2018
I suppose if any participant shows Pinochet's picture there will be no problem #Pasapalabra

– paulina camus (@ paupau40) November 27, 2018
NO MORE POLITICAL REPORTS !!!!! This is a program we see as a family, please do not change the essence of pappalabra.

– Nuria Poblete (@ NuriaPoblete1) November 27, 2018