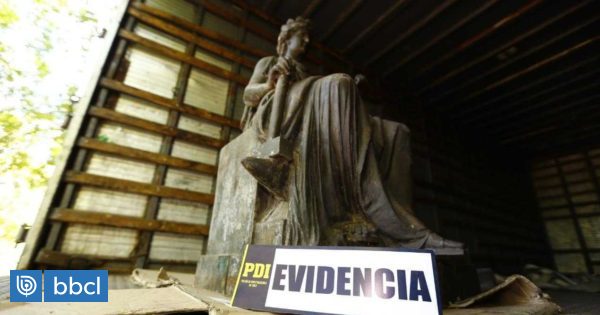 The staff of PDI recovered more than 10 stolen statues. Among them is the Buenos Aires statue "La República", stolen in 2003 from Rubén Darío Square in Playa Anca. The work was at the San Francisco de Mestazal municipality, in the O'Higgins area.
They were detectives of the Investigation Brigade for Environmental Crime and Cultural Heritage (BIDEMA) who carried out the proceedings.
Subprocess Pablo Ibarra, head of BIDEMA by Valparais, said the investigation was through a photo published in a local newspaper stating that the Republic was somewhere in the country. This was added to a reception request in the OHiggins area.
Many pieces of untold value for the country's cultural heritage were seized. Among them, was the statue of the Republic, 8 statues of the General Cemetery and 2 of the Santa Lucia Hill, in addition to 2 silver chests stolen from the San Francisco de Santiago church.
In addition, archaeological and paleontological species were captured in the monuments, weapons and other articles of the Pacific War.
This is the result of a BIDEMA analysis that ended with the search for a house in the former La Punta, where the restored statues were reported to be stolen and included in the catalog of stolen historical elements of the PDI.