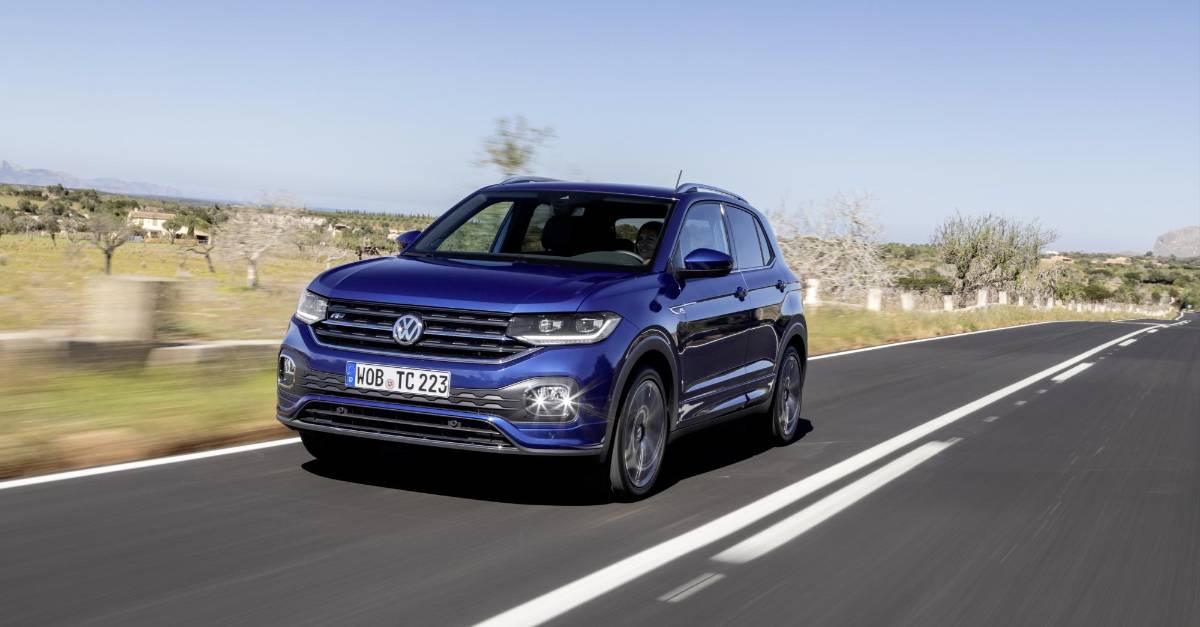 [ad_1]
The compact SUV (60-90 million pesos) is one of the busiest in the national market as it offers quotes from almost all manufacturers and offers single- or general-clutch trucks with a size in addition to motorizations not exceeding two liters cubic meters and almost all atmospheric, with manual or automatic box options. It is here that Volkswagen just introduced one of these alternatives because it had a hole in its portfolio because the most basic Tiguan almost crosses the 100 million peso line.
T-Cross is a new model introduced worldwide last year only and is being manufactured in our factory at Volkswagen's plant in Sao Bernardo do Campo, Brazil. Colombia comes in Trendline versions with manual or automatic gearboxes, Comfortline and Comfortline Plus, with prices ranging from 66.9 million to 83.9 million pesos depending on the equipment. They all have the same engine, a 1.6-liter four-cylinder 110 horsepower at 5800 rpm. The body is 4.2 meters long and the wheelbase is 2.65 meters, quite generously.
The EL COLOMBIANO version tested is the Trendline with a 6-speed automatic transmission and the option of manually steering with the help of steering wheel humps, which is an advantage over some of its competitors who still use four-ratio gearboxes or the controversial CVT. They don't always have a dynamic dynamic behavior. The driving position is very good and the seats are fabric, with manual adjustments and height adjustment. It has a panoramic sunroof, analog PCs and Composition Touch entertainment system with 6.5-inch color touchscreen and AppConnect technology for Android and Apple, which we found very easy to use. As a curiosity, all versions have a cellphone holder on the center console as well as a USB port for fast charging. Ventilation controls are a manual knob (Climatic), something that shrinks slightly from its level.
The interior design shows a good sense of quality in a good deal of solid materials but well laid out and armed, in different textures and with only side armrests lined with fabric as padded bases. The presentation, like a good Volkswagen, shows a practical and functional interior, far from unnecessary luxuries and gadgets. The steering wheel is adjustable in height and depth and has remote controls for audio, telephony, cruise control and on-board computers (somewhat confusing to tell the truth).
The interior space is generous and up to three people can travel in the rear seat with relative peace of mind, although the ceiling height when entering the cabin is very fair. The leg room is a remarkable remark, even with the front seats going back, there is plenty of room. This area has an independent air conditioning output and a USB port.
The payload space is 373 liters and the rear seats are folded in a 60/40 ratio. With the double bottom below the tray, the area is increased to 420 liters.
In terms of safety, it has a very high note as it has six airbags and the highest LatinNCAP rating, with five stars up front and side impact and excellent protection for pedestrians and child passengers, thanks to Isofix anchors for special chairs. Some versions even have fatigue control that detects driver fatigue and recommends stopping the hike using acoustic and visual warnings. It is also standard to activate the tail lamps in emergency braking and slope start assist.
The start is with a knife key, although the most equipped versions have this button system. The engine, which drives nearly 1.3 tonnes of T-Cross in Colombia, is a 16-valve MSI 1.6 with 110 horses and 155 Nm of torque to the front wheels, similar to that fitted with Polo and Virtus.
In other markets, you can have the three-cylinder TSI 1.0 out of 128 horses or 1.4 out of 150. The advantage of a known engine is that its problems are already resolved and its maintenance is cheaper.
Although the power seems fair in number, the performance is very acceptable. It's not a bullet in any way, and it takes patience when the road is sloping, but a six-speed sequential box and Sport helps you a lot in dealing with urgent situations.
In the city and flat terrain, it moves smoothly and satisfactorily, with good acceleration, although there is no high-speed engine combination. The maximum speed can be around 160 km / h.
Stability, thanks to ESC and traction control, makes the feeling of safety complete.
Suspension behavior, regardless of the front and semi-rigid rear axle, is focused on comfort driving and the cab may lie a little more than desired in turns, but this does not sacrifice overall comfort inside.
The height of the body is emphasized and very difficult to hit from below, even on unpaved roads and with irregularities, although sometimes it falls dry and this is felt in the cab.
The brakes are disc / drum, with excellent maneuverability and stopping efficiency. Very remarkable in this section.
The address, with electromechanical assistance, is well connected, fast and obedient. T-Cross maneuvering is extremely easy, which makes driving very enjoyable, aided by its compact dimensions. The reversing camera helps with parking maneuvers, although the proximity sensors, both front and rear, are quite "paranoid".
The lights are halogen, although there is an LED DRL and a Cornering system that incorporates the scanner from the side we are turning to to contribute to the side lighting. The mirrors have integrated directional light and are electrically foldable.
The cost, handling mostly on the road, is an average of 37 kilometers per gallon, acceptable considering the weight that these 110 horses need to move, and the good doses of accelerators needed at some points
The Volkswagen T-Cross performs very well as a compact family car, with good height to the floor, safe, well made, with very comfortable suspension, good ride quality and average economy. The Trendline version features exceptional equipment, and although its power is fair, it moves decently, with more focus on transportation without much fuss.
[ad_2]
Source link