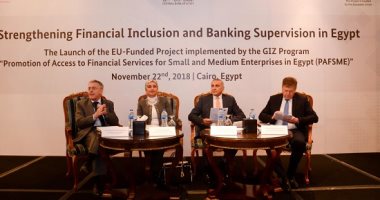 The Egyptian Central Bank, in cooperation with the European Union and the German Embassy in Cairo, launched the program "Strengthening Financial Coverage, Supervision and Supervision of Banks in Egypt" with € 3.2 million in the form of three-year technical assistance to support financial efforts integrating and strengthening the Banking Control Framework,
At the conference today to announce the program, the Egyptian Central Bank stressed that it puts financial cover at the top of its priorities and policies and works to coordinate among the various stakeholders at national level to create conditions that enable Egyptians , especially those who do not receive the appropriate financial services, from saving and reaching their financial aspirations, in addition to allowing micro, small and medium-sized enterprises to access finance, invest growth, and create more jobs.,
More than 100 participants from government, business, embassies and international development organizations attended the program.
Ambassador Sourkush, head of the EU Delegation in Egypt, expressed his gratitude for the efforts made by the Central Bank in the process of economic reform, highlighting the specificities of the EU's contribution, a unique program for financial inclusion and stability.,
Mr. Gamal Najm, Deputy Governor of the Central Bank of Egypt and Lubna Hilal in his opening remarks on recent developments in banking supervision and supervision and financial coverage. "The Egyptian Central Bank is constantly working to further strengthen the technical capacity of the control sector Banking supervision as well as banking management in line with international standards and best practices."
Ms. Lyubna Hilal explained the efforts of the Egyptian Central Bank to develop science-based policies by measuring the levels of financial coverage, the trends and challenges of the republic: "We have been able to collect a large amount of basic data to prepare the first report on financial inclusion, More on how to continue with this important work at the local level– he said.
In turn, German Ambassador Julius Georg Louie said that Germany supports the long period of financial integration procedures in Egypt and is pleased to see a great improvement for families and businesses in obtaining financial services and the German Agency for International Cooperation said that the Central Bank of Egypt has become a reference to policies for intelligent financial coverage in the Arab world and beyond,
At local level, financial inclusion has become a priority as the Egyptian government launched the Sustainable Development Strategy: Vision 2030, which focused on enhancing financial coverage and implementing a number of own initiatives in close coordination with stakeholders. To institutionalize this process, the Central Bank of Egypt (CBE) introduced the central administration for financial inclusion in November 2016 to manage and monitor the process of financial inclusion and strengthen coordination and cooperation with stakeholders,
Reform policies have been formulated to promote financial inclusion as a whole and the financial inclusion of women in particular. These efforts have led to a significant improvement in the financial inclusion indicators over the past two years, as shown by the FINEX index "Global Findex" Issued by the World Bank in 2017, showing an increase in the proportion of adults with a bank account in Egypt, reaching 33% in 2017, after 2014 was 14% and 10% in 2011,
The program will support the efforts of the Central Bank of Egypt to create a comprehensive database at national level to measure financial coverage levels through a supply and demand study that will cover both the household sector and SMEs. The study will be conducted in 2019 in close coordination with the relevant authorities,
At the level of the Surveillance and Supervision sector of the Central Bank of Egypt in the last decade, the sector has witnessed reform programs. It has begun to adapt the supervisory methodology from complying with the risk-based approach to regulatory directives. In addition, the banking supervision system has been developed and the Bank applies the Basel II decisions II andIII – In line with the schedule issued by the Basel Committee on Banking Supervision. This project will examine the implementation of the final amendments to the Basel framework III (Known as the Basel II framework, the supervisory and banking process, which contributes to improving financial stability and enhancing transparency and disclosure in the banking sector. In addition, a comprehensive macro-framework framework with a set of policy, analysis and coordination policy instruments, monetary and financial policy as well as a financial and banking reporting framework will be implemented. Thus, the overall risk-risk framework will help the Egyptian Central Bank to make the Egyptian financial system more stable and stable,
The conference focuses on current and future reform policies of the Central Bank of Egypt. The representatives of the departments responsible for oversight, supervision and financial coverage presented the latest developments and characteristics of the relevant reform programs, highlighting the importance of cooperation with the European Union and the exchange of best practices with other countries in the region.,
The program is part of the program "Strengthening access of SMEs to financial services" in Egypt, funded by the German Federal Ministry for Economic Cooperation and Development, in order to improve the access of these institutions to financial banking services as well as non-bank financial services services such as financial intermediation, equity financing and insurance for small and medium-sized enterprises,
Source link