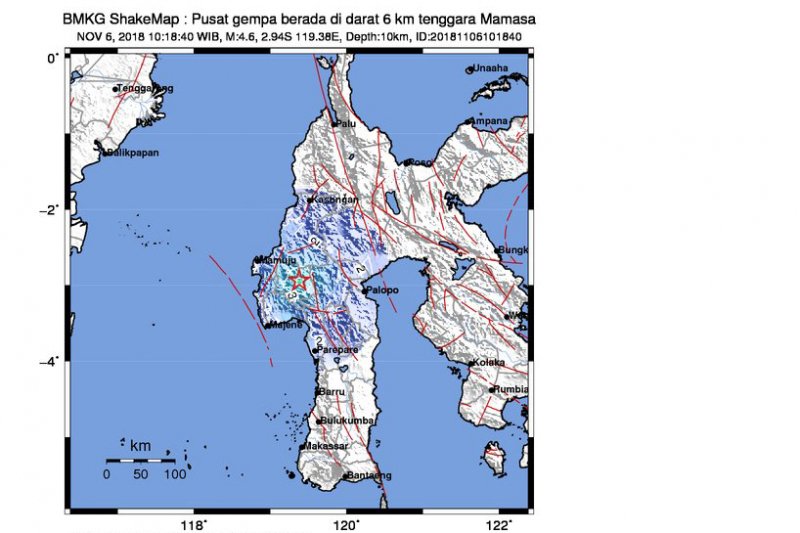 Mamuju (ANTARA News) – The Regional IV Makassar South Sulawesi earthquake center noted that 67 earthquakes struck the Mamasa District of West Sulawesi Province since Saturday (3/6) until this Tuesday.
"So, the earthquake in Mamasa has been observed since Saturday (3/11) and until Tuesday there have been 67 earthquakes," said staff of the Regional IV earthquake center Makassar Indah Kurniawati, who was contacted from Mamuju, Tuesday afternoon.
Previously reported, an earthquake centered in the Mamasa District, West Sulawesi was also felt in a number of other districts in West Sulawesi and South Sulawesi.
"These earthquakes occurred in Mamasa Regency, especially those that occurred on Tuesday morning with a magnitude of 5.5 magnitude, also felt by the people in the region of South Sulawesi, namely in Tana Toraja and Palopo Regencies. The tremors were also felt in other West Sulawesi regions, namely Majene, Polewali Mandar and Mamuju Regencies, "explained Indah Kurniawati.
On Tuesday, according to BMKG pilot Majene Arman, there were three aftershocks in Mamasa District.
The first earthquake measuring 5.5 magnitude on Tuesday morning around 02.35 WITA, followed by the earthquake at 11:18 WITA with a magnitude of 4.6 magnitude with the epicenter was on land six kilometers southeast of Mamasa.
"Today's latest earthquake, which is at 12.51 WITA with a strength of 3.3 magnitude in the direction of 22 kilometers southeast of Mamasa with a depth of 10 kilometers," said Arman.
The BMKG urged the public to remain calm and increase their vigilance and did not believe in the information that the earthquake in Mamasa was the same as the Palu Central Sulawesi and Lombok, West Nusa Tenggara with a larger magnitude.
"We urge the public to be calm but still increase awareness because we cannot predict when there will be aftershocks," Arman said.
Meanwhile, Head of Highways at the Mamasa District Public Works Office, Asri Thomas, said the earthquake that occurred on Tuesday was dawn with a magnitude of 5.5 magnitude, causing a number of homes to crack.
"Indeed, there are residents' houses that are cracked but not too severe. It's just that, people are very panicked because the earthquake shock that occurred on Tuesday morning was very hard," said Asri Thomas.
Although it did not cause significant damage to a number of buildings, office activities and teaching and learning in a number of schools in Mamasa District were disrupted.
"Certainly disturbed because people panicked and most of them evacuated. The district government itself has announced that teaching and learning activities in schools today are closed. We hope that there will be no more aftershocks so that people can move as usual," said Asri Thomas.
Also read: A series of earthquakes rocked Mamasa, triggering panic among residents
Also read: Residents of Mamasa are still traumatized after the successive earthquake
Newsletter: Amirullah
Editor: Dewanti Lestari
COPYRIGHT © BETWEEN 2018