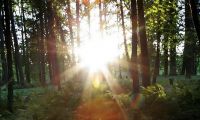 At the end of this week, the air temperature in Latvia will rise by another one or two degrees, according to opticians' forecasts.
Saturday and Sunday, the clouds will partly cover the sky and will be temporary rainy, with precipitation likely in Saturday afternoon in Kurzeme. The south winds on Sunday with gusts increasing to 9-14 meters in a second.
Nighttime temperatures in parts of Eastern Latvia will fall to +8 degrees, but most of the country will not fall below +10 .. + 16 degrees. On Saturday in the middle of the country the air will warm up to +26 degrees, the maximum Sunday in Latvia will be +22 .. + 27 degrees.
Next week will be a little colder and occasionally it will rain, sometimes heavy rain.