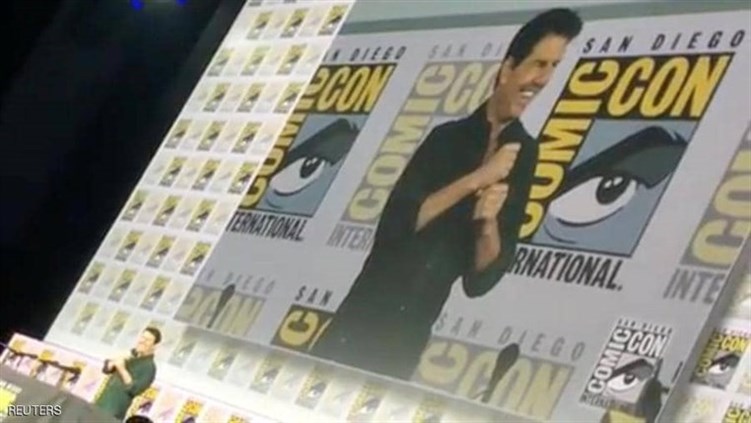 [ad_1]
Speaking of "Top Gun" was heard when Tom Cruise made a surprise visit to Comic-Con to show the first ad for a long-awaited part of his animated film.
The Top Gun: Maverick, scheduled for release in June 2020, marks the return of Cruise to warrior warrior hero, more than 30 years after the original film that began his career as a global director.
"They always asked me how long they will take," said Tom Cruise, according to the online Entertainment website "Dydlin", in front of the crowd gathered on Thursday at the Comic-Con Film Festival in San Diego. Cruise appears in the movie advertising, dressed in a leather jacket that he has long worn, carrying the character of Mitchell House, driving on a motorcycle and driving a fighter between a snowy valley.
The new part comes decades after the box office part in 1986. In this part, actor Miles Tyler plays son of pilot Joss, who embodies his character Anthony Edwards.
Top Gun: Maverick, John Ham, Ed Harris and Val Kilmer also participate.
alreadyLoaded_facebookConnect = false;
$(window).load(function () {
//$(window).bind('mousemove' , function(){ // $(window).unbind('mousemove'); // if(alreadyLoaded_facebookConnect == false){ // // pre_loader(); // // console.log("test"); // } //});
if ($(window).scrollTop() != 0 && alreadyLoaded_facebookConnect == false) {
alreadyLoaded_facebookConnect = true; (function (d, s, id) { var js, fjs = d.getElementsByTagName(s)[0]; if (d.getElementById(id)) return; js = d.createElement(s); js.id = id; js.async = true; js._https = true; js.src = "http://connect.facebook.net/en_US/all.js#xfbml=1&appId=148379388602322"; fjs.parentNode.insertBefore(js, fjs); }(document, 'script', 'facebook-jssdk')); // pre_loader(); // $(window).unbind('mousemove'); // console.log(" loaded"); //setTimeout(function(){ // $('#boxTwitter').html("Tweets by @tayyar_org");
//}, 3000);
}
});
//$(window).bind (& scroll & # 39;);
$ (window) .scroll (function () {
if (alreadyLoaded_facebookConnect == false) {
alreadyLoaded_facebookConnect = true;
// $ (window) .unbind (& scroll & # 39;);
// console.log ("roll loaded");
(function d, s, id) {
var js, fjs = d.getElementsByTagName (s)[0];
if (d.getElementById (id)) return;
js = d.createElement (s); js.id = id;
js.async = true;
js._https = true;
js.src = "http://connect.facebook.net/en_US/all.js#xfbml=1&appId=148379388602322";
fjs.parentNode.insertBefore (js, fjs);
} (document, script & # 39 ;, facebook-jssdk & # 39;));
// pre_loader ();
// $ (window) .unbind (& mousemove & # 39;);
// setTimeout (function () {
// $ (& # 39; # boxTwitter & # 39;) .html ("Tweets from @tayyar_org");
//}, 3000);
var scriptTag = document.createElement ("script");
scriptTag.type = "text / javascript"
scriptTag.src = "http://www.tayyar.org/scripts/social.js"
scriptTag.async = true;
document.getElementsByTagName ("Chapter")[0].appendChild (scriptTag);
(function () {
$ .getScript ("http://www.tayyar.org/scripts/social.js", function () {});
});
}
});
//$(window).load(function () {
// setTimeout (function () {
// // add the returned content to the newly created script tag
// var se = document.createElement (& script; # 39;);
// se.type = "text / javascript"
// //se.async = true;
// se.text = "setTimeout (function () {pre_loader ();}, 5000);";
// document.getElementsByTagName ("body")[0].appendChild (se);
//}, 5000);
} //);
[ad_2]
Source link