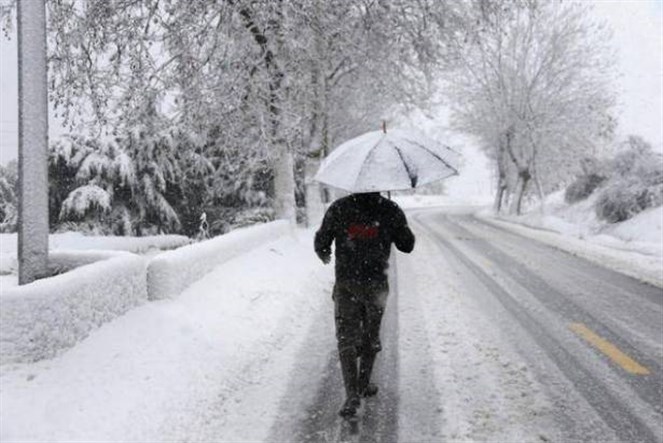 [ad_1]
The Department of Meteorology in the Department of Meteorology, Department of Civil Aviation, predicts that tomorrow the weather will be partly cloudy up to cloudy with fogs in the mountains and with a slight change in temperature, local rains fall in snow and snow at an altitude of 1,700 meters or more. According to the following bulletin:
– General condition: Low air with relatively cold air masses dominating the Mediterranean's eastern basin, resulting in uneven weather and unpredictable rain, beginning to decline from Sunday.
– Expected time in Lebanon:
Friday: Cloudy with low temperatures and heavy rainfall, sometimes especially at home and south, accompanied by thunderstorms and active winds. The snow falls at an altitude of 1700 meters above sea level and the mist is in the mountains and we are warned of hits due to floods occurring locally, especially in the interior and the south.
Saturday: Partly cloudy to cloudy with fog in the mountains and with a slight modification of the temperatures the internal rain falls inside and snow at a height of 1700 meters or more.
Sunday: Partly cloudy with showers in the mountains. The rain is moving away in different areas, and local rains and snow are expected to rise to a height of 1600 meters and higher before noon to the north.
– Heat on the shore from 12 to 22 degrees, over the mountains from 6 to 16, in the cedar from 2 degrees to 7 degrees, on the inside from 7 to 16 degrees.
Wind on the surface: Southwest day, southeast of night, between 15 and 40 km / h.
– Decline: average on the coast, worsening mountainous areas.
Relative coastal humidity: between 65 and 85%.
– Sea state: wavy, surface water temperature: 23 degrees.
– atmospheric pressure: 761 mm Hg.
– Sunrise: 06.16 hours, sunset: 16.31
alreadyLoaded_facebookConnect = false;
$(window).load(function () {
//$(window).bind('mousemove' , function(){ // $(window).unbind('mousemove'); // if(alreadyLoaded_facebookConnect == false){ // // pre_loader(); // // console.log("test"); // } //});
if ($(window).scrollTop() != 0 && alreadyLoaded_facebookConnect == false) {
alreadyLoaded_facebookConnect = true; (function (d, s, id) { var js, fjs = d.getElementsByTagName(s)[0]; if (d.getElementById(id)) return; js = d.createElement(s); js.id = id; js.async = true; js._https = true; js.src = "http://connect.facebook.net/en_US/all.js#xfbml=1&appId=148379388602322"; fjs.parentNode.insertBefore(js, fjs); }(document, 'script', 'facebook-jssdk')); // pre_loader(); // $(window).unbind('mousemove'); // console.log(" loaded"); //setTimeout(function(){ // $('#boxTwitter').html("Tweets by @tayyar_org");
//}, 3000);
}
});
//$(window).bind('scroll & # 39;);
$ (window) .scroll (function () {
if (alreadyLoaded_facebookConnect == false) {
alreadyLoaded_facebookConnect = true;
// $ (window) .unbind (& quot; scroll & & quot;);
// console.log ("roll loaded");
(function d, s, id) {
var js, fjs = d.getElementsByTagName (s)[0];
if (d.getElementById (id)) returns;
js = d.createElement (s); js.id = id;
js.async = true;
js._https = true;
js.src = "http://connect.facebook.net/en_US/all.js#xfbml=1&appId=148379388602322";
fjs.parentNode.insertBefore (js, fjs);
} (document, "script", "facebook-jssdk"));
// pre_loader ();
// $ (window) .unbind (& mousemove & # 39;);
// setTimeout (function () {
// $ (& # 39; # boxTwitter & # 39;) .html ("Tweety from @ toyyar_org");
//}, 3000);
var scriptTag = document.createElement ("script");
scriptTag.type = "text / javascript"
scriptTag.src = "http://www.tayyar.org/scripts/social.js";
scriptTag.async = true;
document.getElementsByTagName ("head")[0].appendChild (scriptTag);
(function () {
$ .getScript ("http://www.tayyar.org/scripts/social.js", function () {});
});
}
});
//$(window).load(function () {
// setTimeout (function () {
// // add the returned content to a newly created script tag
// var se = document.createElement ("script");
// se.type = "text / javascript"
// //se.async = true;
// se.text = "setTimeout (function () {pre_loader ();}, 5000);";
// document.getElementsByTagName (& # 39; body & # 39;)[0].appendChild (is);
//}, 5000);
} //);
[ad_2]
Source link