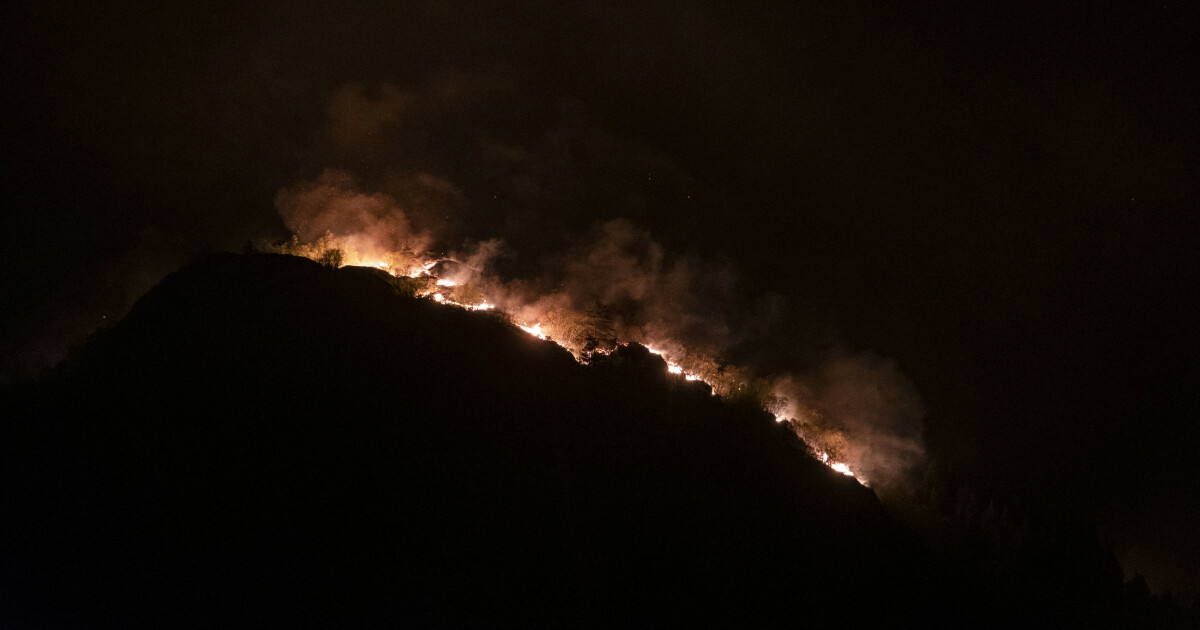 Firefighters still have no control over the violent fire that devastates the Sokndal municipality in Rogaland.
– Stay now that the wind has lied a little and looks a little better. But we also see that the fire spreads and goes a little bit differently than before, says the Sokndal councilor Karl Johann Engelhart Olsen to the Dagbladet district two nights until Wednesday.
I got in touch with NATO
Tonight, they have 40-50 people who are active fire extinguishers, and new people come tomorrow morning.
They can then also install helicopters when they quit. Helicopters can not be used when shutting off when it's dark.
"Tomorrow morning we'll pick up three or four new helicopters. In addition, the police have been in contact with NATO in order to get there, says Engelhart Olsen.
In the morning, the new crews are also involved in firefighting, so there will be a total of 150 people fighting the flames.
"We hope that those who are doing fantastic work tonight are able to keep control of the further spread of the fire so we can control it in the morning," the counselor said.
– Still burning and not control. The wind is increasing at night and during the day. Defense assistance is provided, so the in-house security staff will be on-site at least. 04.30 for an effort, "the police wrote in the Southwest on Twitter.
– Do a great job
The Sokndal Counselor, who worked as a firefighter, describes firefighting as very demanding.
"We were as unhappy as we could be, with strong winds and as dry as it is now," he says.
In addition to clean extinguishing work, some people are out and with agricultural tankers. They soothe the terrain as much as possible to prevent the spread of fire.
"A very good job is done," says Engelhart Olsen.
He adds, however, that there is some uncertainty about the strength of the wind on Wednesday morning.
– In some ways, the fire has developed a little faster, but there is not much to be found in these areas. We have people in the Civil Defense who are out of the night to check where people were evacuated to secure the housing stock, so there will be minimal damage to the buildings, says the counselor.
He praises the firefighters for the work they place.
"They do a great job. I know very well how heavy it is and what it is all about. I just have to praise the crew, he says.
Late Tuesday evening, the municipality announced on its websites that the Sokndal school was closed on Wednesday due to a fire.
160 evacuated residential units
On Tuesday evening, the police confirmed that 160 residential units had been evacuated or screened and that hundreds of people were involved. Mayor Trond Arne Pedersen (KrF) said that four different places were burned and that the biggest fire was in the area of ​​4.5 square kilometers.
"The big fire in Sokndal includes the following places: Bjånes, Lauvås and Årstad. The fire spreads rapidly. All available resources are invoked. The Flekkefjord, Eggersund and Sokendhal firefighters, civil protection and police are taking part. Police evacuated in Sokndalshalen, "the municipality informed on its website.
So far, no injuries have been reported, but the Sokndal municipality on its websites encourages residents with asthma, coal or other lung diseases to take their medication.
Warns of sincere rain
The municipality also warned of a sincere rain.
"Life and values ​​are now priority. We urge everyone to be cautious, since there may be a real rain, "Sokndal Municipality warns on its website late Tuesday night.
It all began like a small fire of grass early Tuesday afternoon, and it developed at a fast pace in the evening hours.
About 22 hours the helicopters were pulled out, but they are expected to start extinguishing on Wednesday morning.
"Tonight is not over, it's not at night and probably tomorrow will burn well," Pedersen said late Tuesday night.
Like Dagbladet on Facebook
Source link