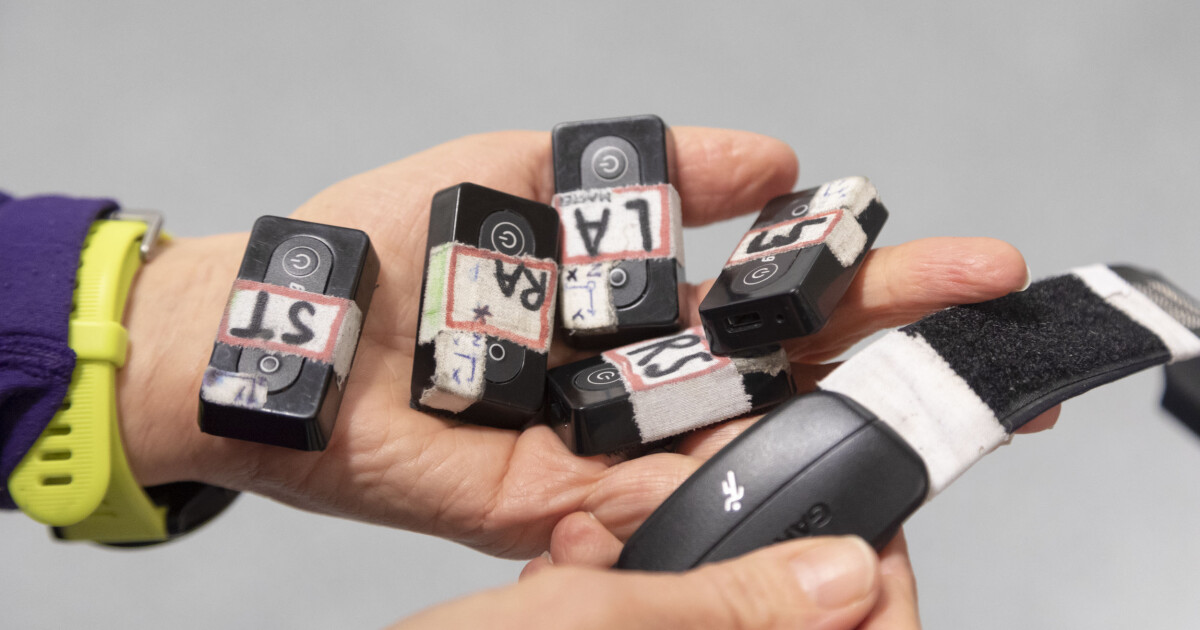 The little black thing in the hand of Trine Seeberg may be like a caramel of a licorice but it's completely sugar-free.
Instead, it is full of meters that can map human movements. Very accurate.
Such sensor technology is used in the search for Norwegian ski equipment.
Researchers have now found that this technology can help people with chronic MS.
"In the long run, this will also be a useful tool for amateurs, as technology can be used in intelligent clocks," says Sintef researcher Trine Seeberg, who runs the project.
It seems "everything" through your movements
In the subject language, this type of sensor is called IMU, Inertial movement. Sensors collect information and send it to a computer.
"Every little movement is discovered if your body is equipped with sensors on the arms and legs, chest and back," says Seeberg.
This information can be combined with measurement of heart rate, muscle activity, strength, temperature and humidity. Information can also be linked to the GPS navigation system.
It can become an important tool in the battle with medals
Taken together, the data from the various sensors gives the researchers detailed information about everything from failure in ski equipment to cross-country skiing to moving a patient with muscles.
The goal is that the two groups can use the information to improve their physical performance through better technique or stronger muscles.
This is not easy. Researchers have to study the numbers, find models and interpret the data, and translate all this into useful and practical information that can mean something about body movements.
In other words, researchers need to develop algorithms, mathematical tools that recognize models or recipes.
– We already have technology that automatically recognizes the different parts of the technique in classic skiing. The next step is to find a recipe that can give skiers improvements in every part of the classic. Then we develop the same for skating, Seyberg says.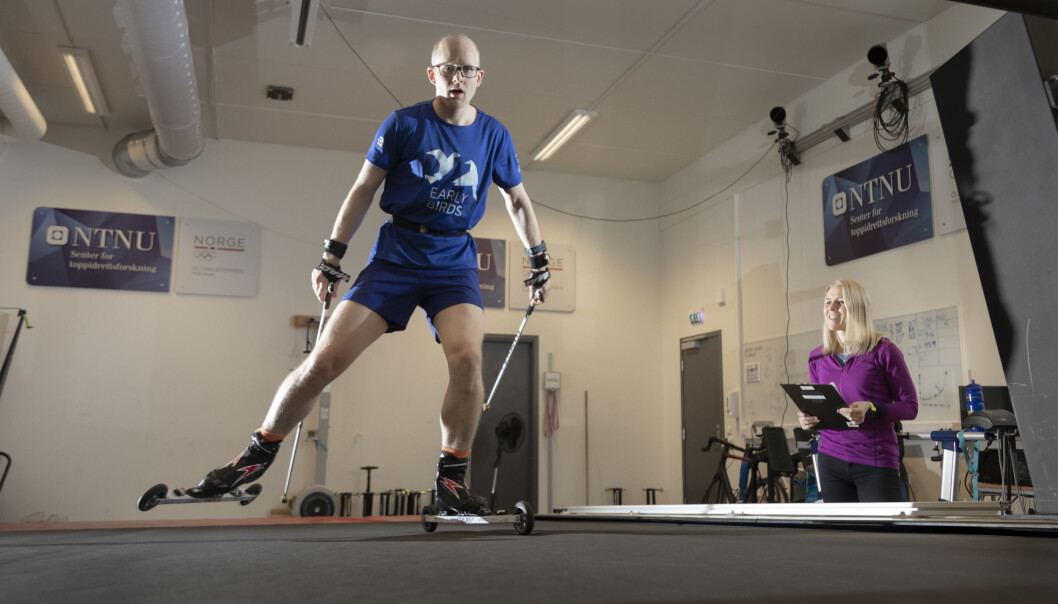 Reveals the mistakes of skiers
Seeberg collaborates, inter alia, with Professor Øyvind Sandbakk at NTNU's Center for Advanced Sports Studies.
Sandbakk heads research and development at Olympiatoppen, and he is a competent skier. In this project, he is both a researcher and a researcher. Among other things, he tested the roller ski technique on the treadmill, fully equipped with sensors.
– We have already completed the first data collection for cross-country skiing. Here it is based on a few years of cooperation with the Madshus ship maker, says the researcher.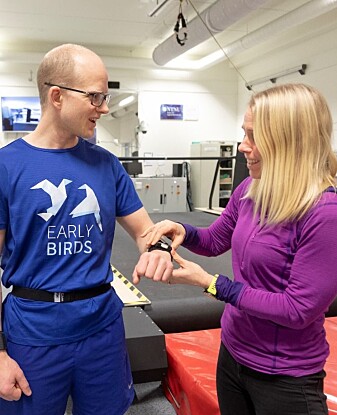 The specificity of cross-country skiing compared to running or cycling is that skiers are continuously alternating between different part techniques. That's why researchers have worked extensively to get sensors to recognize these parts.
Knowing what leads to the most effective ski technique can benefit others.
A new tool for treating MS sufferers
Elizabeth Gulovsen Celius is a senior consultant and professor of neurological diseases at the University Hospital in Oslo. She is the head of the medical part of the project and enjoys the first results of MS disease research.
"This will be a great tool for us," he says enthusiastically. The results from the MS center at Hakalah show that the benefit to patients and therapists is great, although we have only used patient sensors so far.
The experiments showed how the technology could be used further. The next step is to equip patients with sensors and chest, back and arms.
– We know that physical activity is very important to our patients, but so far we have not had a precise way to measure progress. Now comes this amazing technology to help, says the Chief.
She believes that when the best athletes can use this to change their technique, it does not need to be mentioned that this may be of great importance to people who have training as an important part of the treatment. Small corrections can have serious consequences for the individual MS patient.
She explains that if they can analyze patient movements and how they change after purposeful training, then the patient can be tracked more systematically over time.
Celius wants to use the knowledge of this project to develop an application that helps patients for more purposeful and accurate training.
It can measure the effect of the treatment
Sensors can also measure the effect of different treatments. For example, doctors want to use sensors to assess the usefulness of drugs that improve muscle strength and endurance.
For example, sensors will measure the change in the walking function and balance more objectively.
"This will be a very useful tool. Now we can motivate the sick to exercise properly and purposefully. We can also trace the disease in a completely different way than we could have done before, "says Celius.
AutoActive facts
The aim of the project is to develop tools, methods and models that enable the extraction of useful and reliable information from various sensory data related to human activity and activity.
The project consists of an interdisciplinary team of researchers from SINTEF, NTNU, Olympiatoppen, the Oslo University Clinic and the Hakadal MS Center.
AutoActive looks at the usefulness of the sensor technology that is attached to the body in conjunction with both cross-country and MS.
The collected data will be tools that can be used to develop models that provide a comprehensive understanding of performance, physiological responses and outdoor cross-country running techniques and for training and tracking people with MS.
The project is under way and will last another three years.
Source link