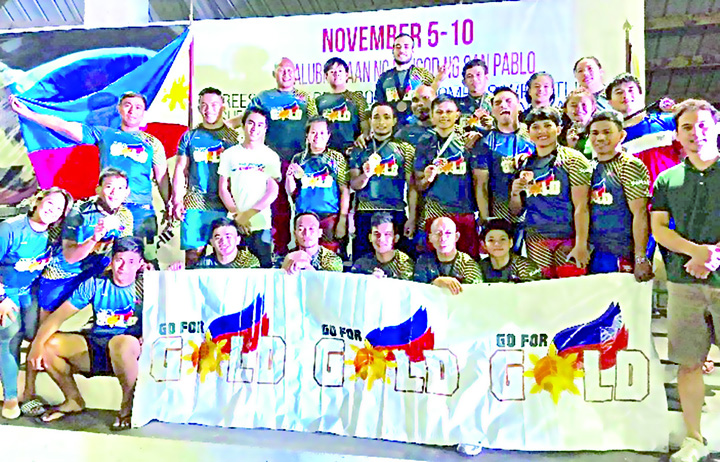 The Philippines TEAM Go For Gold (G4G) shows a preview of its competitive match at the Southeast Asian Games next year after collecting six gold medals at the Southeast Asia Senior Wrestling Championship recently in the Lungsod Archipelago of San Pablo City in Laguna.
Veteran Margarito Angana and Michael Vijay Cater arranged their weight classes at the Greco Greek event, along with Noel Norada at a weekly meeting featuring the best wrestlers from 11 countries.
Angana has not lost the skills that made her twice the SEA Games gold medalist after defeating Plyabut Wiratul from Thailand in a 60 kg man, while Cater took the 55 kg at the expense of another Thai, Nattawut Keawkhanchum, before Norada made three consecutive by sending Vietnam Pham Van Co.
Luke Cruz topped the 125 kg category in the men's freestyle after defeating Dimas Septo Anueraha from Indonesia in the final, joining women's freestyle gold medalist Minalyn Foy-os (57 kg) and Noemi Tener (68 kg) on ​​the podium.
"We are very proud of our wrestlers. We believe that with our support, they can win more gold medals for this country, & # 39; & # 39; said Go For Gold Philippines, godfather Jeremy Go.
Jason Balabal, twice the other SEA Games gold medalist, is not that successful. He lost his final match with an Indonesian in 87 kg of Greco Roman, while Jefferson Manatad also submitted to Supriono Indonesia in the 77 kg class.
Ronil Tubog (61 kg) and Francis Villanueva (97 kg) also settled for silver, as well as female freestyle wrestlers, Grace Loberanes (50 kg), Kristine Jambora (53 kg), Shelly Avalino (62 kg) and Sweet Berry Perez (72) . kg).
Supported by Go For Gold Philippines, Filipino enthusiasts also bagged eight silver and 13 bronze medals.
Vietnam took home 12 gold, 11 silver and nine bronze medals to secure the overall tournament title designed to measure competition at the SEA level.
Roman specialist Greco Jonathan Maquilan (63 kg), Exel Tubog (67 kg), Jason Baucas (72 kg), Ronaldo Salon (97 kg) and Smael Trazona (130 kg) ended with a bronze medal, along with freestyle wrestlers Alvin Lobreguito (57 kg), Jhonny Morte (61 kg), Joseph Angana (65 kg), Jossel Canolas (65 kg), Anthony Pajaron (70 kg) and Royce Tiu (86 kg).
Tener also competed in a free 65 kg women's event and got bronze along with Bemyla Bernas (57 kg).
Source link