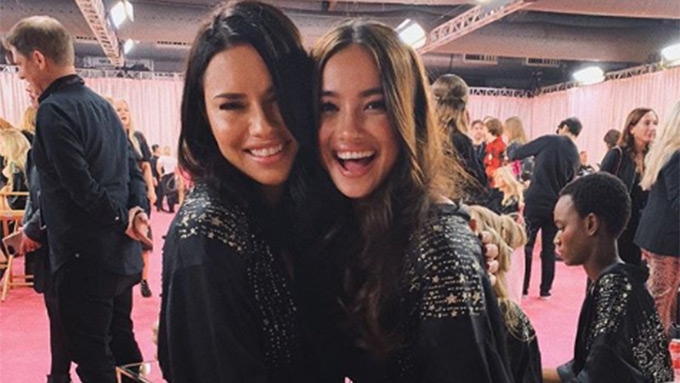 Kelsey Merritt's debut in Victoria's Secret Fashion Show (VSFS) finally arrived!
On Thursday, November 8 (November 9 in the Philippines), Kelsey made a history of fashion as the first Filipino to walk on the VSFS platform.
This year, a fashion show was held at Pier 94 in New York City.
VSFS 2018 is divided into five segments: "Glam Royal," "Golden Girls," "Fantasy Flights," "PINK," and collaboration with Greek designer "Queen of Prints" Mary Katranzou.
The 22-year-old Filipino supermodel is running for the PINK segment from a fashion show with Josie Canseco, Maia Cotton, and Willow Hand, among others.
PINK is Victoria's Secret line that targets young women.
Embed from Getty Images
Another segment of the fashion show featured well-known models, including Adriana Lima, Candice Swanepoel, Kendall Jenner, Gigi Hadid, and Bella Hadid.
Kelsey shared light moments with Adriana and posted their photos on Instagram.
The Filipino-American model wrote, "Growing up while watching the @victori fashion show, I want to be like @adrianalima! She is an inspiration."
SHOW OVERVIEW
Adriana received a standing ovation when she made her last trip in the "Fantasy Flight" segment of the VSFS runway after 18 years running for the show.
Meanwhile, Swedish model Elsa Hosk is wearing a Fantasy Bra this year, made of more than 2,100 pieces of Swarovski and 71-carat diamonds made with sterling silver.
The bra, which takes 930 hours to make, is said to be worth $ 1 million.
Another prominent VSFS rookie is Winnie Harlow, also known by her real name as Chantelle Brown-Young, the first model with vitiligo to walk on the runway.
VSFS also features performances by Bebe Rexha, Halsey, Kelsea Ballerini, The Struts, Rita Ora, Shawn Mendes, and The Chainsmokers.
/*$(document).ready(function(){ if(getCookieISPR('ISPR_agreed') === true){ $(".ISPR-useragreement").hide(); } });*/
function statusChangeCallback(response) { console.log(response); // The response object is returned with a status field that lets the // app know the current login status of the person. // Full docs on the response object can be found in the documentation // for FB.getLoginStatus(). if (response.status === 'connected') { // Logged into your app and Facebook. fb_API(); } else if (response.status === 'not_authorized') { // The person is logged into Facebook, but not your app. setCookie("__pl", "", -1); setCookie("__cx_update_profile", "", -1); setCookie("__cx_1st_time", "", -1); setCookie("__eid", "", -1); } else { // The person is not logged into Facebook, so we're not sure if // they are logged into this app or not. setCookie("__pl", -1, -99999); setCookie("__cx_update_profile", -1, -99999); setCookie("__cx_1st_time", -1, -99999); setCookie("__eid", -1, -99999); } } function checkLoginState() { FB.getLoginStatus(function(response) { statusChangeCallback(response); }); }
function fb_API() {
FB.api('/me', { fields: "name, first_name, last_name, email, age_range, bio, birthday, picture, link, gender, locale, timezone, updated_time, verified" }, function(response) { if (getCookie("__pl") === "") { var udata = response; $.ajax({ "url": "https://www.pep.ph/services/prepare", "data": response, "dataType": "jsonp", contentType: "application/json", jsonpCallback: "jsonpCallback", beforeSubmit: function() { console.log("Sending..."); }, success: function(response, status) { if (status == "success" || status == 200) { var current = new Date().getFullYear(); var Birthyear = new Date(udata.birthday).getFullYear(); var age = current - Birthyear; var gaUserData = '{"userId": "'+udata.id+'","userProfilesmember-id": "'+udata.id+'","userProfilesgender": "'+udata.gender+'","userProfilesage": "'+age+'","userProfilesbyear": "'+Birthyear+'","site": "pep.ph","userFbProfile":"'+udata.link+'","userName":"'+udata.name+'","avatar":"'+udata.picture.data.url+'","fname":"'+udata.first_name+'"}';
setCookie("gaUserData", gaUserData, 1); setCookie("__pl", udata.name, 30); //setgaUserData(response); $('#fb-login-img').addClass("hidden"); $(".ISPR-useragreement").addClass('hidden'); $('.fb-login-title').addClass("hidden"); $('#fb-logged-in').removeClass("hidden"); $('#fb-logout').removeClass("hidden"); $("#fb-user-pp").attr("src", udata.picture.data.url); $(".fb-user-pp").attr("src", udata.picture.data.url); $(".fb-user-pp").removeClass("hidden"); $('#fb-welcome').text("Welcome, " + udata.name + "!"); console.log(response.message); document.location.reload(); } else if (response.status == "failed") { console.log(response.message); } } }); } else {
$('#fb-login-img').addClass("hidden"); $(".ISPR-useragreement").addClass('hidden'); $('.fb-login-title').addClass("hidden"); $('#fb-logged-in').removeClass("hidden"); $('#fb-logout').removeClass("hidden"); $("#fb-user-pp").attr("src", response.picture.data.url); $(".fb-user-pp").attr("src", response.picture.data.url); $(".fb-user-pp").removeClass("hidden"); $('#fb-welcome').text("Welcome, " + response.name + "!"); }
}); }
function getCookieISPR(cname) { var name = cname + "="; var decodedCookie = decodeURIComponent(document.cookie); var ca = decodedCookie.split(';'); for(var i = 0; i 0 || getCookieISPR('ISPR_agreed') === true){*/ FB.login(function(response) { /*if(getCookieISPR('ISPR_agreed') === null){ setCookie('ISPR_agreed',true,365 * 2); }*/ if (getCookie("__pl") == ""){ if (response.authResponse) { console.log('Welcome! Fetching your information.... '); access_token = response.authResponse.accessToken; //get access token user_id = response.authResponse.userID; //get FB UID
statusChangeCallback(response);
} else { //user hit cancel button console.log('User cancelled login or did not fully authorize.');
} } }, { // return_scopes: true, // auth_type: 'reauthenticate', // auth_nonce: '{random-nonce}', scope: 'email, public_profile, user_birthday' });
/*} else { alert('Please check the user agreement before logging in'); }*/ } function fb_logout(){ FB.logout(function(response) { setCookie("__pl", "", -1); setCookie("__cx_update_profile", "", -1); setCookie("__cx_1st_time", "", -1); setCookie("__eid", "", -1); setCookie("gaUserData", "", -1); $('#fb-logged-in').addClass("hidden"); $('#fb-logout').addClass("hidden"); $('#fb-login-img').removeClass("hidden"); $(".ISPR-useragreement").removeClass('hidden'); $('.fb-login-title').removeClass("hidden"); $(".fb-user-pp").addClass("hidden"); $(".fb-user-pp").attr("src", ""); console.log('User has been logged out.'); document.location.reload(); }); } function setCookie(cname, cvalue, exdays) { var d = new Date(); d.setTime(d.getTime() + (exdays*24*60*60*1000)); var expires = "expires="+d.toUTCString(); document.cookie = cname + "=" + cvalue + "; " + expires + "; path=/; domain=.pep.ph"; } function getCookie(cname) { var name = cname + "="; var ca = document.cookie.split(';'); for(var i=0; i
Source link