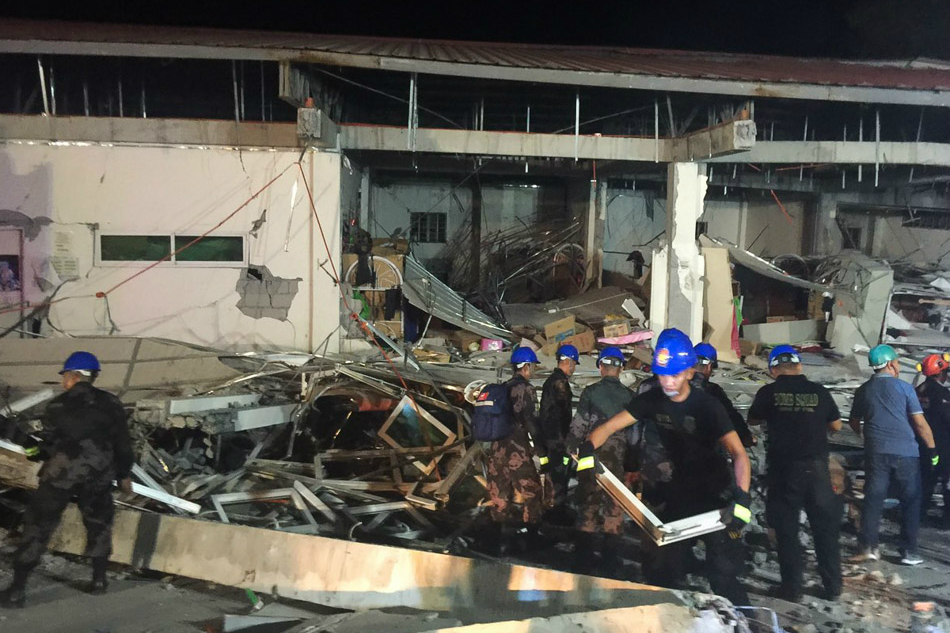 MULTIMEDIA
An earthquake of magnitude 6.1 hit parts of Luson on Monday, forcing evacuations from buildings in Metro Manila and stopping rail operations and several malls and offices.
At least two people died in Pamplona. A four-storey building, which houses the Chuzzone supermarket, also in Porak, collapsed, closing people inside. Rescue operations continue.
Here are some selected images of Manila and Pamanga.
Rescuers are looking for surviving and clean debris after a four-storey building housing the Chuzzone supermarket in Porak, while Pamampa collapses after an earthquake of 6.1, which shook parts of Luson. Authorities have confirmed that several people are trapped and rescue operations continue. Dennis Dutu, ABS-CBN News
Rescuers are looking for surviving and clean debris after a four-storey building housing the Chuzzone supermarket in Porak, while Pamampa collapses after an earthquake of 6.1, which shook parts of Luson. Authorities have confirmed that several people are trapped as rescue operations continue. Dennis Dutu, ABS-CBN News
BGC residents stay outside the tall buildings in Taguig City on Monday after an 6.1-degree earthquake struck Luson. Jonathan Cellona, ​​ABS-CBN News
Employees are seen outdoors in Manila after an earthquake that shook the Philippines on Monday. Noel Selis, AFP
Wearing helmets, employees are evacuated from their office building after an earthquake in Manila on Monday. Aaron Favila, AP
People gather in front of a shopping mall after a massive earthquake that shook Manila on Monday. Ted Aljibe, AFP
A visitor to the BGC is calling because it remains outside the tall buildings in Taguig City on Monday after an earthquake of 6.1, struck Luson. Jonathan Cellona, ​​ABS-CBN News
Residents sit outdoors after they were evacuated from a condominium building after an earthquake in the city of Makati on Monday. Neil Jerome Morales, Reuters
Patients from ManilaMed – Manila Medical Center in U.N. Avenue were pulled out of the hospital building after a 6.1 magnitude earthquake in parts of Lusone on Monday. George Calvello, ABS-CBN News
People are forced to evacuate Greenbelt 3 in Maccabi after an earthquake of 6.1 was felt on Monday. George Calvello, ABS-CBN News
Workers from the MRT-3 line assess potential damage to the slopes following an earthquake of magnitude 6.1 from Luson's parts Monday. The MRT-3 line has been suspended to ensure the safety of passengers and to check for structural damage. Mark Demayo, news from ABS-CBN
Passengers are traveling by bus as the MRT-3 closes for safety after the magnitude 6.1 earthquake that hit Luson on Monday. Mark Demayo, news from ABS-CBN
Emilio Aginaldo College in San Marcelino, Manila, faces another building after an earthquake of magnitude 6.1 that hit parts of Lusone on Monday. Mark Demayo, news from ABS-CBN
Source link