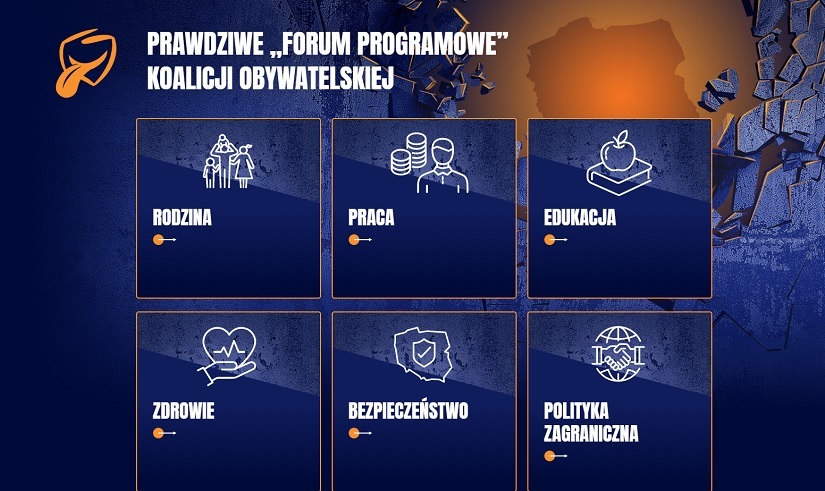 Justice and Justice immediately before the launch of the two-day Civil Platform platform launches a website where true PC plans are being put forward by the PiS politicians.
During the program platform of the platform, there will surely be more promises. Meanwhile, the truth about their plans lies in the statements of opposition politicians. You can find here: http://forumprogramoweko.pl/
– PiS deputy Radoslav Fagiel told Twitter.
The page in the separate sections contains policy statements on family, work, education, health, security and foreign policy issues.
Today, the Palace of Culture and Science in Warsaw hosts a two-day Coalition for Civilian Platform (PO, Nowoczesna, Inicjatywy Polska), which will host 53 discussion boards. Four "special events" are planned, which will include the coalition leaders' floor: Gheorghe Schehynna, Katarina Ljubnauer and Barbara Novaka. It is possible to make declarations on the formula for starting in the autumn of the local elections during the forum from the platform manager's lips.
From the PAP talks with VET policy makers, the key issues to be discussed during the forum are economy, education, healthcare and ecology. A dozen debates will be devoted to this topic. There will also be discussions on the rule of law, women's rights, animal rights, seniority policy, support for people with disabilities, infrastructure, sports, the media, foreign policy and security.
We will show individual, specific solutions for Poland. We show a plan how we can fix Poland, then, what is happening right now
– Deputy Chief of BOIBUS Budka said in Kelce on Thursday.
The project includes several dozen Platform and Novotseva members, Polish Initiative politicians, local government representatives, experts and representatives of NGOs.
The forum, which will end on Saturday, should be open – for anyone who wants to listen to or engage in a discussion with politicians from the Civil Coalition. Some of the discussions will be held in a tent in front of the Palace of Culture and Science.
A week ago, a three-day PSI and United Law Program entitled "Thinking: Poland" was held in Katowice. Its effect – as the PiS politicians have announced – is to prepare program assumptions before the parliamentary elections. During the meeting, a dozen plenary sessions were held with the participation of heads of separate ministries and dozens of expert groups. Justice President Jaroslaw Kaczynski, Prime Minister Mateusz Morawski and the leaders of the coalition parties Solidarna Polska Zbigniew Ziobro and Porozumienia Jaroslav Gowin also took the floor. According to the PAP, PiS politicians have already begun writing the program for autumn parliamentary elections. The work is led by PSI leader Jaroslaw Kaczynski.
GAH / PAP