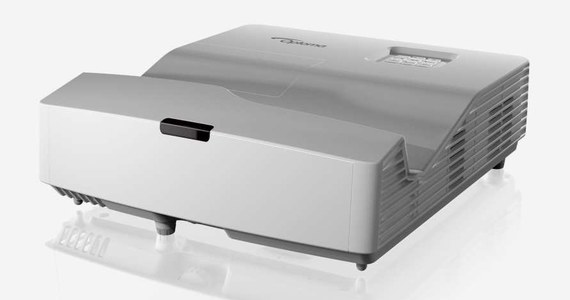 Optoma has introduced a projector offering that will allow you to make film replacements even in studio apartments. Ultra-short throw technology makes Optoma HD31UST display 100-inch images from a distance of less than half a meter on the wall. The projector will work, among others, while watching movies, series and live sports.
Optoma HD31UST
/press material
Optoma HD31UST gives you the ability to adapt, as well as limited space for home theater needs. The projector does not require complicated installation, is easy to use and quite light (3400 ANSI lumens).
The ultra-short throw technology used here eliminates the shadow problem on the screen, because the projector can be placed on a TV cabinet. Optimal and possible to achieve under these conditions, diagonal screens are 80 to 100 inches (from 2.03 to 2.54 meters). The projector displays images with Full HD resolution (1920 x 1080 pixels) with reflections on the Rek color range. 709 – cinema color reproduction and saturation are always consistent with the director's intentions. The lifetime of HD31UST lamps in eco + mode is 15,000 hours.
Vertical and horizontal trapezoidal correction and the ability to independently adjust each angle allow you to use a projector where you do not have a projection screen. For example, it is very suitable for use in summer theaters.
The equipment is equipped, among others, in two HDMI 1.4 connectors, which allow you to independently connect it to two image sources. It is also lighter and more compact than the previous generation ultra short throw projector – weighing only 3.9 kg with dimensions of 343 x 383 x 112 mm.
Price and availability
The Optoma HD31UST projector is now available at certain electronics stores and electronics stores. This device is protected by a 2-year and annual factory warranty (or 1000 hours) for light sources. The recommended retail price of the HD31UST model in Poland is PLN 5.290.
Optoma HD31UST – main features:
– Full HD resolution (1920 x 1080 pixels);
– high brightness (3400 ANSI lumens), allowing projection in all conditions;
– projections in ultra-short throw (UST) systems, ideal when projectors are used in small spaces (eg studio apartments);
– installation convenience – lots of communication options, vertical and horizontal trapezoidal correction, geometry settings from image angles;
– compatibility with HDMI adapters such as Google Chromecast ™, Amazon Fire, and Apple TV;
– support for WHD200 – a transmitter that allows you to connect the projector wirelessly to, for example, consoles or Blu-ray players;
– 16W speaker built-in.