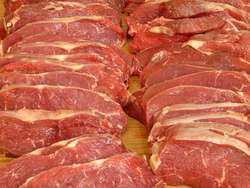 These are not good times for pigs. The reason is the more expensive pork, whose prices are rising for several months and around the world. And the reasons should be sought in China, where African swine fever rages.
If someone thinks of deleting meat from their diet, it is the best option or at least to give up pork. Pork prices are rising. In May, they were about 12% higher than last May, which is the result of the drastic decline in production in China, which, struggling against the African swine fever epidemic, has massive herds.
Experts estimate that production in China will drop by 30% this year compared to 2018, and the Middle Kingdom is responsible for half of the production and consumption of pork in the world. The decline in the population means that China is forced to import more, including from the EU, mainly from Germany and Spain.
And like demand, prices are rising. This is what we are currently seeing in the pigmeat market. In May, pigs in Poland grew by 7.3%. compared to April and the prices of this meat increased on average in the EU.
Although in some countries like Romania this increase is 15.3%. in Bulgaria only 1.2%. In Germany pork is 9.1%, in Portugal – 13.5%, and in France – by 4.3%.
"Europe, especially Germany, has begun exporting more to China and the European market has been unlocking, European pork prices have risen," says Jan Heychel, chairman of the Warmins and Mazury Agricultural Chambers – So prices are lower by 40 Gross per kilogram of WBC (warm weight – red) from German prices.
Today slaughterhouses pay an average of about PLN 5 per kilogram of livestock and about PLN 6 per kilogram of WBC. "At these prices pig production is already profitable," adds President Heychel. "As we see it, manufacturers have a moment of respiration so far, but they have to compensate for the losses they have recorded over the past two years.
It is difficult to say whether this is the end of swine pigs, because it really depends on everything that will take things in China. According to analysts, China will lose 200 million pigs from its domestic stock this year, which is the same as production across the EU. Therefore, a large shortage of pork will be created on the market. And it is difficult to predict whether other countries will ever be able to cover these deficiencies.
In Warmia and Mazur we also have cases of ASF, can it affect production?
"But that does not affect the Polish market, our exports, because in the areas of our province where the ASF is found there is no significant multiplication," explains President Heychel. "Though it definitely complicates our lives. We export from regions where there is no ASF, but we also import pork from other EU countries and more than we export. It has been three years.
This situation exists for livestock and pork exporters but local recipients (wholesalers, processing plants) are less because they have to pay more for the meat needed for production. Finally, there is a customer who has to drink this beer.
However, we eat less and less pork. – Within 40 pounds a year and was up to 60 pounds – explains Jan Heychel – Today we eat a lot more birds, about 30 kilograms and lately less than 20 kilograms.
According to the Central Statistical Office, food prices increased in June by 0.3% compared to May. So far, there are no high prices, although higher food prices, including pork, of course, lead to rising inflation.