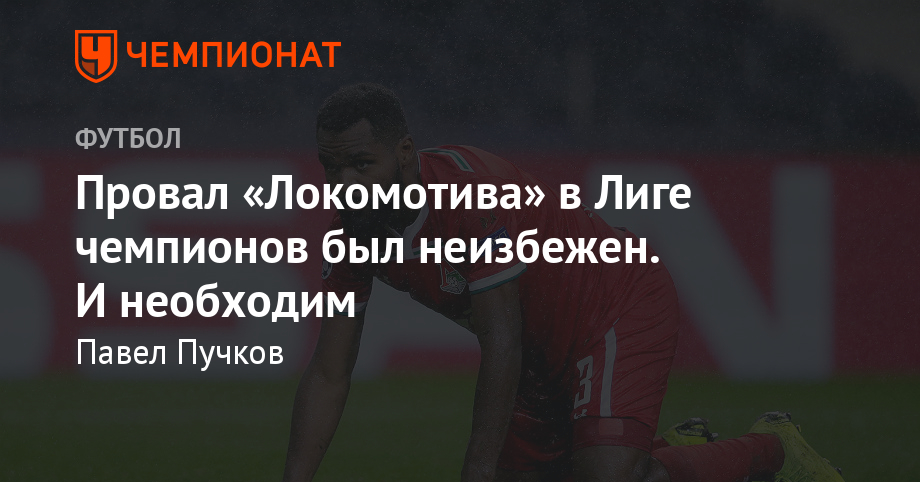 The general version of what happened with "Lokomotiv" in the Champions League – the team was just unlucky. They created opportunities, playing not worse than their rivals, but they failed to score themselves. And your opponent flies.
So – this has nothing to do with reality. "Bad luck" like Napoli's match with PSG, which was played together with a meeting in Porto. The Neapolitans fly forward, creating moments, making Buffon sweat, expand and redden. And then they get a penalty and realize it.
"Lokomotiv" in Porto goes together to be lonely Casillaswho flew out of the gate at 25 meters. But instead of confidently throwing Ikera on the collar, the players arrange expulsion that is useless in this case. And this is not from the desire to help print partners – more like reluctance to take responsibility for now. You can't talk about luck, when you advance at someone else's keeper after a blow hits the ball as if it happened on FIFA19, and someone behind the gamepad is poorly implemented the super-pert function.
Lokomotiv continues to fall in the Champions League
Muscovites results – only dark.
What do we remember about Lokomotiv's last four matches in the Champions League? Istanbul – 15 minutes of active football. Stupid stupid, who missed a winning free kick, an idiot defensive error at the end, after which they conceded a goal. "Schalke" at home. The perfect first half, where needed to destroy an opponent, but zero goals in it. And the destination is missed in the end. Domashka against Porto: the darkness of moments that cannot be realized, a penalty that is unbeatable. But a silly penalty kick on his own goal, elimination unnecessary Querkwelia. Response in Portugal yesterday: cant Guilherme with dismissal, Fernandes and Denisov's mistake before the second ball to Porto. Too much to blame for luck. All this is not about bad luck, but nerves, fear and lack of confidence needed.
Even on this list you can see how many problems Lokomotiv has made for himself. Mistakes, errors, unjustified cards make the team lose points. There is no point in trying to determine whether the club's performance in the Champions League is embarrassing or not. They don't seem shy, they go ahead, but they let them go and receive sad statistics. But that would be something like this, it was clear even six months before the start of the Champions League. In two matches against Atletico, when Diego Simeone's team put everything they had in the class without problems. And Loko tried to surprise the opponent with something.
It's hard to come up with a group that is less complex than Lokomotiv, but the guarantee is that there will be problems even inside. Because it is a European cup, and here your awareness of yourself in the tournament is decided. Yes, it is possible to embarrass everyone with crazy quotes or unexpected tactics. But for this, Loko has at least no resources, especially because of injuries.
You can't buy world champions and winners of the Europa League, and this will improve the general class. Next to them are people who have almost no European Cup experience. Maybe, if it wasn't a Champions League song, before the match, the Blanter parade was cut, Lokomotiv now scored 12/12 points.
The most experienced in the Champions League on this team – Semin. For him, too, there were questions about personnel decisions, but the team's main coach admitted the team's main shortcomings frankly. The player does not understand that they must execute the opponent because of a miscalculation. And don't let yourself be executed. But you shouldn't be nervous and try to do more than you can.
In Portuguese matches there are several important moments. And takeaway Guilhermeand the completion of the attack. But in the second half, "Loko" was in the movement of almost the Barcelona attack, when Alexey Miranchuk dragging the ball to the center, and a colleague ran behind the defender on the left. At Barcelona, ​​moments like that are deliberately created to throw the ball with acceleration Albu, which means 80% shots and goals. At Lokomotiv, such movements clearly occurred unwittingly, and ended with the transfer of Miranchuk to other players – besides being inaccurate.
How to play three matches in a group and go to the playoffs. ALP Manual
"Locomotive" early to bury.
It is impossible to be not only "Barcelona" – even Moscow clubs do not reach the level of "Porto" in trivial matters. If you review the destination of the Portuguese, only the first can be called direct light, and then – only in the final blow stage. Just reconsider how Porto players are aware of all the mistakes of their opponents. This is the Champions League. It was disappointing that the European Cup experience was very difficult to give to Lokomotiv. But there is no other way.
Source link