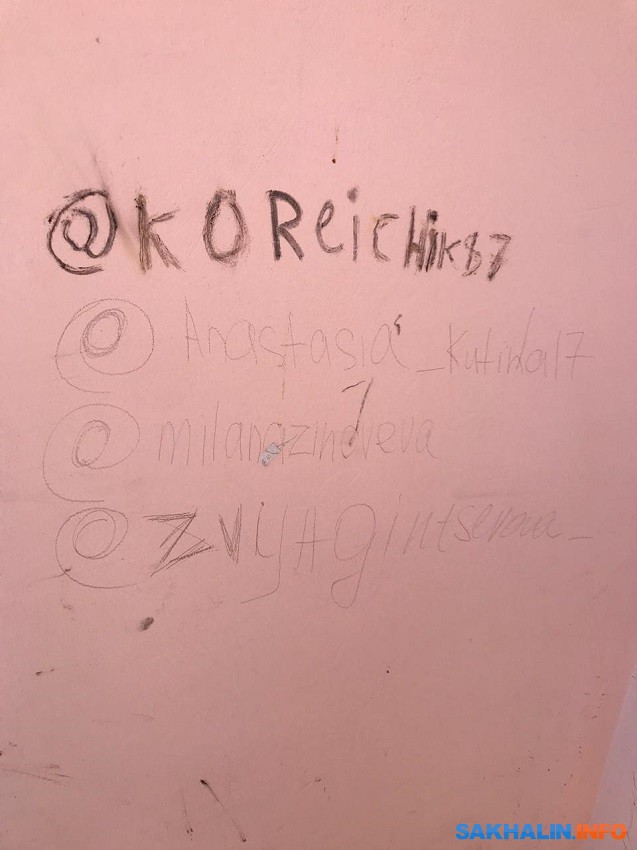 11:06 February 14, 2019.
"Children of Asia", South-Sakhalinsk
Students from the State University of Sakhalin complained to volunteers of the first international games "Children of Asia", which decorated the walls at the entrance to the number 3 hostel with "rock art". According to co-author Sakh.com, they have written their Instagram profiles.
– We noticed this morning when we were steamed. Apparently they smoked near the urn and left inscriptions in the same place. They only complain about living conditions, they have to be repaired by sections, and they themselves relate to common property. They will stay here for a week and will leave, but we will live, "says the student.
Remember that volunteers complained before the game began living conditions in the SakhGU dormitory, after which additional repairs were done. Now students are afraid to call in the section where the Asian Children's assistants are because they do not know what to expect from young Sakhalin citizens.
Sakh.com looked at the profiles that are listed on the hostel's wall, and they are really full of volunteer pictures. Interestingly, the early teens on the walls (this is the main contingent of the Children of Asia volunteers) wrote their names on the walls, but now they have gone through Instagram advertising profiles.
Coauthor Sakh.com gave a fee Veronica Krasina, Thanks! Get up charity Sakh.com,