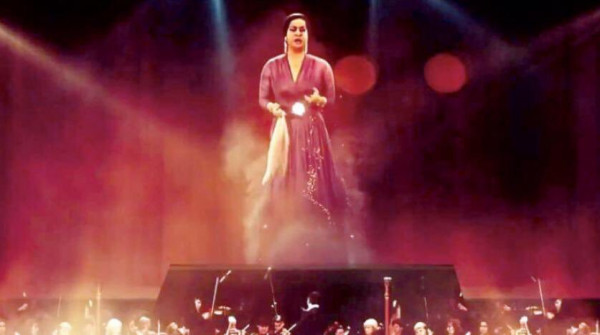 Ramallah – National Home
The presence of the Arab singer, Umm Kultum, on the big stage through the use of holographic technology to sing the most famous songs in Mesheed, was impressed by the imagination.
The concert expected the appearance of "Planet of the East" on the stage to see them immediately after the premiere of her famous song "Thousand and One Night," and she began playing on stage as if she was alive.
After the emergence of the most famous lady in the world of Arabic singing through the generations, the laughs of the lady, which left more than four decades ago, began to return to the subject to appear again with the new technology used by the Egyptian painter Sabreen to do the experiment.
The event, which is part of the Saudi Arabian Winter Tantra Festival, is broadcast live on several satellite channels, allowing a large number of Umm Kulthum or Six fans, as some prefer to call it, to follow their unique and a strange look.
The concert, in addition to the remarkable interaction of the audience, found greater interaction in social networking sites where Umm Kulthum videos were widespread, among many blogger comments that he felt cold in his body when the late singer appeared on scene.
Mum Kultum looked as if she was alive on the stage and wore a red dress to perform with her "A Thousand Nights" each of her other famous songs, "You're My Age," "The Biography of Love," and "Les Faker."
The hologram is a stereoscopic imaging technique based on the capture of light particles scattered over an object, and then displays it as a three dimensional image that is identical to the actual body (and sometimes its dimensions). The best-known example of this Technique is the Star Wars series. wars).
MBC and NDP Productions, who organized the event, used Sabreen to perform a computer simulation used to design a hologram through body and face movements, and the Egyptian artist is the most famous of those who have mastered this task. In the famous television series about the life of the Arab singer.
Before the appearance of Mum Kultum on stage, singer Sana Jamil of the late Mum Kultum's family sang the song Anasak followed by artist Mohammed Sharunbi in other songs for the journey before a veteran musician and composer Faruk Salam, the only live musician to play with the band Umm Kultum during his concerts to play some of the solo pieces of her songs.
This is not the first time that technology has been used to present Umm Kultum on stage, but the Saudi concert may be the largest ever and on a big stage.
The Winter Tantra Festival takes place in the first version of Ala's province in Medina, the longest seven-week tourism festival as part of Riyadh's drive to revitalize its tourism sector and diversify its sources of income, in addition to openness to culture and the arts.