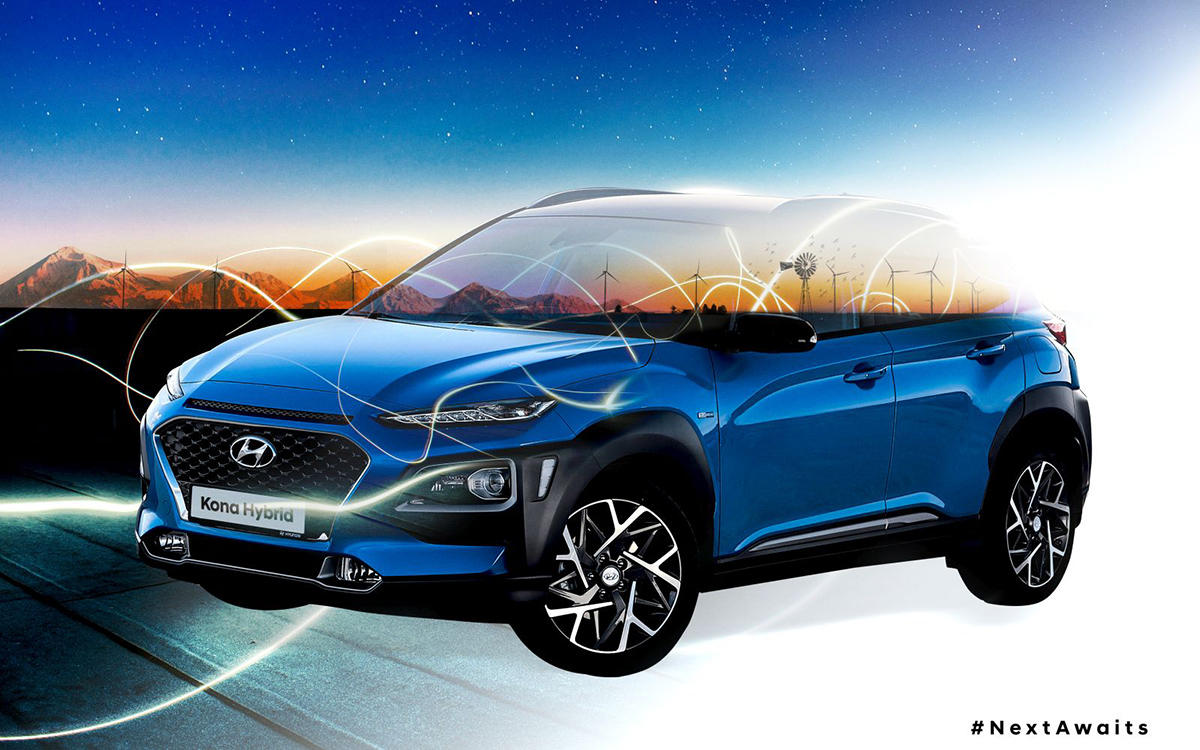 The new Kona Hybrid complements Kona's popular and award-winning range and offers more choice to European customers. Hyundai has partnered with artist Birgit Palm to launch it to create breakthrough "double exposure" images of its new hybrid compact SUV as part of a special launch workshop. The #NextAwaits Kona Hybrid project in Hamburg, Germany, which has attracted a number of leading creative influencers from across Europe.
The new Kona Hybrid takes advantage of an efficient hybrid powertrain that combines a gasoline engine with an electric motor. Although this association is not immediately apparent on the road, Hyundai has decided to collaborate with this Austrian artist to create a series of compelling photographs illustrating the fusion of these driving technologies while emphasizing the sleek design of this SUV. compact.
Birgit Palma specializes in illustration and letters. In many of her projects, she uses the double-exposure technique, which makes her a leader in contemporary art and design. Double exposure involves merging two different images to offer new perspectives and tell stories in a way that would not be possible with a single image. This art format is perfect to illustrate the avant-garde nature of the new Kona hybrid.
"I was delighted that Hyundai was asking me to celebrate the New Kona Hybrid through my work," explains Birgit Palma. I decided to use the double exposure technique because I wanted to create a new type of automotive photography that was able to highlight the benefits of this elegant and versatile model for clean mobility. " Birgit Palm Austrian artist and illustrator.
Hyundai has decided to announce the launch of the new Kona hybrid by organizing an atypical creative meeting at YES, an industrial workshop located in the heart of the modern HafenCity neighborhood in Hamburg, Germany. The manufacturer has chosen this Hanseatic port city because it is the vanguard of a media center recognized as a New Kona hybrid for its environmental dimension. In addition to Birgit Palma, Hyundai has invited a number of leading European influencers to take a closer look at the brand's latest electrified off-road vehicles and participate in the production of particularly evocative illustrations. Together, they have created a series of double-exposure images to illustrate its history, from its decidedly expressive exterior design to eco-friendly propulsion technology.
Since arriving in 2017, Kona has sold nearly 120,000 copies in Europe. In France, these are nearly 14,000 sales, making it the biggest success of the brand as of June 30, 2019. Today, Hyundai is expanding its Kona range with a hybrid version, thus meeting the expectations of European customers who are increasingly looking for models of SUV type with environmental virtues. In addition to its efficient hybrid drivetrain, the new Kona Hybrid offers bold design and numerous technological enhancements, including advanced Blue Link® connectivity features, SmartSense ™ active safety systems and driver assistance, and more. modern infotainment systems.
"With the launch of the new Kona hybrid, Hyundai reaffirms its leading position in the future of mobility by offering its European customers an even wider range of eco-responsible models," said Andreas-Christoph Hoffman, Hyundai Vice President of Marketing and Product . Motor Europe. With its innovative approach to creative expression, Birgit Palma has established itself as the natural choice for our latest eco-friendly SUV, which combines a hybrid powertrain and stylish design. "