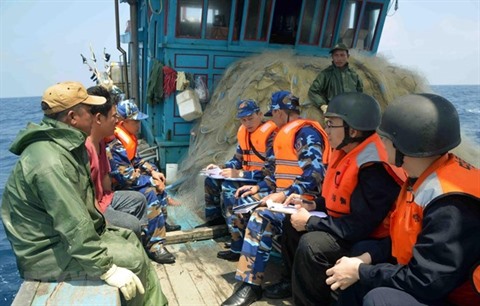 11e Negotiation Round of the Working Group on Vietnam – China on the Marine Zone outside the bay of Bac Bô Estuarye The round of negotiations of the Working Group on Collaboration on Mutual Development at Sea took place on 24 and 25 April in the city of Dà Lat, Lâm Dông province in the central mountains.
>> Vietnam attaches importance to the development of relations with China
>> Hoàng Sa – Truong Sa: China must respect the sovereignty of Vietnam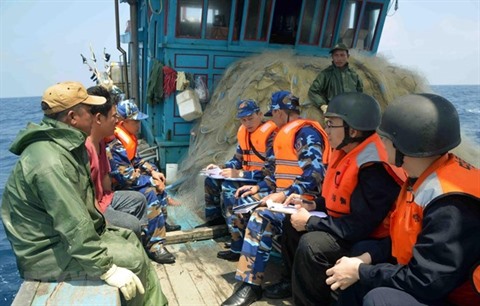 Vietnamese and Chinese police inspect a fishing boat from Vietnam to Bac Bô Bay, Photo: VNA / CVN
The Vietnamese delegation was represented by Nguyen Dang Thang, head of the National Border Committee of the Ministry of Foreign Affairs, and the Chinese delegation was led by Zhou Jian, a representative of the Maritime Affairs and Border Affairs at the Chinese Foreign Ministry.
They discussed the mission of the two working groups and pledged to seriously follow the common understanding of the leaders of the two countries, including the agreement on the guiding principles governing the resolution of the maritime issue between Vietnam and China. in 2011 and the Guidelines of the Delegation of Negotiators at Government Level on Border Issues Between Vietnam and China.
Both sides agreed to maintain the road map and to speed up talks on the demarcation of the sea area off the bay of Bac Bô. They discussed cooperation on mutual development in the Eastern Sea in accordance with international law, in particular the 1982 United Nations Convention on the Law of the Sea, whose members are.
Vietnam and China decided the organization in China at the end of 2019 on the 12the Negotiation Round of the Working Group on Vietnam – China on the Marine Zone outside Bac Bô Bay and on 9the Negotiation Round of the Working Group on Co-operation on Marine Development.
VNA / CVN