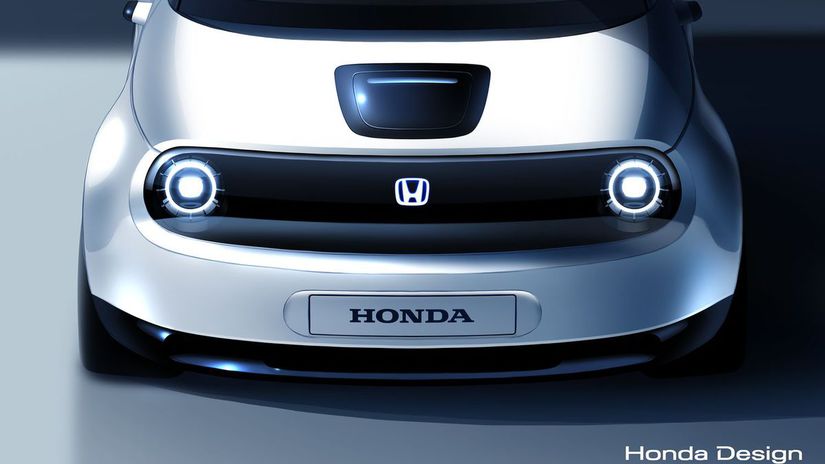 Japanese Honda confirmed that it will present its first serial electric car at the March Motor Show in Geneva. And she also wrapped the first picture. It seems that it will not be too much from the Urban EV concept. The first official slide
pre-production prototype shows that Honda's first electric car will be
inspired by the first Civic generation of the 1970s. And he even comes
with cameras instead of rear-view mirrors. Author: Honda
The premiere of the first Honda electric car is really the front door. Serial
a version of the Urban EV concept that was introduced two years ago in Frankfurt
above, has its premiere confirmed at the March Geneva Motor Show.
The speed with which Honda advances is surprising. Originally in
net electromobility did not. She preferred the hybrid with the original
i-MMD (Intelligent Multi Mode Drive), which uses a hybrid
Accord, Insight and the latest Honda CR-V. But the new emission standards are losing weight
doors and without an electric car, the Japanese brand could not fall under the fleet
limits.
The example in Geneva will be a pre-production prototype, but
it will no longer be very different from the final product. And as it seems, not even from
the concept of 2017. Of course, the serial model gets five doors
instead of three but basic simple features including circular ones
reflectors, evoking the first generation of the Civic from the 1970s,
urban electric car will remain. And even they will remain virtual
rear view mirrors. Traditional ones will replace cameras and two displays
in the cabin. It is clear from the first official picture.
Honda's technique is silent. We can not even start
from the Frankfurt concept. He was also covered with mystery. According to
unofficial information, however, Honda's first electric car should go to
one charge of about 320 km, according to a stricter American standard. Expect
so we can use batteries with a capacity of about 40 kWh. A lot of time for
But "Honda" does not. The news is about to be sold
this summer. It is a brand new product that is not intended to replace
none of the existing models, such as Honda Jazz.
Lastly, according to the strategic plan "Electric vision" they have to have a year
2025 electrified models Honda up to two-thirds share in European
sales.