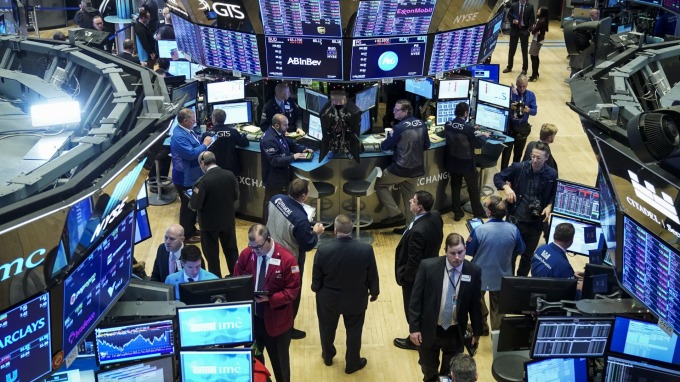 US stocks rebounded from the early morning drop on Friday and Dow Jones dropped 204 points. The strong consumer confidence index overshadows trade problems.
Taipei time 00:05
The Dow Jones Industrial Average rose 29.25 points, or 0.11% to 25 891.93 points.
The Nasdaq index dropped 29.13 points or 0.38 percent to 7868.92.
The S & P 500 declined by 1.43 points or by 0.05% to 2874.89.
The University of Michigan has said the initial value of the consumer confidence index has risen to a 15-year peak in May and said consumer opinion on the economy has improved significantly. Most of the data, however, was gathered before the recently-grown Sino-US trade strain. Once the data was released, the exchange was still recovering.
As the Sino-American trade war continued, the US stock market opened sharply today, and Dow Jones once dropped by more than 200 points.
According to the Xinhua news agency, Chinese trade ministry spokesman Pik said on Thursday that the United States has shown intimidation in recent trade operations. The US side unilaterally raised trade conflicts and created serious barriers to negotiations, which is unfortunate.
Last week, the United States raised its Chinese goods tariffs by $ 200 billion. On Monday, China also raised its $ 60 billion US dollar tariff for US goods and revenge. These actions triggered a sharp decline in the stock market earlier this week. But then the core index recovered and recovered most of the decline.
On Thursday, the Trump administration took action to make it harder for US companies to do business with Huawei, a major Chinese communications company. US suppliers Qualcomm and Micron declined by 0.8% and 1.1%, respectively.
Analysts say this is an action against the Chinese government, which is considered Huawei's boss. This obviously raises the Sino-American trade war. It is not yet clear how China will react, but is expected to react.
The Chinese stock market fell sharply today and the Shanghai Composite Index fell by 2.5%, the longest weekly decline since July 2018.
On Friday, Trump's administration said it would postpone foreign auto-tax rates for six months, and commercial fears would weaken. The news has led the stock market to reduce early losses.
Investors were disappointed with breaking the Brexit talks. After six weeks of talks, the two largest political parties in the UK failed to reach an agreement on Brexit.
The stock market was lower on Friday and could end three consecutive days of profits. On Thursday, the US stock market rose sharply, and Wal-Mart and Cisco announced strong profits, providing a bullish stock market.