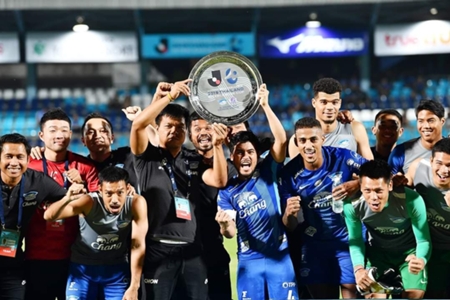 Shark Lakes won 2nd place during the pre-season season. When the latter defeated San Fresco Hiroshima 2-1 in the J. League Asia Challenge 2019
Special J League Asia Challenge 2019 Football Match Saturday, January 26 at Chonburi Stadium at 6 pm The meeting between the local "Shark Lakes" Chonburi FC will meet. With the champion of the League J League last season "Archer" San Fresce Hiroshima
This game, Coach Bo Chakrapan Spinning, organizes the first 11 people. Chanin Sae-ia is the goalkeeper. As for the players, Methanaseet Suthisathit, Krisadagman, Saw Min Tung, Natthaphong Pe Path, Hyun Boom Park, United States Sonthasawad, Worachit Kittisribampen, Krikrit Taveekanak, Lucian Arara, Yojo, and Ekachai Rithifan
As for San Freschi, Hiroshima, Hiroshima, Fukuoka placed the first 11 people led by Takuto Hayashi, Yuki Nogami, Emil Salomonsson, Kio He Yoshino, Bae Sart Berecha, Daiki Wathari
Start the game for 2 minutes, like San Fresh, Hiroshima, which has won before. From opening free kick to the left of the second pole and Chunki Higashi, who was accused, but the ball fell. Pressure Goalkeeper Takuto Hayashi, who tried to turn the ball over Luendjian Araujo's ball, jumped to block Chongburi's spear in the Thai team's door to take the first. 0 at the 10th minute
After losing a goal, San Frericho Hiroshima corrected the pace of the team and immediately entered the game, hoping to return a goal and only 5 minutes later, came to a draw 1: 1. He went to the front of the penalty area before Emil Salomonson gave up the ball at night, and Chongqi Higashi put a fork with his left foot to tilt the net at the 15th minute.
On the 30th minute, Chonburi again won the Ekachi Ryttiphan goalkeeper's ball, dragging the ball into the penalty area. Before you open the door and be Worachit Kittisribampen Keeping balls Still to find a shot But was beaten by San Francisco defender Hiroshima to take the ball unfortunately
43 minutes The "shark lakes" almost reopened. After 3 minutes, Krirkrit Taweesakan came in from the right with the intention of giving Krisada Kamanong the lead, but his rocket of a shot rattled the crossbar. Which was the last shot in the first half and ended 1-1
The second half, San Freschi, Hiroshima, changed the players to 10 in a row and Chongburi won the ball more. But he can not score more goals
However, the 61st minute Chonburi came to the door to lead again. From the opening of the ball on the right side of Lucian Araujo to the second pole and like the Kukrit Taveekarn, the ball hit the ground and bounced to go to Chonburi to lead 2-1.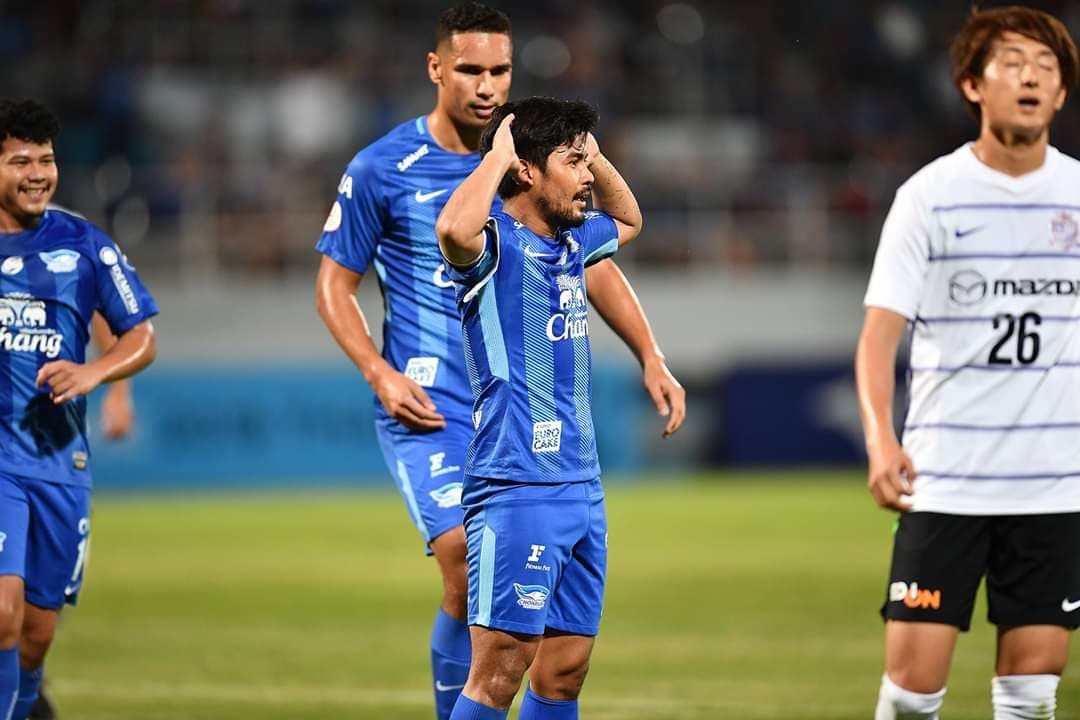 73-minute San Freschi Hiroshima, who opened a full-scale invasion game Nearly scored a goal from Gakuto Noessu's rival, who paid the ball to Tsukasa Morishi, but at the last moment shot Krisada Gamman.
80 minutes, San Freschi, Hiroshima almost scored another goal from the long shot of Gakutsududa.
With 88 minutes played, San Freshi, Hiroshima had a chance to take the lead with Gakuto Natsuda, and he did not disappoint. He went to the front of the penalty area and was the ball of Tsukasa Morishi Masikid in the goal but the assistant judge took the first flag first They missed the chance to compete in Chongburi, unfortunately There is no further result to finish the game and Chongburi defeats San Freshche Hiroshima 2: 1.
The next Chongburi program will have a warming queue on February 3rd. The same day you will meet the port administration. It will be a competition Special football match: "The world is soft, boasting the tactic of the match". New club series for season 2019 starting at 17:00.

TTL Transfers: Stick to the popular Thai Legions 2019
Source link