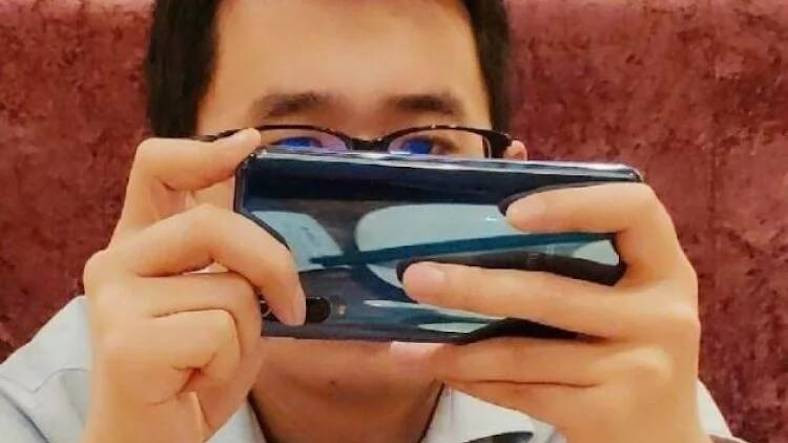 The new flagship of the Xiaomi Mi 9 is expected to be released this month. A new photo shot is expected to have a new fast-charging technology.
China's biggest social media site, Weibo Wang Teng Thomas, shared and then wiped the photos on the back of the new Xiaomi device revealed the back of the 9th. The rumor is that the phone will come with 3 cameras and thanks to these pictures this is confirmed.
We do not see any fingerprint readers in the photos, as the Mi 9 camera is positioned vertically as in Mi 8. It would not be wrong to say that Xiaomi did this to put a fingerprint sensor on the screen, that it will not follow the path followed by Apple; After all, we saw a similar installation in Mi 8 Explorer Edition.
The Snapdragon 855 of the Mi 9 processor will be preferred and will have different storage areas. The head of Xiaomi recently announced that there would be a version of the Explorer Edition on the phone, and the feature that was not in the standard version told us we had to wait.
Kaynak : https://www.gizmochina.com/2019/02/02/alleged-xiaomi-mi-9-spotted-in-public-sports-triple-rear-cameras/
$ (Function () {
// Facebook window.fbAsyncInit = function () { fb.init ({ appId: & # 39; 1037724072951294 & # 39 ;, xfbml: true, version: "v2.5" }); };
(function d, s, id) { var js, fjs = d.getElementsByTagName (s)[0]; if (d.getElementById (id)) {return;} js = d.createElement (s); js.id = id; js.src = "http://connect.facebook.net/en_US/sdk.js" fjs.parentNode.insertBefore (js, fjs); } (document, script & # 39 ;, facebook-jssdk & # 39;));
$ ("Points"). Ten ({ click: function () { // facebook save the ajax button If fb.xfbml.p (); } }, & # 39; .facebook-save & # 39;);
// share scroll if ($ (> content = sticky) length> 0) { if ($ (window) .width () = = 768) { $ (window) .on (& # 39; scroll & # 39 ;, function () { has scrollTop = $ (this) .scrollTop (); $ (& # 39; article & # 39;). each (function () { if (scrollTop> = ($ (this) .find (". content-body" $ (This) .find ("Content-sticky.") AddClass ("sticky."); () () .find (". content-body") .offset () - ($ (this) .find & # 39; content-sticky & # 39; height () + 92))) { $ (This) .find ("Content-sticky.") RemoveClass ("sticky."); $ (this) .find (& quot; content-sticky & quot;). css (& bottom & # 39; 0px & # 39; top & # 39; auto & # 39}); } else { $ (Current) .find ("Content-sticky"). AddClass ("sticky"). Css ({ "bottom": "initial", Top & # 39 ;: & # 39; 76px & # 39; }); } } else { $ (this) .find (". content-sticky") removeClass (& quot; sticky & quot;). css (& # 39; bottom & # 39;: & # 39; auto & # 39; top & # 39; 0 & # 39;}); } }); }); } }
// share click $ ("Points"). Ten ({ click: function () { var $ this = $ (this) dataShareType = $ this.attr (& quot; data-share-type & # 39;}, dataType = $ this.attr ("data type"), dataId = $ this.attr (& # 39; data-id & # 39;), dataPostUrl = $ this.attr ("data-after-url"), dataTitle = $ this.attr ("data-title"), dataSef = $ this.attr (& quot; data-head & quot;);
key (dataShareType) { case & facebook: fb.u of ({ method: sharing, href: dataSef, }, function (answer) { if (response &&! response.error_message) { updatehit (); } });
interruption;
case & twitter & # 39 ;: shareWindow (& https: //twitter.com/intent/tweet? via = webtekno & text = & # 39; + encodeURIComponent (dataTitle) + & # 39;% E2% 96% B6 & encodeURIComponent )); updatehit (); interruption;
case "gplus": shareWindow (& # 39; https: //plus.google.com/share? url = & # 39; + encodeURIComponent (dataSef)); updatehit (); interruption;
case "mail": window.location.href = & # 39; mailto :? subject = & # 39; + encodeURIComponent (dataTitle) + & # 39; & body = & # 39; + encodeURIComponent (dataSef); // updatehit (); interruption;
case "whatsapp": window.location.href = & # 39; whatsapp: // send? text = & # 39; + encodeURIComponent (dataTitle) + & # 39;% E2% 96% B6 & # 39; + encodeURIComponent (dataSef); updatehit (); interruption; }
shareWindow (url) { window.open (url, "_blank", "toolbar = yes, scrollbars = yes, resize = yes, top = 500, left = 500, width = 400, height = 400"); }
function updateHit () { $ .Axax ({ type: "POST", url: dataPostUrl, data: {contentId: dataId, contentType: dataType, shareType: dataShareType}, success: function (data) {
if ($ (> showcase & # 39;) length> 0) { var $ container = $ (".video showcase"); } else if ($ (& # 39;[data-id="' + dataId + '"]& # 39; .length> 0) { var $ container = $ (& # 39;[data-id="' + dataId + '"]& # 39;); } else if ($ (& wt-share-item[data-id="' + dataId + '"]& # 39; .length> 0) { var $ container = $ (& # 39; wt-share-item[data-id="' + dataId + '"]& # 39;); } else { $ container = null; }
// var $ container = dataType == & # 39; video & # 39 ;? $ (& # 39; showcase & # 39;): $ (& # 39;[data-id="' + dataId + '"]& # 39;);
if ($ container! = null && $ container.length> 0) { var $ badged = $ container.find (& # 39; wt-share-badge - & # 39; + dataShareType);
find $ headerCount = $ (& # 39; content-header & # 39;). Find (& # 39; .wt-share-count & # 39;), $ containerCount = $ container.find (& wt-share-count & # 39;), value = parseInt ($ containerCount.html ()) + 1;
$ container.data (& quot; share & # 39;; value); //$containercount.html(value A);
if ($ headerCount.length> 0) { //$headercount.html(value A); }
if ($ badged.length> 0 && (dataShareType == & # 39; facebook & # 39; | dataShareType == & # 39; twitter & # 39;)) { if ($ badged.hasClass ("visible")) { //$badged.html(dat A); } else { //$badged.addclass('is-visible').html(dat A); } } }
} }); } } }, & # 39; .wt-share-button & # 39;) });
Source link