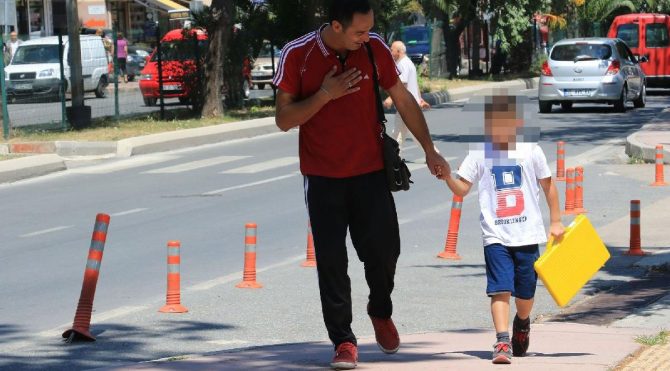 [ad_1]
Emra A., who lives in Ilkadim district in Samsun Ilyaskoy district, son of Omer Yusuf A. and, on the left, uses the right to see the law teacher at Ayla K. Elementary School. A few days later, he learned that his child had been found by a family on the shore of Lake Van and taken to police. When his father took his child, his son and his lover tormented him when he first asked the police and then went to the prosecutor's office to complain.
Emra A., the ex-wife of the teacher in the complaint, lover Inan K. tortured her child together, the hand of Inan K.'s son with a puncture hole suggested that the body had been bitten. Emra A., his son was thrown into Lake Van, the child came out of the water thanks to the swim, and the family who found him claimed that the situation with the police had informed him. Emra A. claims prosecutors and gendarmerie were ignored in the investigation into the incident, he also complained to prosecutors about officials.
MOTHER AND LOVE IS COMPLETED
In an investigation initiated by Wang's prosecutor's office, Inan K. alleged that he tortured the child and, according to him, the mother of tortured Ayla K. was detained. Beloved, after the inquiries were sent to the court, they were sent to the judicial system, arrested and imprisoned.
The investigation suggested that the prosecution was negligent, and the gendarmerie learned that the investigation was ongoing.
I did not stay with my child
Claiming his son was tortured, Emra A.'s father says: "He has not seen his son in the last three years. I had to give my child to his mother because the court gave him the right to see. On the third day I gave it to him, I couldn't contact him and complained. My child's body is broken. Her body has traces of teeth, a puncture path. They have done things that cannot be done by a person. His mother's boyfriend grabbed my son by the mouth and threw him into bed. The last time he was thrown into Lake Van. They did nothing to my child, but they are closing the issue, especially in the prosecution and gendarmerie.
Yomer Yusuf A. said his mother and Inan K. beat him up and said, "They bit me and threw me." My body was hurting and it hurts. I was thrown into the lake. I lived while swimming. "
DHA
[ad_2]
Source link