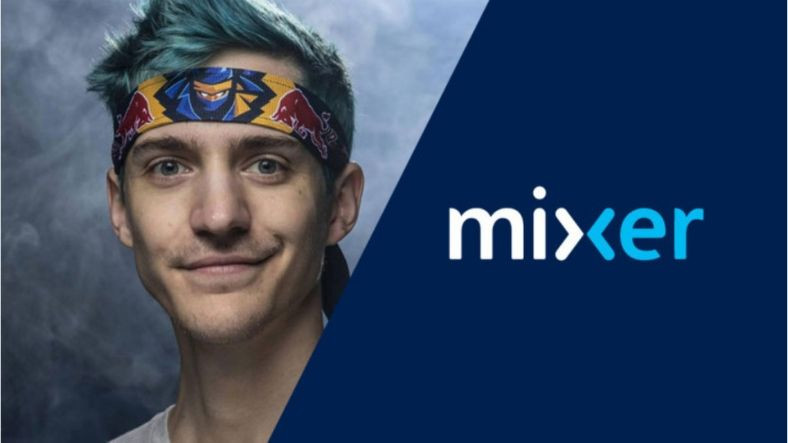 [ad_1]
The ninja, who recently announced that he has quit Twitch and then started broadcasting on the Mixer platform, has more than 10 million followers on Twitch. The fact that it quickly reaches half a million subscribers on Mixer is very good news for both Ninja and Mixer.
It seems that Ninja was exactly what Mixer needed to help the live broadcasting platform make Twitch a true competitor, as over 500,000 people have already subscribed to Ninja's new channel.
Ninja, known for its popular Fortnite publications, recently changed its platform after signing an agreement with Microsoft to broadcast only on its own platform. Since its first live broadcast, Mixer has reached the pinnacle of free apps on the App Store.
While Ninja had more than 10 million Twitch followers, Screen Rant said the number of subscribers to the platform was less than 15,000. if it continues to gain subscribers at this rate.
The Mixer now has a promotion that allows users to subscribe for free to Ninja, but it's no small success to garner 500,000 subscribers in such a short time. Currently Ninja has 3,842,296 views and 663,978 Subscribers to Mixer.
Kaynak : https://www.eurogamer.net/articles/2019-08-05-ninja-hits-half-a-million-subscribers-on-mixer-following-move-from-twitch
$ (Function () {
// Facebook window.fbAsyncInit = function () { fb.init ({ appId: "1037724072951294", xfbml: true, version: & # 39; v2.5 & # 39; }); };
(function (d, s, id) { var js, fjs = d.getElementsByTagName (s)[0]; if (d.getElementById (id)) {return;} js = d.createElement (s); js.id = id; js.src = "http://connect.facebook.net/en_GB/sdk.js"; fjs.parentNode.insertBefore (js, fjs); } (document, & # 39; script & # 39 ;, & # 39; facebook-jssdk & # 39;));
$ ("Body"). Ten ({ click: function () { // save facebook ajax button If fb.xfbml.p (); } }, & # 39; .facebook-save & # 39;);
// share scroll if ($ (& # 39; content-sticky & # 39;). length> 0) { if ($ (window) .width ()> = 768) { $ (window) .on (& # 39; scroll & # 39 ;, function () { var scrollTop = $ (this) .scrollTop (); $ (& # 39; article & # 39;). each (function () { if (scrollTop> = ($ (this) .find (& # 39; content-body & # 39;). offset (). top - 76)) { $ (This) .find ("Content-Sticky.") AddClass ("Sticky. & # 39;); if (scrollTop> = ($ (this) .find (& # 39; content-body & # 39;). offset.). top + $ (this) .find (& # 39 ;. content-body & # 39; ). height () - ($ (this) .find (& # 39; content-sticky & # 39;). height () + 92))) { $ (This) .find ("Content-Sticky.") RemoveClass ("Sticky. & # 39;); $ (this) .find (& # 39; content-sticky & # 39;). css ({& # 39; bottom & # 39 ;: & # 39; 0px & # 39 ;, & # 39; top & # 39;: & # 39; auto & # 39;}); } else { $ (Present) .find (".Content-sticky"). AddClass ("sticky"). Css ({ & # 39; bottom & # 39 ;: & # 39; originally & # 39 ;, & # 39; Top & # 39 ;: & # 39; 76px & # 39; }); } } else { $ (this) .find (& # 39; content-sticky & # 39;). RemoveClass (& # 39; sticky & # 39;). css ({& # 39; bottom & # 39 ;: & # 39; auto & # 39 ;, & # 39; top & # 39;: & # 39; 0 & # 39;}); } }); }); } }
// shared click $ ("Body"). Ten ({ click: function () { var $ this = $ (this), dataShareType = $ this.attr (& # 39; data sharing type & # 39;), dataType = $ this.attr (& # 39; data type & # 39;), dataId = $ this.attr (& # 39; data identifier & # 39;), dataPostUrl = $ this.attr (& # 39; data-post-url & # 39;), dataTitle = $ this.attr (& # 39; data-title & # 39;), dataSef = $ this.attr (& # 39; data-safe & # 39;);
switch (dataShareType) { case of facebook: fb.u on ({ method: "share", href: dataSef, }, function (answer) { if (response &&! response.error_message) { updatehit (); } });
interruption;
case & # 39; twitter & # 39 ;: shareWindow (& # 39; https: //twitter.com/intent/tweet? via = webtext & text = & # 39; + encodeURIComponent (dataTitle) + & # 39;% E2% 96% B6 & # 39; + encodeURIComponent (dataSef )); updatehit (); interruption;
case & # 39; gplus & # 39 ;: shareWindow (& # 39; https: //plus.google.com/share? url = & # 39; + encodeURIComponent (dataSef)); updatehit (); interruption;
mail case: window.location.href = & # 39; mailto :? subject = & # 39; + encodeURIComponent (dataTitle) + & # 39; & body = & # 39; + encodeURIComponent (dataSef); // updatehit (); interruption;
case of "whatsapp": window.location.href = & # 39; whatsapp: // submit? text = & # 39; + encodeURIComponent (dataTitle) + & # 39;% E2% 96% B6 & # 39; + encodeURIComponent (dataSef); updatehit (); interruption; }
function shareWindow (URL) { window.open (URL, "_blank", "toolbar = yes, scrollbar = yes, resize = yes, top = 500, left = 500, width = 400, height = 400"); }
update functionHit () { $ .Ajax ({ type: "POST", url: dataPostUrl, data: {contentId: dataId, contentType: dataType, shareType: dataShareType}, success: function (data) {
if ($ (& # 39; video showcase & # 39;). length> 0) { var $ container = $ (& # 39; video showcase & # 39;); } else if ($ (& # 39; article)[data-id="' + dataId + '"]& # 39;). length> 0) { var $ container = $ (& # 39; article[data-id="' + dataId + '"]& # 39;); } else if ($ (& # 39;. wt-share-item)[data-id="' + dataId + '"]& # 39;). length> 0) { var $ container = $ (& # 39;. wt-share-item[data-id="' + dataId + '"]& # 39;); } else { $ container = zero; }
// var $ container = dataType == & # 39; video & # 39 ;? $ (& # 39; video showcase & # 39;): $ (& # 39; article[data-id="' + dataId + '"]& # 39;);
if ($ container! = null && $ container.length> 0) { var $ badged = $ container.find (& # 39; wt-share-badge - & # 39; + dataShareType);
var $ headerCount = $ (& # 39; content-header & # 39;). find (& # 39; wt-share-count & # 39;), $ containerCount = $ container.find (& # 39; wt-share-count & # 39;), value = parseInt ($ containerCount.html ()) + 1;
$ container.data (& # 39; share & # 39 ;, value); //$containercount.html(valu A);
if ($ headerCount.length> 0) { //$headercount.html(valu A); }
if ($ badged.length> 0 && (dataShareType == & # 39; facebook & # 39; || dataShareType == & # 39; twitter & # 39;))) { if ($ badged.hasClass (& # 39; is-visible & # 39;)) { //$badged.html(dat A); } else { //$badged.addclass('is-visible').html(dat A); } } }
} }); } } }, & # 39; .wt-share-button & # 39;) }); [ad_2]
Source link